Young people everywhere are stepping into the world of becoming entrepreneurs. They are creating opportunities for themselves to generate multiple sources of income early. With ambition young Taylor Roberts stepped out on faith to start her hair and skin care line; "Princess Mudd." The hair line caters to all hair types to aid in hair growth, reverse hair loss and strengthen and add moisture to dry hair. Erica Ziegler-Roberts her mother says, "Anything that my children try to do, I have to help them. Its something that I have always said that I would do since they were young. So helping Taylor see her vision come to life has been a joy to watch. She has always wanted her own business and always brought her ideas to me; it was time to make it happen." A winning creative team of mother and daughter helps to make the entrepreneurship journey a little easier for Taylor.
As a black entrepreneur do you feel even more pressure to be successful and what steps are you taking to ensure success?
Erica: I think people are more critical of black-owned businesses. The pressure I think comes more so from the presence of social media than being black owned though. When I started my first business, no one really knew that I owned the business, so the only pressure was the pressure I put on myself. But nowadays, everybody knows YOU are the owner and if it fails, they know its YOU who failed.
Taylor: I don't feel more pressure. I just really don't want to fail, so that's where the pressure come from. I've put a lot of pressure on myself.
How do you support other Black-owned businesses and why is it important to you?
Erica: I mentioned some of the way we support black businesses personally and as a business earlier. The reason we MUST support and help black businesses grow is because we employ our people and we put OUR money back into OUR own communities.
Taylor: I just feel like the only people that care about us is us. So, why would you buy a product that I offer from a company that isn't doing anything to positively affect your community unless someone actually says, 'look this company doesn't hire black people', or 'look this company doesn't invest in our community.'
Has faith been a part of your journey?
Erica: Faith is part of every step of the journey….Faith in yourself, faith in God, faith in each other (me and Taylor). There's no room for a negativity or non-belief when it comes to owning your own business.
Taylor: Yes, I prayed pretty hard that this would happen. And I had to really have faith in my mom that she would get the things done that I didn't know how to do.
The Black community is getting stronger by the day, how important is the black dollar?
Erica: In this industry alone, black people spend 19% more than any other demographic. So it's very important. For our business, it's more important that those dollars spent on our products stay in the black community. We spend a lot of time looking for black owned suppliers of our ingredients. Our brand partnership program Taylor talked about earlier aims to give young black men and women the opportunity to own their own business. Whenever possible we purchase our everyday necessities from black owned businesses. This past Christmas, most gifts I gave were from black owned businesses. So, that's what's most important to us.
Taylor: I can't remember what I was reading, but they were comparing the number dollars black people spend in the beauty industry compared to the number of black majority owned businesses and employees with high positions at beauty companies. We spend a lot of money in an industry that doesn't really care about us. The black dollar is important, those big companies know it, that's why they come out with entire product lines marketed specifically to black people. I just wish they put they put just amount of money into helping black people as they do selling to black people.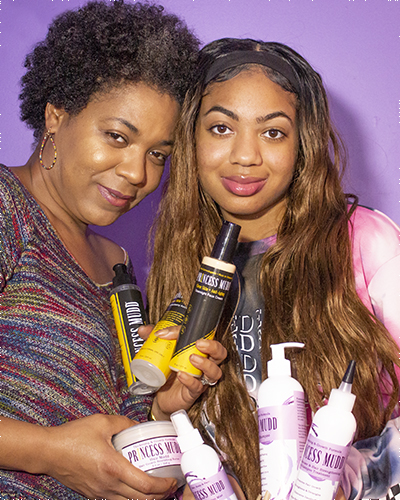 For more on Princess Mudd, click here.