With large scale events on hold and virtual events being the new wave, people have also pivoted to more Intimate gatherings. Along my journey of executing various events, I've met some extremely creative individuals.
Blissful Customs is one of those companies that you can go to for your big or small event needs. During these uncertain times, it is so important to support various businesses and this business in particular stands out for many reasons. Blissful Customs is professional, punctual and her attention to detail is definitely on point. I love working with amazing female owned businesses like hers and am happy to share her story with our readers below.
What's your backstory on how you started Blissful Customs ? 
Blissful Customs, wasn't always Blissful Customs! I started my journey as a business owner to provide custom apparel for the cheerleading squads I serviced. My goal was to have them in something they couldn't find in any cheer catalog. Creating custom designs has been my thing ever since. 
How have you kept yourself motivated during these trying times? 
Checking items off my to do list list keeps me motivated. Going into the pandemic I was flustered with ideas and concepts that I wanted to launch within my business but my workload didn't allow it. The initial two week shelter in place ordinance allowed me to take a step back and review the areas I could improve and launch the online platforms I wanted to to generate more customers and introduce them to my very own Heat Transfer Vinyl Collection, BlissPress.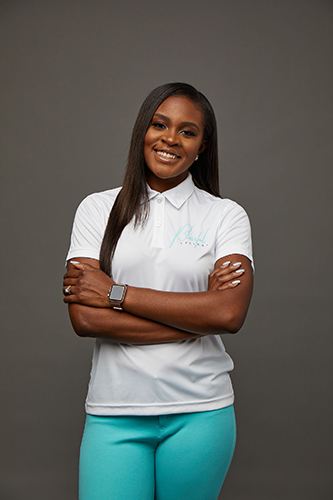 What has been one of your most memorable experiences while building your business ? 
The Grand opening of my Vinyl store in December 2019 definitely was one for the books. Opening a storefront wasn't apart of my plan original plans but making the sacrifice to do so has been very rewarding. Opening a vinyl store in the Lithonia, GA area has been rewarding for me and a blessing to the community to have a vinyl store that is  less than 20 miles away!
What advice would you give to anyone looking to break into your industry? 
Stay focus on what you are setting out to do and everything else will fall into place! Working in the special events industry can have up and downs, you have to encourage yourself and know what your offering sets yourself aside from others! I have a few different custom lanes I can offer so that makes me more appealing as "one stop shop."
What's next for Blissful Customs ? 
I would love to open another location for vinyl in the near future! I would like to continue to work closely with event planners creating custom experiences for their guest. I think there are lots of growing markets in the event industry that I would love to tap into, I am currently researching the best fit for Blissful Customs!
Check out Blissful Customs here.
Stay connected with Blissful Customs by following them on Instagram now!
All images by Raphael Simien