Brenda Darden Wilkerson currently serves as the President and CEO of AnitaB.org, an organization that connects, inspires, and strives for greater equality for women technologists in business, academia, and government. She founded the original Computer Science for All program, building computer science classes into the curriculum for every student in the Chicago Public Schools, and serving as the inspiration for the Obama administration's national CS For All initiatives.
Can you tell us more about this amazing organization, AnitaB.org, and how it helps women in tech? 
AnitaB.org is a global non-profit focused on intersectional gender and pay parity in tech. Our goal is to democratize the table where tech is created. We help women by giving them exposure to opportunity, to training, and to each other, by creating a network whereby women can connect and learn and understand the impact they can have in the technology industry.   
Tell us about the new apprenticeship pathway program? And what is the motivation behind launching the apprenticeship pathway program?
We just finished the first pilot and the purpose of it is to create multiple pathways into tech versus the traditional rather sequential pipeline concept. We take women who are from all walks of life and who are ready to train for a career in tech.
And, with an earn-as-you learn model, we're able to help a company hire multiple diverse women at one time. The motivation for this pathway concept was to increase the number of women into tech that are not your traditional pipeline women.
What is vGHC? Can you discuss this year's vGHC 2021 "Dare To"? Why did you land on this theme and how was it received by your partners and community?
vGHC is our Grace Hopper Celebration, the virtual version of what we've normally done in-person. Grace Hopper Celebration today stands as the world's largest gathering of women technologists, where women from around the world learn, network, and celebrate their achievements. The event features a variety of keynote speakers and panelists who recognize the importance of diversity in tech.
This year we had about 30,000 registrants and we landed on the theme "Date To…" because we believed it matched the time and space we're in now – where tech and women need to take the next step towards doing bold things to create tech, to be in tech, and to solve the world's problems. 
I believe our partners in the community really jived around this year's theme, even more than any of the themes we've had in the past. They connected with "Dare To…", they coalesced around it. It was well received and well explored during the conference.
Can you share how vGHC themes have evolved over time? Discuss some past themes and feedback over time. 
At my first Grace Hopper Celebration, the theme was "I am," which was an important launch for many women to understand who they were totally, not just what they did in tech. Each successive theme has built on that foundation to move us towards what we are as a community and what we can do together. And, finally, now that we have all that, it's about what we can "dare to" do and what that strength of community allows us to really launch out and do. I've seen the growth in the community as those themes have played out.
Being a Black woman in tech, do you feel the need to work twice as hard to be seen in this industry?
Yes. Until it's normal to be a black woman in tech, any marginalized community will always have to do more to stand out. That includes black women.
Tell us about your background and how it relates to your position? 
Well, I'm a technologist turned educator, turned activist. All of that adds up to having the background in empathy to lead a movement for women who have walked in all of those paths.
I came over to AnitaB.org from launching the Computer Science for All initiative, which was a call to push more diverse people into the pipeline where companies have complained that there were not enough diverse people. Computer Science for All built computer science classes into the curriculum for every student in the Chicago Public Schools and served as the inspiration for the Obama administration's national CS For All initiatives.
Tell us a short story about how you overcame adversity in the workplace? (this is to motivate women who may have gone through the same experiences you have)
When I launched the Computer Science for All initiative and even while working for women bosses, I had to iterate and be willing to sacrifice without resources to be able to launch that initiative. I even had a situation where my boss brought in a man to execute my vision, but I kept going and found other likeminded people who believed in what I did. In the end, it's about perseverance.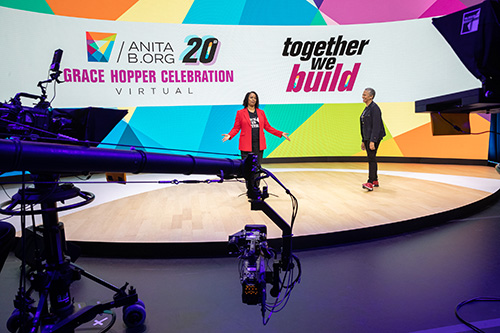 What are two pieces of advice for someone who is new to the industry but would love to learn more? 
Be very curious. Get your hands on everything that you possibly can that will help you learn what your opportunities are and help you train in those opportunities. No. 2, network, network, network. Talk to other people who are doing what you want to do and find out how they did it and use that to develop your own plan.
What can we expect from AnitaB.org in the future?
There will be much more emphasis on the mission. AnitaB.org is heading to our true north, which is to help companies understand how to become more diverse and to walk them through those steps.
How can people connect with you to learn more, as well as continue to follow AnitaB.org?
Anyone can reach out to me on social, on Twitter at @BrendaDardenW or on LinkedIn at Brenda Darden Wilkerson.One can also visit our website at AnitaB.org, or follow us on Twitter at @AnitaB_org, Instagram at @anitab_org or on LinkedIn at AnitaB.org.
All images by AnitaB