Born and raised in Durham, Brittany Barbee always knew she was destined to make a difference. From the moment tragedy struck her family, she decided to pursue a career in the medical and criminal justice fields to save lives and make a positive impact on those around her. Doing exactly that, she worked as an Emergency Medical Technician and a Correctional Officer before accepting her current role as a Youth Services Behavior Specialist. Along the way, she pursued her entrepreneurial dreams and launched Dyshea's Boutique where she takes great pride in outfitting women so that they see their true beauty. Here's a look at how she does it and her plans to build a legacy for her children in this Sheen Magazine exclusive.
Tell us about Dyshea's Boutique.
As my career evolved from working as an EMT and a Correctional Officer to my current role as a Youth Services Behavioral Specialist, I dreamt of running my own business to bring more color and beauty into the world. I launched Dyshea's Boutique to show my daughters that they can be powerful girl bosses who hold their futures in their hands. I want to show them that they can do anything that they set out to do. For my customers, I provide fashionable clothing to help women regain and strengthen their confidence to make them feel beautiful.
What do you envision for the future of your boutique?
The sky is the limit for the boutique because I want to go as far as God, my supporters, and my clientele will allow me to go. I want to pass the business down to my children if it's something they desire and if it doesn't hinder their goals or ambitions. My goal is to always grow up with this business.
How do you use your expertise to make a positive impact and inspire others?  
I answer whatever questions aspiring entrepreneurs have because many times people are afraid to launch their business because they don't know where to start and feel overwhelmed. Even though the steps are different for each business, I share my experience with the hopes of helping and inspiring them to take that first step in pursuing their dreams.
What are some of your greatest accomplishments?
I'm incredibly proud of raising my two beautiful children as a single mom while going to college and graduating not once but twice. I'm also proud of starting my business and giving my children someone to look up to. I wouldn't have gotten this far without my children because they always motivate me to do and be better each day.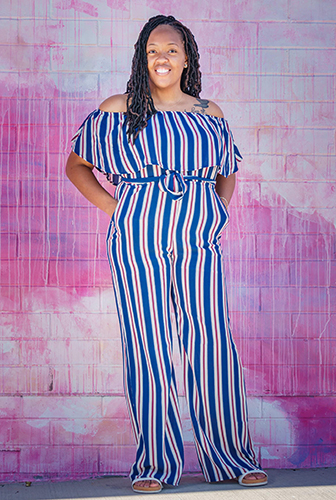 What advice would you give someone who wants to mirror your success?
When you're just starting out, it's tough and overwhelming but don't let that deter you. You may not feel like you have any support at times, but don't let that stop you. You may not always make the sale but keep pushing forward. Sometimes the support you need comes from the place you least expect it. Don't get discouraged about starting a certain type of business simply because you know someone who has a similar business. There's enough room for both of you. You can do this if you persevere!
What sense of purpose do you draw from your culture and community?
 You must always want to better yourself because, unfortunately, in some communities it's hard to go anywhere if you don't have that positivity and motivation for yourself.
How do you define success?
For me, success doesn't mean making a sale every day or being the wealthiest person in town. Success means putting your skills to work for you as you do the things you love instead of steadily looking for the skills you don't have. Success to me means starting from the bottom and fighting your way to the top.
How has the pandemic impacted your career?
I've been blessed that the pandemic hasn't impacted my career. I pray that those who have been impacted get back on their feet as quickly as possible.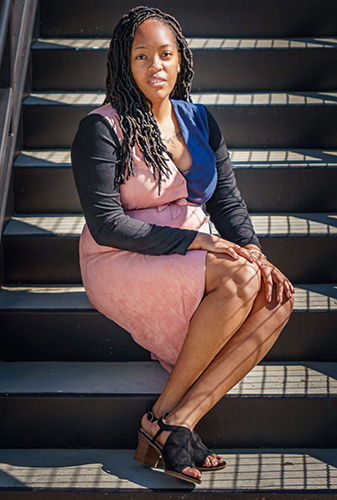 Leave us with some encouraging words of wisdom.  
Always go for your goals even if they seem out of reach because your life is your canvas—a blank journal that you fill the pages with your love and laughter. Although some chapters will be rough, don't skip ahead because these hard moments can lead to the most colorful ones. And, in the end, they're always worthwhile.
Where can we find you?
On Facebook and on Instagram.
All images by DeAngeloOBriant