Calvin Gary Jr., better known by his stage name "Joonie" is a brilliant music producer, successful songwriter, and gifted musician healing the world with a powerful message through his artistry and songs.
Originally from Jacksonville, NC, the singer continues to think outside the box and break boundaries that may try to force his unique sound to be accepted by major labels or influenced by manufactured sounds and mainstream radio. Songs from two of Joonie's albums, "Acoustic Love" and "Contrast" have been featured on Issa Rae's web series "First" and heard on dominant platforms such as BET, Netflix, Hulu and more. He has been credited for writing, arranging, producing, and playing instrumentals for legendary artists such as Elliott Yamin, Tweet, Mos Def, Ruben Studdard, Angie Stone, and Ray J.
With one of the purest and most soulful voices of our time, Joonie's style of music promotes content that positively embodies self-awareness, self-love and healthy romantic relationships. His heartfelt songs are tailored for people of all ages, races, and backgrounds.
The sunflower has become the theme of his latest album "Yellow Dust." Originally released June 26, 2020, the masterpiece could not have come at a better time to help people heal, promote peace, and show love more even after the pandemic. The album features singers, JaVonté Pollard and "The Southern Hummingbird", Tweet. I recently caught up with Joonie to discuss the success of Yellow Dust, the effect it's had on fans worldwide, and more.
How did you get started in the music industry?
I started doing music very young and the piano was my first love. Later, I came into music production and recorded myself singing my vocals on tracks so that I could sell songs to the major labels and artists. That initially was my goal and what I wanted to do in my career, be a songwriter. A mutual associate gave my demo to Warren G. He asked if he could work with me, at first I said no because that wasn't the direction I wanted to go. He then asked if I would give him 90 days to get me a record deal. Less than a week later, he called me and from there I headed to Cali to sign my first major deal, and that was my introduction to the music industry.
How have you been able to consistently produce timeless music that touches, connects, and positively impacts people wherever they are in life?
Honestly when I'm writing or making music my mind creatively goes a lot of places. One thing I've been concrete about when I'm in that mode, is to remind myself that I'm not trying to be like anyone else. My goal is to be as genuine as I can with what I'm writing. So the creative process is super easy for me because I can pull music, melodies, production and things like that but the writing part is the most challenging. To me the most important part of a song is the words. There has to be a message and something the audience can feel in an unforgettable way. So overall, the way I'm able to do this comes from a place of fantasy in believing that there is such a thing as pure and genuine love. I also share my truth through my own personal life experiences.
How do you feel you've evolved in your music since your first two albums to prepare listeners for an album like Yellow Dust?
Since the first album (Acoustic Love), there are a number of ways in which I feel that I've grown, like technical stuff in how I record or mix records and things of that nature. Ultimately, I'm still growing and learning with that. In regards to the actual content on the albums over the years and growing into an album like Yellow Dust, I honestly feel it was life itself. At the time when I dropped "Contrast" late 2013 there's a huge gap in between there compared to everything that hit the world last year in 2020.
For the Yellow Dust album, I got the theme from listening to an interview oneday where they were discussing the benefits of sunflowers. The people in the community of Japan planted over 10,000 packets of sunflower seeds to absorb radiation through its roots in response to the Fukushima nuclear disaster in 2011. The large yellow blossoms were also a symbol of hope and reconstruction.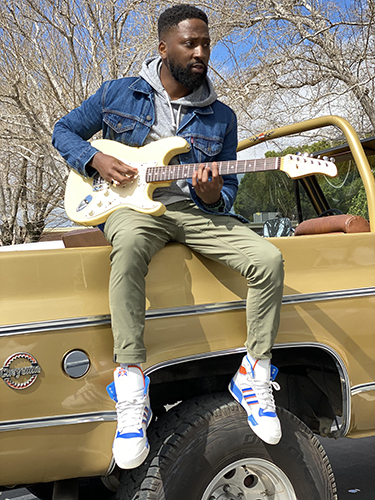 Instantly my mind started going off and thinking of how I could positively apply this to my music. What if we as people were able to take on that mentality to absorb the negativity around us from social media or TV and all aspects of our lives? Even in our personal day-to-day dealings with our loved ones, family, friends, etc. how can we absorb it all to give off what's needed to heal, love and promote peace to others? This ties into what I'm talking about in one of my songs called "Find Me", reminding myself and others that we're all human and make mistakes. 
Sometimes we lose our way and need to reinvent ourselves, have people believe in us and not give up on us…find me. Why not absorb that negative mindset, take it a step further (which is the yellow dust) and take a positive stand to allow each other to be human and help each other find the better version of ourselves. Sometimes we need to pull on each other to help us get to the next level. Don't be so quick to walk away but find me like I'd do the same for you. The entire album came from a personal inner battle I was having with myself and hoping others could relate and understand. Based on the fans' feedback and the DMs I get, this song/album has done so much for people. Some have admitted how it helped them find and love themselves, battle depression, not commit suicide, etc. In a nutshell, that's how I feel I've evolved over the years to prepare for an album like Yellow Dust. 
What effect did you want Yellow Dust to have on people to help them continue to move forward in life no matter what obstacles they'd face?
 I just wanted people to connect with it in a way to help them think positively even in a place of adversity. When I was creating the music and melodies I just needed to get out how strongly I was feeling about each song. One thing about me is I love all genres of music, so I grab what I love from music and gel it into what's needed where people feel it's RnB, Soul or whatever else they see it as.
When you need inspiration, in grind mode or just need that feel good music, what artists can be found on your playlist?
If I'm being completely honest, I love all types of music and artists but I'm also an artist who truly enjoys what I create and love what I do, so I listen to my own music. There are days I'll pull out a lil Nat King Cole or someone else old school. But I don't necessarily have a "go to" artist. Some may consider that cocky or arrogant, yet it's not, I'm truly the most modest person you would meet. As I've gotten older, I've learned to be okay with loving my music, listening to it and ultimately loving myself. I don't expect everyone to agree or understand that level of happiness in loving what I create. 
What valuable advice would you give an upcoming artist with a unique sound to encourage him/her to pursue their dreams? 
Wow, that's such a beast of a question because there are so many things I'd tell that person. For one, this new way that the music industry is designed now means you really have so much at your fingertips. You can market and distribute your own records and music to anyone, including other countries without the middleman. I would tell anyone don't sit back and wait on getting discovered or signed. Be comfortable with who you are and what you have to offer. Be sure to use the tools out there to find "your audience." That's not buying followers, that's taking the initiative to find the people looking for your sound. I'm an introvert and I'm still learning different ways, so just be consistent in whatever you're doing. Most importantly, unselfishly evaluate your reason for what you do because everyone isn't designed to be superstars or household names. But we all have a gift or something unique to put out into the world. So share your gift with others and trust that it will help someone at the right time.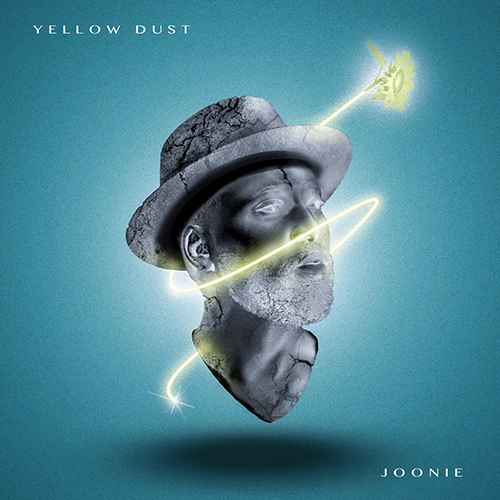 Yellow Dust is available on all major digital platforms. To find out more about Joonie, click here.
All images by Jerrett Harris