Michelle talks to us about being a newcomer to season two, the power of sisterhood, working during COVID, and of course fashion.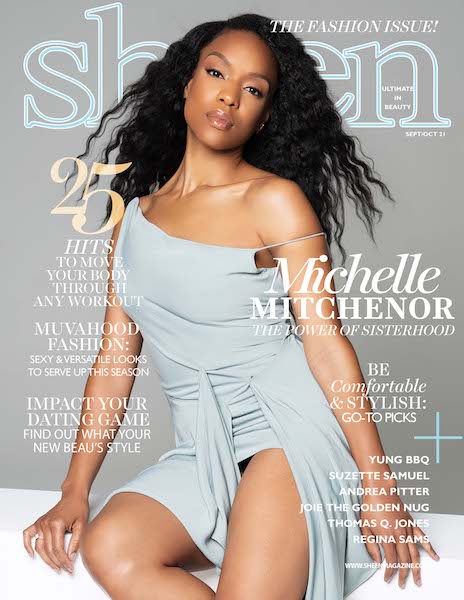 Ladies, pull out those stilettos and stand united! Michelle Mitchenor shows her skills as a new lead on the BET+ hit comedy series, The First Wives Club. Sisterhood is defined as companionship among women with mutual concerns, and that is the basis of the series. Mitchenor is stepping out of her detective flats into the high heel corporate pumps of an attorney in season two, joining the sisterhood as Jayla Wright.
Looking at the dynamics of the cast and the roles that were set in season one, viewers want to know the scoop of how Jayla fits into the crew, and who better to describe that than Michelle?
When the opportunity of playing Jayla presented itself to Michelle, she was excited, and she knew she was going for this role because of three major reasons. One, she's a huge fan of Tracy Oliver and her writing. "I had actually auditioned for every single role in her other show that's coming out, Harlem, I went in for every single female character of that show and I didn't get it. So, I got an opportunity to just be in front of Tracy again for another shot." She added, "A lot of times as an actor, the auditioning process is what can lead you to your "yes," not necessarily always booking the job." Coming from Lethal Weapon, an action cop drama, Michelle used a lot of exposition jargon and wanted to use that experience with Jayla, although she is an attorney. Lastly, she saw it as a great opportunity to show those who are following her career, that she can tap into different essences that she carries in her bag. Michelle tested for the role via Zoom, which was her first time having to directly audition through a computer screen. She had to deal with the things that happened to us all with Zoom – technical difficulties, waiting rooms, sound going in and out, all the Zoom–isms that happened during her audition. Through it all she does it, no matter what is going on, the show must go on and she must keep going, keep pushing. "I just got planted and grounded in what I prepared, and the rest is history, and here we are now."
Working during a pandemic can be challenging, because of COVID, the cast which includes Jill Scott, Michelle Buteau, Ryan Michelle Bathe weren't afforded much cheek-to-cheek bonding time, but that sisterhood viewers all felt through the screen is contributed to the great writers. COVID has made this job different from any other job Michelle's ever worked. The first time she met the cast via Zoom and then when they were on-set, they had to keep their social distance. Michelle says, "The times that I did get a chance to just chat and chop it up with some of the cast members, and it was great. RonReaco Lee who played Gary Washington was really amazing, as well as Mark Tallman who played David Montgomery, is super amazing. They're both like dads, talking about their boys and their family lives and they were super sweet and welcoming."
LET'S TALK ABOUT FASHION!
When it came to Jayla's look, Michelle was collaborative in the process, "I was definitely very intentional with how we did the character look," coming from playing a detective for three years on the set of Lethal Weapon where she pretty much didn't wear any makeup and had that pullback detective hairstyle, she was excited to be a character that was more polished and wore makeup.
Lorraine, one of the show's wardrobe designers, got what Tracy wanted from the character. Tracy is very involved in how she wants a character to look, but Michelle was adamant about representing millennial Black women in this corporate space. She wanted to show that we can have vibrant funky colors, and still have our natural hair "professional-looking." There's still a way that we can embrace everything that us Black women have in a corporate-type setting, and that was what was important to her. With Jayla's hair they were collaborative and wanted to show the different types of hairstyles that can be worn in a corporate setting that are still natural, and that we can switch it up, no one's going to be like 'wait, is this a whole new girl?' Michelle uttered, "Just showing that your essence, your character, and your professionalism and how you show up to work will always supersede your look; we're all a little spicy."
Speaking of spicy, Michelle describes her style as, "I'm in my graffiti's biker shorts and Filas, true 90s. Well, I guess I'm a 90s kid but more like that 2000s fashion," she says. Oversized jeans, graffiti T's cute little fanny pack and Filas is all she needs. Even jerseys with Advocacy pants, bucket hats, and she is out the door, maybe just a little lip gloss and keep it moving," says Michelle. "When it's time for the red carpet then she'll pull it together and show a little bit of the hard physique she's been working on."
Since their fashion style was not comparable, the thing Jayla and Michelle did have in common was the ability to code-switch. Oh yes, they both know when it's time to be professional and put together, they both know their job and do their thing. Then on the other side, they both can really let loose around people that they're comfortable and safe with. Michelle chuckled, "I love that she was very different in the office than when she's at karaoke or when she was having drinks with the girls. That's something that I definitely have in common with her."
The whole show is about the kinship and closeness of women, and the finale really showcased that. She admired how supportive they were to one another. "I actually loved the finale; we got to be there and watch it in real-time."
Season three of The First Wives is coming soon and, in the meantime, Michelle's been seen in BET HER's, THE Waiting Room. "I am manifesting a box office film like I Am Legend/ Independence Day type of film where I'm running, chasing, and being in the best shape of my life."
This extraordinary young woman leaves us with this, "We're in very unique times right now. I really encourage everyone to trust their timing and trust the season that they're in. Let that be their anchor, let that guide them."
Michelle is manifesting the world she wants, and so should we all.
Courtesy of STRATEGIC PUBLIC RELATIONS
For more information on Michelle Mitchenor: