Serial entrepreneur, Q. Nicole McNair is a woman on a mission to support aspiring cannabis entrepreneurs create their very own hemp empires! With her most recent venture, WH Farms, she has created a space that will not only empower entrepreneurs in this space but provide them with the skills and strategy to take their CBD brand to the next level. We caught up with her to discuss her passion, the power of CBD, and much more!
How do you juggle life as a serial entrepreneur, real estate investor, and cannabis CEO?
I think that I learned early to really focus on really building my capacity as an individual before starting multiple businesses. I kind of stuck with the basics and I try to remain grounded on a day-to-day basis. I try to do grounding activities and exercises that keep me calm and sane as I operate as a multi-business owner. There are certain days that I don't do various tasks, I try to manage my time to give complete focus to my tasks in order to be effective and efficient to each business. I keep my phone on 'do not disturb' from 9am to 9pm. I tend to not indulge unfortunately in a lot of entertainment as much as possible – just so that I can really be attentive to my business. On the weekends, as much as I can, I try to steer away and create a space away from business so that I can remain grounded.
Can you tell our readers about WH Farms? What is your overall mission?
WH Farms is an industrial hemp farm – a cannabis industrial hemp farm that is based in Eastern North Carolina. My farm has about five acres and three green houses. We are working with legacy farmers and those individuals that have inherited farmland from previous generations and providing them with opportunity to create a more growing crop with their farmland. Although our farm is five acres, we are housed within a co-op. We have a capacity of up to 200 acres. We produce lots of cannabis on an annual basis. Our particular farm has both outdoor acreage as well as indoor growth. We grow both smokable hemp and also process our hemp into various CBD extracts. I became licensed in 2019 as an industrial hemp grower and I realized that there wasn't a lot of opportunity or simple pathways to introduce entrepreneurial minded CBD enthusiasts who are interested in the power of plant medicine and the overall health benefits of CBD. I wanted to create a pathway for those individuals who launched their own CBD-infused product lines or have CBD-infused products. Our flagship product is called a business launch kit. It's our CBD Business Launch Kit That kit provides you with a wholesale extract that we actually grow on our farm along with 20+ electronic educational lessons on the history of cannabis, the plant science, scientific research that supports it, how it affects or benefits the body, as well as the uniqueness of the cannabis in the marketing space. We provide that e-course to individuals who are looking to have their own CBD-infused product line. We also white label so we take the pressure off their hands if they would rather our company develop their products. We have partnerships that allow us to do that so that we can again, make it simple for those who are excited about CBD, cannabis, and the growth. We can offer them the opportunity to really grow and have their own product. Our mission is pretty simple. We want to educate individuals and empower them to understand the benefit and the power of the cannabis plant. We're very excited about the educational program that we've built and the way we develop the community as new cannabis consumers.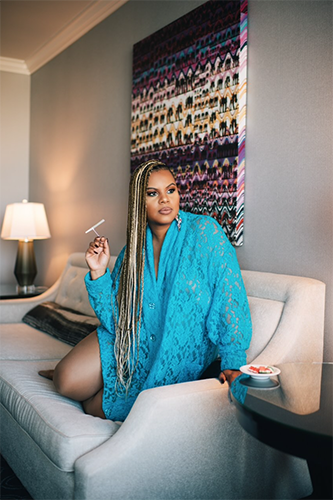 Why do you believe to strongly in CBD?
In 2013, I lost my dad. I kind of went through a rough transition. I had just launched into entrepreneurship and that alone comes with its own set of challenges. I was diagnosed with PTSD and the anxiety that complimented it was just unbearable. I didn't know if I would be able to pursue my goals. I was in a space I was unfamiliar with and I just wanted to create normalcy in my life. The first prescription that was offered was and opioid prescription. Just seeing and hearing about it, I was uncomfortable with depending on the pill to make me happy. I was more comfortable with the medicinal route just based on how it has helped others through their challenges. I asked my therapist to help me obtain a medicinal card [I resided in Maryland at the time] and I was able to do so. I began using various CBD gummies and smokable CBD to alleviate some of the concerns I was having. My life drastically changed, quickly. There wouldn't be a WH Farms or the success of other businesses, had I not allowed a plant to help me in an area where traditional science told me that I perhaps needed a pill. The reason why I am passionate about WH Farms and being able to produce CBD through industrial hemp and have the conversation about it is because I have first-hand knowledge of how it can help a person. I also have a 75-year-old mom, who at 73 had both of her knees replaced. Instead of using opioids for pain, she chose to use CBD and she literally went through the recovery process like a champion. It was amazing to see how well she was able to cope and continue her physical therapy so quickly. I want to elevate the conversation on the power of these plants.
What are you currently working on and what can we expect to see from you in the future?
We are continuing to expand in allowing individuals to be a part of this wealthship that is happening in the cannabis industry by having their own CBD-infused product line. We launched our white labeling services in February, so we're excited to offer both beauty and body care items that are already infused with the CBD from our farm. We also are excited to expand the conversation to get into the retail space. Lastly, we are coming out with our own smokable line. We have a pretty popular brand ambassador that is joining forces with us, allowing their own creativity to be a part of the process while we produce this line. We want it to be an alternative to cigars and cigarettes in order to promote health and medicine.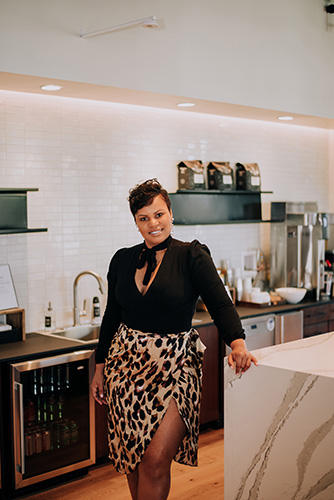 For more on WH Farms, click here.
Stay connected with Q. Nicole McNair by following her on Facebook, Instagram, & Twitter.
All images by Brandon Grate