Today we celebrate 98 years of sisterhood and service with the amazing women of "Sigma Gamma Rho Sorority Inc., an international sorority and organization founded on the principles of education, sisterhood, leadership, and community service. The organization was founded on November 12, 1922 in Indianapolis, Indiana on the campus of Butler University.  Sigma Gamma Rho Sorority Inc. was the last sorority founded within the Divine 9 but the first of its kind! Sigma Gamma Rho Sorority founders were 7 educators, who were fierce and fearless! They stood together to make an impact for change.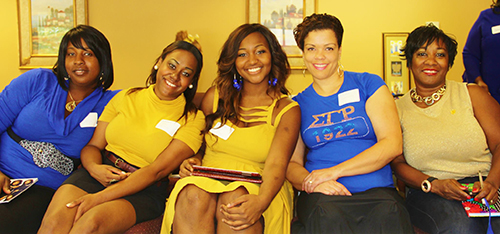 The sorority stood for the advancement of black women and men during one of the most known racist eras; unlike most of the divine 9 organizations, Sigma Gamma Rho was founded on a predominantly white campus. The sorority has since impacted 85,000+ women in more than 5+ regions globally; Central, Northeastern, Southeastern, Southwestern, Western and most recently chartering a chapter in Dubai! This significant organization service spans over 500 chapters in the U.S., Bahamas, Bermuda, the U.S. Virgin Islands, Canada, Germany and Korea!  Sigma Gamma Rho's slogan is "Greater Service, Greater Progress" and they've made strides in the community with signature programs such as Habitat for Humanity campaign, Wee Savers, and "Swim 1922" where the sorority focuses on teaching swimming within our black communities, helping decrease the numbers when it comes to drowning. Sigma Gamma Rho may be the youngest sorority in the divine 9 but it's safe to say their impact is far from last! Notable members include the legendary Hattie McDaniels, MC Lyte, Victoria Rowell, Deshauna Barber (Miss USA 2017), and Singer/Songwriter Kelly Price, plus many more! These women all exude excellence, strength, and the desire to serve! Congratulations to the ladies of Sigma Gamma Rho for celebrating 98 years of "Greater Service, Greater Progress!"
As a proud sister of Sigma Gamma Rho, I want to highlight some of our members who are educators and change agents just like our 7 pearls were! These women are serving those who may be overlooked, disregarded, and underserved. Our change agents serve while wearing many hats and oftentimes are unaware of their impact in our communities. Thank you ladies for your service in our communities! Checkout these local change agents and sorors below: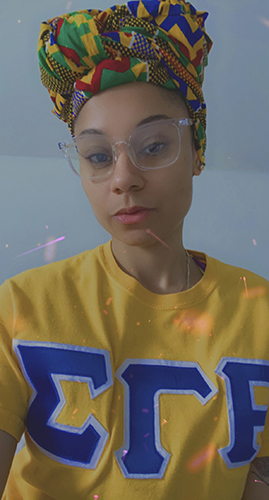 Nathalie Shaw
Occupation: Urban Education prek-12 Certified Professional School counselor
B A.Virginia Commonwealth University- Psychology
M.A. Norfolk State University-Urban Education Prek-12 Certified Professional School Counselor
Omega Sigma Chapter – Hampton University
Nathalie is a cheerleading coach, step team coach, and after school mentorship coordinator who uses her social media skills to engage scholars to attend virtual classes due to pandemic. She creates authentic relationships with the families she serves. She ensures the parents that she's a part of their child's village, after all, it takes a village to raise a child. Before the pandemic, she held weekly after school clubs for the students where they discussed topics such as online bullying, peer pressure, illegal narcotic use, and even how to not be a bystander but to report when conflicts occur online or in person. Currently, She's teaching her students social-emotional learning lessons and the importance of kindness, gratitude, and giving without the need to receive. Nathalie leads by example while representing SGrho in and out of the classroom!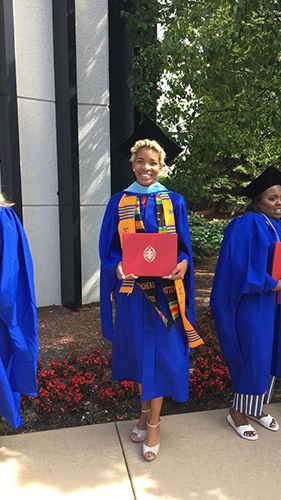 Saliyha Johnson
Bachelor of General Studies in Education, Elementary education and Mathematics
Georgia Southern University 12, Nu Omicron Chapter Spring 11
Master of Education in Early Childhood and ECE Special Education
DePaul University 17 
General Member in NER
Saliyha Johnson is an Early Childhood Special Education Resource Teacher for DC public schools and operates a consulting business, Ms. EdgeUcation, where she helps advocate for new teachers and students with behavioral intervention needs. She received her bachelor's degree from Georgia Southern University, where she was inducted into the Illustrious Sigma Gamma Rho Sorority Inc.; and received her Master of Education from DePaul University. Saliyha has a fervent passion for education reform and making 21st-century education equitable and attainable for all students. In the classroom, she is a no-nonsense nurturer and she teaches through a social justice lens. She offers a safe space where students have fun and thrive evidenced by continuous student growth and progress on state tests and reaching grade level as well as students' overwhelming decreases in undesirable behaviors. Ms. Johnson's passion for closing the achievement gap inspired her to consult and she works with families, schools, and communities to build learning and behavior plans for students in need and presents seminars about advantageously addressing classroom behaviors to ensure student success. When she is not teaching, she enjoys traveling, artistic endeavors, and spending time with family and friends.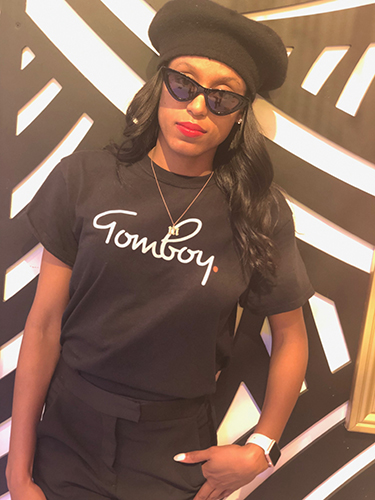 Melissa Stephenson
Mu Xi Chapter of Sigma Gamma Rho Sorority. Spring 2012
Jacksonville State University
Clinical Psychology Degree
Special Ed P-12, Education Adaptive Curriculum P-12
Special Education General Curriculum 6-12
Melissa Stephenson is a special needs teacher who has been teaching for six years. She chose special education because she felt that those children were often overlooked at times. She promised to be their biggest advocate and voice for the children who were not able to defend themselves. She is currently pursuing a master's degree in School Counseling at Albany State University where she holds a 4.0 GPA. Her future plans are to make a tremendous positive impact on the lives of individual students and the surrounding school community. She plans on helping and providing support to young people at critical times in their lives, including times of transition and crisis. She is a big advocate for her children in the classroom but also in sports. She coaches cross country and track and field at Discovery High School in Gwinnett County Public School. Overall, Melissa stands for the motto of Sigma Gamma Rho, which is greater service, greater progress. To enhance the quality of life for women and their families in the U.S. and globally through community service, civil, and social action. She plans on achieving greater progress in the areas of education, health awareness, and leadership development.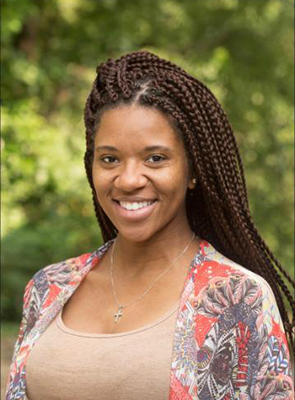 Britteny Ford
Omicron Gamma Chapter – Fall 07 Georgia State University
B.S. Early Childhood Education
HQ Reading + Mathematics
ELL Endorsed
Brittney Ford is a driving force in her school and local community. She's an advocate for equality, diversity, and inclusion (EDI) work. She spearheads the EDI team and through this work inside of her classroom she has relentlessly and compassionately advocated for the centering of Black/African-American perspective in every level of decision making. She continuously seeks out opportunities for her own growth, as well as developing, creating, and facilitating staff-wide learning to a primarily white staff. Brittney is instrumental in coordinating the efforts of our board, staff, caregiver, and administration to further her school's efforts making her school more abolitionist and less white-centered. Brittney is a abolitionist teacher who teaches with a critical lens and is highly endorsed in reading, mathematics, and literacy.
Shakenya Burch Ed.S., LPC, NCC
Bachelors in Criminal Justice Minor: Psychology
Masters in Clinical Mental Health Counseling
Education Specialist Degree in Clinical Mental Health Counseling
Current Doctoral Student in Counseling Education and Supervision
Mu Xi Chapter – Jacksonville State University- Sigma Gamma Rho Spring 2008
Shakenya Burch is a licensed professional counselor in the state in Georgia. She is the founder of a group practice, Trust2Change that is located in the Northeast Atlanta, Georgia area. Trust2Change, LLC is a private practice founded in 2019. The practice aims to provide non intensive individual counseling for teens and adults struggling with anxiety, depression, boundary issues, and ineffective communication. The professional staff is composed of Therapists trained in holistic forms of treatment such as Cognitive Behavior Therapy as well as Trauma Focused Cognitive Behavior Therapy. The practice utilizes exposure therapy, mindfulness techniques, grounding techniques, and thought reprocessing to assist clients with producing healthier outcomes in their life. Shakenya is a current student at Mercer University in Atlanta Georgia where she is pursuing her PhD in counseling education and supervision. She has been a member of Sigma Gamma Rho since her undergrad days at Jacksonville State University where she crossed in 2008. Since then, she has dedicated her time to service and creating the change she would like to see within the African American community. She is an advocate for removing the stigma associated with mental health. She plans to create an advocacy platform to help bridge the gap between mental health services and the African American community.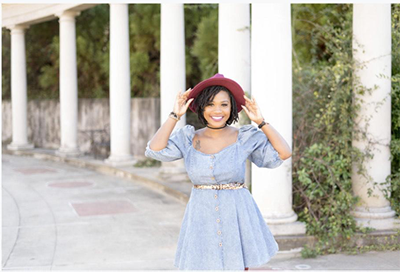 Destiny White
Bachelor: Early Childhood Education Jacksonville State University
Masters: Elementary Education West Georgia College
Specialist: Curriculum and Instruction Kennesaw State University 
Mu Xi Chapter- Jacksonville State University: Sigma Gamma Rho
Spring 2012
Destiny White is a 2nd grade educator in her 7th year of teaching. She's taught Pre-K, 1st, and 2nd grade. Destiny also obtained her masters in Elementary education and earned a specialist degree in curriculum instruction. Destiny is a mother and educator who prides herself on being a compassionate listener, and safe haven for the children she educates. Destiny is currently preparing to launch her own youtube series "Let's Talk Life with Destiny", a show that will focus on education, life discussions, love and so much more!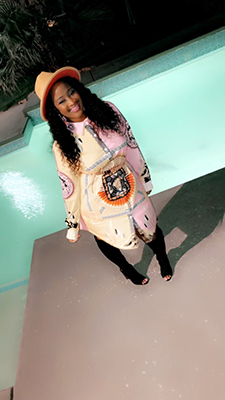 Kearre N. Bussey
B.S. Social Work Jacksonville State University
Jacksonville State University  – Spring 2012
Kearee Bussey began her career working as a youth counselor in detention centers.  In 2014, She began her career with The Georgia Department of Human Services. Since working there she has held positions such as leading case manager, serving as the legal guardian/representative of the state of Georgia, for children that were in foster care. Kearre's goal is to ensure the safety, well-being, and permanency of children. She has received certifications in foster care, child protective services, family preservation services, and solution based case management. Kearre is also certified to assist with people needing assistance with depression, anxiety, psychosis, and substance abuse. Kearre is a team player and resourceful when assisting those in need. Kearre intends on obtaining her masters degree with dreams of working with veterans at the hospital.
Celebrate Sigma Gamma Rho Founders Day today via social media accounts.
All images courtesy of Sigma Gamma Rho Sorority, Inc.