12-year-old, Christiona Graham also known as DJ Princess C is a growing force in the DJ world and a native of the DMV. She's no stranger to the music game, developing a love for music at a young age, she's been a performing DJ since 5 years old rocking parties and special events with her energy and skillset. A huge highlight was this past Easter when she was able to introduce First Lady, Jill Biden to the stage at the White House annual Easter egg roll.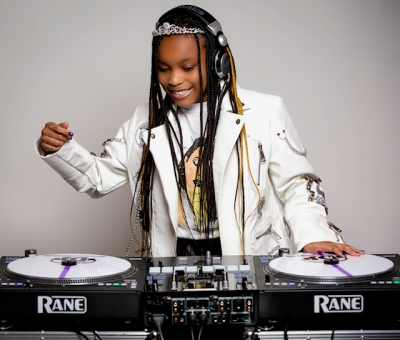 What was the inspiration behind your brand?
DJ Princess C: My dad is one of my inspirations because he first introduced me to DJing and turntables. DJ Beauty and the Beatz was one of the first girl DJs to encourage me and allowed me to play on her turntables.
As a kid entrepreneur, how do you balance fun and responsibilities?
DJ Princess C: I have different schedules that I stick to. I get all of my homework and chores done first, then when I have enough time, I take a break. After my break, I practice 4 times a week for an hour and a half per practice. If I can't follow this schedule, I would get my practice done before my break and then have the rest of the time off once I'm done.
What is your favorite type of event to DJ at?
DJ Princess C: My favorite type of event to DJ at is sporting events and concerts.
What's your best piece of advice for aspiring and new kid entrepreneurs?
DJ Princess C: My best piece of advice is, when jumping back from running your business and juggling schoolwork, plus finding your free time, it may be difficult at first, but when you find a schedule or routine that fits your style, it can run smoothly from there.
Who is your business role model? Why?
DJ Princess C: My mom is my business role model because she knows how to get people hyped in her business and can make a good schedule to hang out with her children.
What is your proudest business accomplishment?
DJ Princess C: My proudest business accomplishment is DJing at the White House for the Annual Easter Egg Roll twice. In the most recent Easter Egg Roll event, I was able to introduce First Lady Jill Biden to the stage.
How can our readers connect with you?
DJ Princess C: www.instagram.com/djprincessc
Photo Credits: Antonio Hunt