Rene de la Garza, popularly known as The Brow and Skin Maestro is the founder of Brow Down Studio – Hollywood's go-to place when it comes to slaying the brows. Rene has worked with big names in the industry such as Lizzo and Cardi B, and he's only just started his own chapter of success. We caught up him to discuss his interest in skin and brows, his new service, and obtain his best advice on how we too can slay our brows.
Tell us about how you got into this realm as an esthetician?
Ever since I could remember, I've been obsessed with products. I can vividly remember the look and smell of my Mom's drawer full of clinique products and makeup. I always loved watching my mom apply her skincare onto her high cheek-boned dewy skin. When I was 14 years old, I was given a nordstrom giftcard for my birthday, and unlike any other kid who would spend it on clothes, I went straight for the cosmetic department to the kiehls counter, where I bought my first skincare products (eye cream and sunscreen). I then went on to college on an opera performance scholarship, where I would find myself giving all of my colleagues skin regiments, and how-tos with removing stubborn stage cake makeup (double cleansing has always been the answer!) Soon after getting my degree in opera performance, I hit the ground running into the beauty industry working in business management, marketing, education and a consulting makeup artist for several skin and cosmetic lines. 
One day after writing the most exhausting customer service education directive for a very popular global beauty brand, I had a realization, and I thought "Why am I not working on skin and brows full time?!" The decision to pursue my esthetics career was never more clear, and ever since have never looked at any other industry!
You've worked with celebrities such as Cardi B and Lizzo! How would you describe those experiences?
They are both incredibly talented women who inspire me to unapologetically be myself. They are the most hard-working women I know, and I feel honored to have worked on both of them! Collaborating with both of their makeup artists to conceptually design a brow style for them, was SO FUN! I am known for my work as a Natural and Full Brow Styled artist, and I had the pleasure of popping both of their Brow Lamination Cherries!
What is one tip you have for achieving the perfect brows?
LEAVE THE BROW SHAPING TO THE PROFESSIONALS! Find a Brow Artist that you trust, stalk their instagrams and reviews, and stay loyal! It is so easy to screw up your shape by going to town with tweezers in the mirror and removing the wrong hair (yes one hair) can completely throw off your angles and proportions and make your brows appear uneven or thin!
You now offer a new service with Brow Lamination. Can you describe the process?
Yes, it has become my number one booked service! Brow Lamination is a chemical process that breaks down the inner protein chains to make the brows super sculptable and manipulate the hairs in any desired angle! Brow Lamination gives the look of a "supermodel brow", lifting the brow like no other brow gel can! Best of all it lasts 4-6 weeks and has very little maintenance!
What are you currently working on and what can we expect to see from you in the future?
I spend my days servicing my very loyal clients in my studio in Downtown LA, driving to housecalls, as well as training estheticians worldwide in the Brow Lamination Technique virtually and in-person. I also oversee my e-commerce team for Brow Down Studio that features all of my brow products, iS Clinical skincare, as well as other indie brands all made in LA! 
In terms of the future, I am in the final stages of production for my new Brow Product that will be launching this Holiday Season! It has been a huge secret, and I cannot WAIT to launch!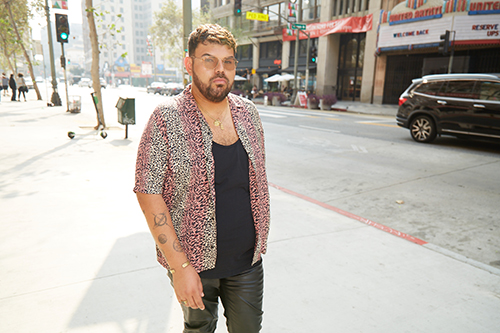 For more on Brow Down Studio, click here.
Stay connected to René de la Garza by following him on Instagram now!
All images by Alex De La Hidalga