No stranger to the world of hair, Cherie Amor is a true vet in the beauty industry. With over 20 years of experience in the game, the celebrity hairstylist hailing from East NY Brooklyn has created her own fashion empire, Elegance of Amor. A master in the art of creating wigs, colors, styling, and extensions, it's no secret that she knows a thing or two about what she's doing. We recently caught up with the hair extraordinaire to discuss her journey so far, the launch of her summit, Hair I Am, and much more!
With over 20 years in the industry, what do you believe is the best lesson being in this realm has taught you?
Wow. I learned so many things. For one, I learned how to be patient. Patience is a virtue. In working with other women and hairstylists and the opportunities I was given, I realized that some people may not have a clear understanding of how business works. Some may even come in feeling privileged. I have a better understanding of why they may feel that way. I've also learned over the course of the years how to actually be a boss. I used to work for my feelings. I wanted to be the boss but not make others feel like I was the boss. I wanted to give everyone their independence to a certain extent. I wanted to make people feel whole; I went wrong in a lot of areas befriending and mixing business with personal. I didn't have a clear understanding that they came separate. When things used to fall apart or not work out, I was so lost. It was more so of feelings so unappreciated. The truth was, I didn't set boundaries. I had to take all accountability for that. I also learned that it's important to invest in your brand. I used to hold onto my money so tight. I never had any problems with spending money on unnecessary things like a bag or shoes, but I wasn't big on reinvesting. That's important. Eventually, that all will show. I've learned to not hold onto money because money is made to be spent. You have to invest to get the results that you actually need and want. I learned a lot about money; how to save, pay yourself, and how to pay employees. We don't come from that type of place, where we're taught those things. You learn those things along the way, or you may get lucky and run across someone who has the knowledge to put you in a better position that you were yesterday. I've learned so many amazing things along the way. The first step is taking accountability for anything you fall short in and always being willing to be a student. You may be running shit, but you should be willing to learn.
What inspired the creation of Elegance of Amor?
When I was young, I always had some type of attraction to hair, different types of hair. I think I was amazed because one person can where multiple hair styles and look like a completely different person. It was the choices for me. I always wanted my own hair salon. I always spoke about it with my mom. God bless her soul [her birthday was Monday, December 21st]. We used to converse all the time about me opening up a business. She was so excited about it. Growing up, I always had a rough side to me, but I've always been elegant. In anything that I did, I did with class. When I came up with the name, it was years before I even had a salon. I go by the name of Cherie Amor, but I didn't want to put the business in place with my actual name for many different reasons. I wanted the name to stand out. I came up with Elegance of Amor because it represents me and who I am. Everyone has a different side to them, but I like to be elegant. That's what stands out to me. I believe it best fit me and what I was trying to build. It's actually so pretty! It's not common, I wanted something that would stand out.
Why is empowering Black woman and beauty gurus so important to you?
I always say that I don't just do hair, I touch hearts. I touch hearts of multiple women. They're not all Black. We all go through a lot of the same things. I can relate to Black women because I know a lot of the things that we're born into. I know what we go though in a day to day, but the overall impact of women is the most amazing thing and feeling. Women sit in my chair all the time and they express to me what they may be going through. Whether it's relationship, family issues, or going back and forth in life. It's always a good feeling when you can help them get through that tough time; even if it's just for a couple of minutes. People respect the real but for the most part, it resonates. I'll get the phone call later saying how I may have helped them, even if I may not remember it. Having an impact on anyone's life is truly amazing. I take pride in that. It's something that I long for. It's a part of me and my brand. I don't just do hair; I touch hearts too.
Hennessy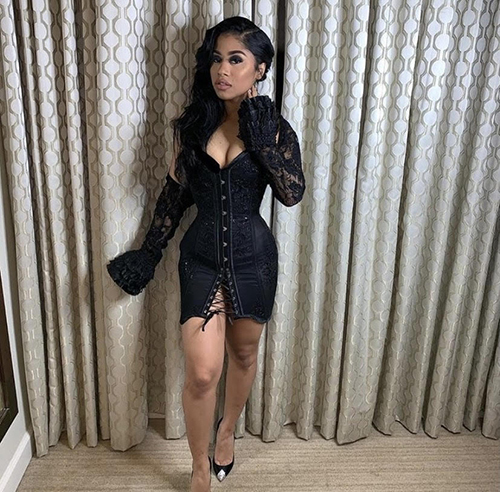 Milano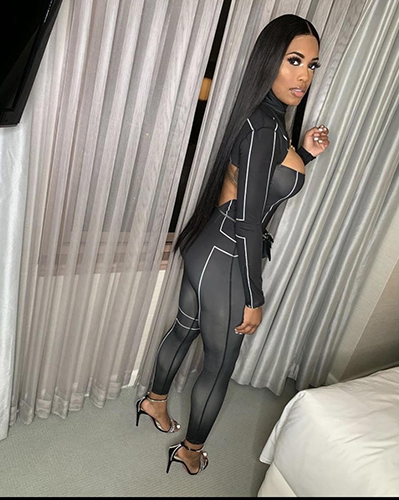 What have you been working on during the quarantine?
One thing that the pandemic taught me is how to make money in your sleep. It actually woke me up. For me, the pandemic was a gift and curse. It didn't necessarily affect my business, but it did affect me later on. When the pandemic hit, I came up with so many creative ways to not only still do what I do behind the chair, but how to make money and survive. The pandemic taught me how to survive. I got creative with wigs, color, and providing people with a new style. I was also able to create a hair growth oil and I put that out with so much confidence. Us as women, yes, we wear weave and extensions but there is nothing like taking care of your natural hair as well. I created that and it did very well. I've gotten such great feedback from it. With the hair extensions, that just flew out. Everyone wanted hair and wanted to purchase hair, even if it was to be cute in your living room. During the pandemic, we became more attentive to other businesses. We're forced to order and see what others have going on. Every day, it wasn't a struggle, it was more of a creative aspect. I was inspired by so many people. It worked for me tremendously. On the flip side, my health came into play. I have fibroids and I had to get my fibroids removed. There are so many women that go through the same thing. My surgery turned for the worst. I lost my life on the table, they had to resuscitate me so I'm actually a walking miracle. Even after that, my healing process was a struggle. I got into a very dark place. Your mind starts playing tricks on you and you begin to believe that you can't do things anymore. When my health came into play, it took over everything else. I'm getting myself back into the place that I used to be, which is working out. For me, the pandemic wasn't a bad thing. I didn't fall too short. I feel like a lot of businesses made the bulk of their money, money that they've never seen now, including me.
What can we expect to see from you in the year 2021?
The year of 2021 will be a different year for me because I am coming from behind the chair. For many years, I've been working in my salon. I have been active with my clients. I'm still going to be active with my clients, but it won't be from behind the chair. There are so many things I want to do. I came up with this event, Hair I Am in March, prior to the pandemic. I had an amazing event March 1st and the whole meaning was to bring women and men together. This event is for all hairstylists to come together, not be each other's competition, but come together to collaborate and make money. Everyone has their techniques, we're not here to judge. If we see someone falling short, there are ways we can help them. It's all about working smarter and not harder. We don't have a lot of that. We leave a lot of people behind and not show appreciation for the people that put us in the position to win. That just goes to show that we have a lot of work to do. I wanted to be the person that pulled everyone in the same room. In the last event, I was so proud! There was so much love, compassion, and everyone in there was so passionate. Unity is what it is. Next year, I want to expand that. It's something I want to be extremely big. Hopefully we can collaborate with hair shows, hit the same stage, and just have a good time. I also look forward to having my hair line being expanded. I just look forward to speaking on panels as well to empower other women. I'll of course always look forward to dropping knowledge as well.
For more on Elegance of Amor, click here.