When it comes to hair, celebrity hair stylist, Morgan Mills knows a thing or two. We've seen her work on notable names in entertainment such as SZA, Young Thug, Lil Uzi, Gunna, and much more! With a true appreciation for Black beauty and culture, she created an empire of her own with the hair bundles and extensions company Morgan Mills Lux Extensions. We had the privilege of sitting down with Mills to discuss all the details surrounding her company, obtain her best advice when it comes to hair, and much more.
How did you first get started with hair?
Hair was always a love of mine since I was a kid. I loved playing "bratz dolls" with my sisters, setting the dolls' hair on hard rollers and putting them on the vent to dry. That, and doing my 5 sisters' hair on Sunday nights before school. My mom was constantly telling me to keep my hands out of people's hair. As I got older, I started out sweeping up hair at my mom's friend's salon, which grew into me assisting by shampooing. After high school, I attended Graham Webb Academy in Arlington, VA where I graduated and secured my cosmetology license. After that, I assisted for 4 years then took a promotion for a stylist position. I worked under two different brands before Morgan Mills Hair was birthed.
You've worked with so many great names from Young Thug to SZA, Gunna, and more! Would you say there has been someone that has left a special mark on your career?
Honestly, they all have left a mark on my career in their own special way. I have been with Young Thug 5 years and I'm still so very grateful for our long-term relationship, we're like family. Thug has taken my artistry all over the world in arenas, tv shows, so many different stages, magazine covers, red carpets, award shows and more. Thug is unapologetically himself and genuinely wants everyone around him to win, his will power to put the people he loves in position is admirable and very motivating to me. So, Thug has definitely left a special mark on my heart as well as my career.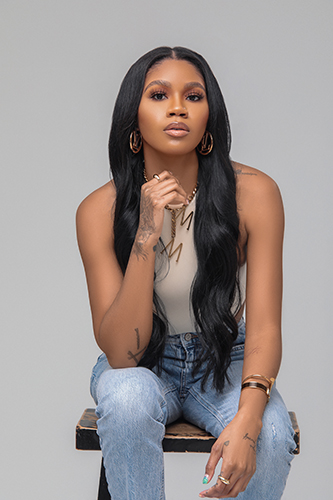 Tell us about the creative process behind Young Thug's pink locs. 
Thug had talked about the album and what he wanted to name it and slightly after he decided he wanted a pink wardrobe and pink hair. Done at our LA studio the process consists of a double process using some of my fav products Schwarzkopf, Pulp Riot, Olaplex and the liquid gold growth drops from the Morgan Mills Hair product line.
What is your best advice in terms of caring for locs, sew-ins, braids, and more?
Best advice would be to get your hair on a routine. What works for someone else's hair may not work for yours and you should consult with a knowledgeable stylist. Loc's should maintain a balance between washing and moisturizing. With weave and braids, trims and treatments in between installs is a must. Make sure your stylist is not using too much tension. A healthy scalp and great products are the key to beautiful healthy hair.
What inspired the Morgan Mills Lux Extensions?
The lack of quality hair is what inspired Morgan Mills Lux Extensions. Brands lack integrity and that's something I wanted to bring forward in my brand. To give my clients luxury hair that doesn't break the bank. 
What can we look forward to seeing from you in 2022?
Expanding my home salon, taking clients in Los Angeles & Atlanta monthly, adding to the Morgan Mills Hair product line, adding more great names to my list. I would really love to work with Flo Mili and Lizzo. I'm going to throw that in there for manifestation purposes but over all remaining a student to life and my craft learning and growing. 
For more on Morgan Mills Lux Extensions, click here.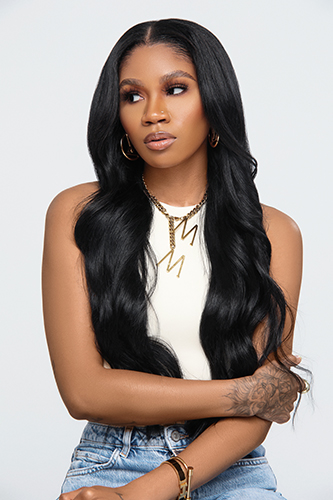 Visit Morgan Mills' official website today.
Follow Morgan Mills on Facebook & Instagram.
All images by Jacob Webster