Celebrity makeup artist, Shanae Thomas' work has been featured across the entertainment industry. With her beautiful work showcased on BET and reality television shows, the Florida native is a true expert when it comes to all things beauty. She's mastered many different avenues in the beauty space and continues to do so with the launch of her beauty line, Bella's Faces Cosmetics. We caught up with Thomas to discuss her love for makeup, the official line launch, and more!
How did you first get into makeup?
I never imagined that my skills would excel the way that they have, or that I would be offered with the countless opportunities I have experienced. My journey doing makeup began with a close friend whose makeup I did in 2015. She enjoyed being dolled up, and I enjoyed providing her with an unforgettable experience. I remember the way she embraced herself and the confidence she exuded when she took that first look into the mirror. It was then that I thought to myself, what would happen if I could bring every woman that same experience and equip them with empowerment, strength and confidence? My goal is for every client I work with to leave feeling better than they came! I often think back to the initial experience with my friend and the reaction she displayed after I completed her makeup. I strive to provide that same satisfaction and liberation to EVERY client by enhancing their God given natural features and beauty.
I began to perfect my craft and practice my artistry on others. Branding is the key to success and with that principal in mind, I transformed what was my hobby into a lucrative and thriving business. During the rise of my business, I decided that I wanted to relocate from South Florida, and was faced with the fear from uncertainties and having to start over. But God! With my unwavering faith and hard work strategically implementing a plan for business and marketing, I relocated to Tallahassee, Florida. I was determined to succeed and knew that it was going to take dedication and handwork. I started branding and building my new clientele, and networking with other entrepreneurs, which was quite a challenge because I had to balance having a full time career as a Director of a Special Needs Intermediate Care Facility and building this business from the ground up. I continued to perfect my craft and my brand continued to grow. The efforts of my hard work and dedication have definitely paid off. My work has been featured on BET, Ebony Magazine, KISS products, and the Reality Television show Housewives of Atlanta. My artistry skills and passion for makeup has landed me awards of Wedding Wire Couples choice, averaging about 30 weddings a year. I have gained a consistent clientele, and ongoing collaborations and business opportunities, including sold out makeup classes.
What inspired you to launch Bella's Faces Cosmetics?
I was inspired to launch Bella's Faces Cosmetics, after learning what struggles my clients faced with makeup application. I wanted to provide products that would make applying makeup easier. Understanding that the interest of makeup was growing rapidly in today's society, I wanted my products to have a combination of beginner friendly usage while still possessing professional quality. In most conversations with clients, I frequently got the question of "Can I have a list of the products used?" That gave me the idea to market my products in kits that would include all the products and materials needed for a user friendly makeup application.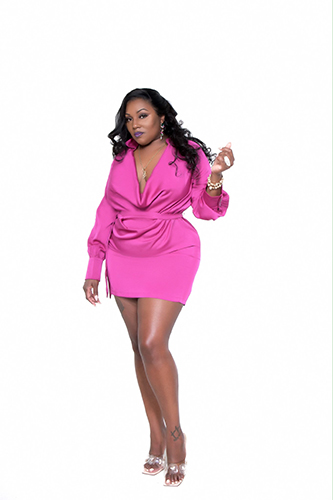 What is your favorite product from this new line?
My favorite product from this new line would definitely be the Bella Bomb Brow Kits. The kit includes everything that is needed to create a nice brow. In today's society eyebrows and eyelashes are a trending topic, and sometimes we don't have time to do a full face of makeup, so the Bella Bomb Brow kit is definitely a necessity for any makeup kit. The kit includes a precision brow pencil, which makes it very easy to line your brows, the brow pomade, which is waterproof and smudge proof, the brow gel to lock the brows in place, and the duo angled  brush used to evenly apply the products and it comes in a makeup carrying pouch to help keep all the products together. The Bella Bomb Brow Kit, has caught the eye of beginners due to the convenience of being able to buy all the products together as a kit, and the eye of professionals due to the quality and pigmentation of the products in the kit including being waterproof. 
What is your favorite thing about being a celebrity makeup artist?
What I enjoy most about being a celebrity makeup artist is the opportunities for enhancement, development and growth. Working with celebrities can be challenging and requires intentionality and professionalism. Being a celebrity artist you have to understand the importance of perfection in a short period of time. In most situations, you are not allotted an ample amount of time, due to the workloads, demands and hectic schedules of the clients. In most settings when celebrities, producers and camera crews are involved you are required to work within a limited time frame and are on a very tight schedule. Most people would think that I would be most proud of my celebrity opportunities, however, I pride myself in how my brand has excelled in the wedding market and knowing that a bride would never forget the experience I have created  for her because of how I made her feel on her most special day.
What are you currently working on? What can we expect to see from you and Bella's Faces in the future?
Currently I am working on the release of additional products such as the I'CONIC Liquid Lipstick line and my first eyeshadow palette, which will be a mix of pigmented eyeshadow shades and pressed glitter shades. You can also expect to see the return of Slaying with a Twist makeup classes, and continued collaborations with other female entrepreneurs to expand the awareness of Mind Body and Soul, through seminars, giveaways and networking events. Stay tuned… Bella's story is still being written!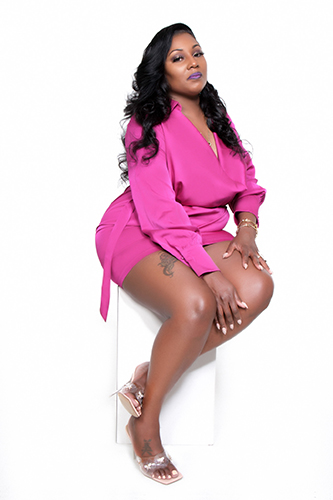 For more on Bella's Faces Cosmetics, click here.
Follow Bella's Faces Cosmetics on Facebook, Instagram, & WeddingWire.
Business Phone:786-759-7530
Email: chatwithbella@gmail.com
Photography: Marcus Duval
Hair: Ashlee Williams, _StyledByAshh on IG
Wardrobe: Fashion Nova 
Makeup: Bella's Faces Makeup Artistry 
Nail Technician: Nicole Johnson