After discovering his passion for hip-hop music at the age of 12 and releasing his first single at 18, Keegn knew he was destined for stardom as a musical artist. Now only 20 years old, the Houston, Texas native has traveled the world and shares his global experience through his music. That and his natural talent as a songwriter are the key components of his success as he sets out to change lives and inspire his fans through his music and lyrics. We were lucky to sit down with Keegn to learn more about his passion and his determination in this SHEEN magazine exclusive.
What's your experience like as an up-and-coming artist?
It's the best because each day I wake up and get to live my dream. The process of continuously improving, reinventing myself as an artist, and evolving as a person is absolutely amazing. The thing about music is that it gets me out of bed in the morning and excited about the day. It drives me to become more than I was the day before.
Over the years, I've reflected on my growth as an artist. Each day I have a clearer picture of who I am and how my contribution to the world defines my purpose. To achieve your dreams, you must embrace your journey and understand the purpose of your passion. Everyone has something to share with the world—my gift to share is music.
Why music? Why hip-hop?
When I create music, it's a unique experience where I get to share a piece of myself with the world. Music is complex and uses so many aspects of a person's being. My creativity is primarily driven by my experiences, the many cultures I've encountered, and my surroundings.
I grew up listening to music as an escape from the real world. I fell in love with hip-hop because of the reliability of the lyrics. I connected to artists like Eminem, Lil Wayne, Big Sean, and Drake because of the transparency of their lyrics. For example, Eminem's lyrics teach us that pain is universal while Big Sean and Drake share messages of hope and love. These lyrics made me realize that I can create meaning in people's lives the same way these artists touched mine.
Where do you currently see yourself as an artist?
I'm a canvas that's always being worked and improved upon. I'm constantly evolving to perfect my sound and discover what type of hip-hop best suits by voice. I'm at a point now where I know who I am and am comfortable in my identity as an artist. I'm committed to consistently releasing high-quality music for everyone to enjoy.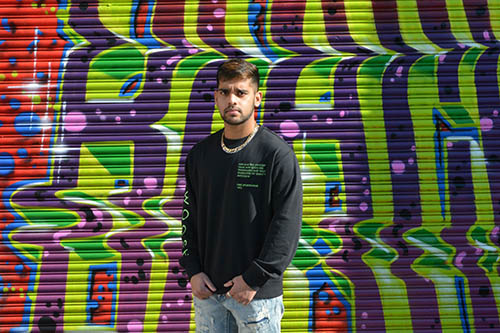 What's the art of music?
Music is like storytelling, which becomes an art when culture is added. Everyone listens to music, so it's a universal form of entertainment. There's no doubt that music is an important art form that also reduces stress and depression when it's used as an escape. Art comes in the creative ability to build an emotional connection between the song and listener. It involves writing lyrics, making the beat, recording, mixing, and mastering to perfect the song, and then launching it at the right time because timing is everything in music.
What advice would you give someone who wants to mirror your success?
Everyone's journey to success is different so embrace and enjoy it. The journey won't be easy but it's important to be patient and stay focused on your ultimate goal. There's always something to learn from the challenges you face. Keep bettering yourself and overcome all the obstacles that stand in your way.
What sense of purpose do you draw from your culture and community?
Everything in my music is drawn from my culture and community. It's important as a member of society to use my talent and platform to speak about topics that positively and negatively affect the community, country, and world. I often speak about mental and emotional issues in my songs because of my personal experience and everything I've encountered from the events and individuals in my community.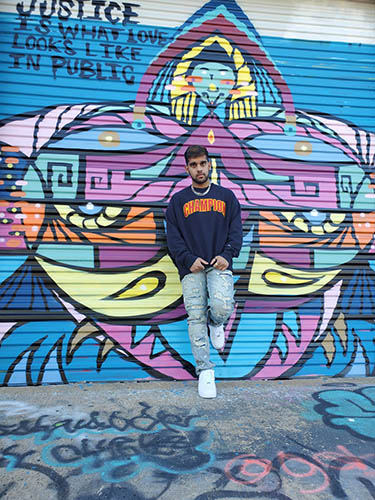 How do you use your music to influence the world?
By talking about issues like anxiety in my single "Lost," my fans realize that they're not alone and that it's ok to speak up. Through my music, I want people to know that they're not alone in whatever they're experiencing or feeling.
 Tell us about the inspiration behind your single "Cons2Dons."
I was honored when I was asked to write a song for the Cons2Dons magazine that focuses on how former convicts reformed their lives after they're released from prison. I was excited to write the single because I knew it would really test my abilities as a songwriter. I took on the character of someone being released from prison to write the single and was later asked how much time I served because of how deeply I connected to the experience in my lyrics. That's where my credibility as a writer comes from—my ability to take on a character to show grit and truth in my lyrics. "Cons2Dons" is evidence of this.
How has the pandemic impacted your career?  
It's been a blessing in disguise because the lockdown allowed me to focus on my music and polish my skills without distractions. I evaluated myself as an artist and worked on areas that needed strengthening. The pandemic has given me time to improve as an artist and that's evident in my new releases.
Where do you see yourself in the future?
The next step is for the world to hear my music. It's only a matter of time before the world knows my name and what my music stands for. If everything goes as planned, I'll be one of the best young artists on the worldwide hip-hop scene.
Leave us with a few words of wisdom.  
"It's not a dream anymore, it's a necessity." This is a mantra I created for myself because I'm a big believer in self-motivation. It's easy to hope your dreams will come true, but it requires a lot of hard work. You must translate your dreams into actionable steps. Being successful in the music industry is more than a dream for me now, it's something that I must and will achieve.
Where can we find you and purchase your music?
Website: https://keegnmusic.com/
Instagram, Twitter, Tik Tok: @Keegns
Facebook, Spotify, iTunes, Apple Music: @Keegn
All other streaming platforms: @Keegn
All images by Chris Singh