Self-Love is often viewed as a luxury versus a necessity to some women. However, the concept is catching up to many women in today's world. Dr. Maribel Lopez is one woman who is spreading the Gospel and the truth about self-love. Like many women, her journey didn't automatically bring out the natural love for herself but rather her nurturing spirit for others. "One of the things I struggled with was taking care of me and loving me. I am the oldest of 6 siblings, and growing up I helped my mother raise them. In the process, I mastered the art of taking care of others before myself," Dr. Lopez explains.  "I didn't learn that I am important too. If I am not careful, I can still neglect myself. It's a learned skill. We need to choose ourselves and love ourselves to be present for others and ourselves," she continues.
Dr. Maribel Lopez had many turning points in her life that led her towards choosing herself. Throughout her journey, she never gave up! "I was overweight, depressed, and suicidal. Something had to change. I was a mom and knew I had little ones looking up at me. I loved life, but I did not love myself. I had a shattered identity plagued by lies I believed from the enemy after enduring child sexual abuse," she adds. Maribel endured many trials and tribulations over the years. However, she still wants to encourage women. "I want women to know that: You are important. You are loved, and worth it. I found my worth in Christ. The Word of God states for God so loved us, that He gave His only son to die for us so that we can have eternal life. Think about, how many mothers would sacrifice their child for someone? That love is indescribable," she testifies.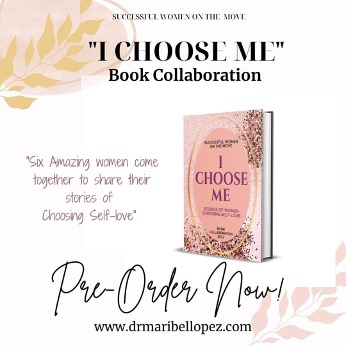 To date, Dr. Maribel Lopez describes self-love as the following: "Listening to my body. Honoring who I am with strengths and faults. Being kind to myself and allowing me to make mistakes". Choosing herself was the best thing to do while on her journey. Thankfully she is empowering and encouraging other women to do the same in her new book anthology feature called "I Choose Me". Stay up to date with Dr. Maribel Lopez by connecting with her online: http://www.drmaribellopez.com or Maribel.pha@gmail.com.
Writer C. Scott is an authorpreneur, MSW, and mom who can be followed online as @curls_coils.
Photo credit: Pikaz_photoz (Jose F. Navarrete)