The STEM industry is providing various career opportunities in innovation.  However, this worthwhile industry still has a gender and racial gap that is disheartening.  Nationally, women hold 1 of every 4 STEM jobs.  Women also earn $20,000 less than their male counterparts in STEM.  Princeton University scholar, Ive (pronounced Ivy) J. Jones is on a mission to change these statistics through her Young Women in STEM Conference.  
"My love of STEM has existed since I was a young girl. I naturally gravitated towards children's science books and loved to learn about how human bodies work," says Ive J. Jones. "My interest in STEM was also cultivated by the support of my parents and my seventh-grade science teacher Ms. Rinehart," she continues.  Ive believes that gender equality will advance if women are included in all industry aspects which include STEM.  
This year's Young Women in STEM Conference will be held on Saturday, June 11-12, 2021.  Attendees can enjoy the festivities in the comfort of their own home this year due to it being virtual.  Ive hopes that attendees will gain the following from this year's conference:
Recognize that the areas of expertise from our panelists can be applied to other aspects of life and career. 

To be motivated to continue engaging in challenging material.

Continue applying what they learn in the classroom to their communities.

To explore different ways that they can make an impact on their family, their community or the world by engaging with STEM. 

To engage in networking connections with other STEM professionals.
Ive hopes to inspire young girls and women into the growing STEM industry through connections, partnerships and generating access.  She realizes that some may view this industry as being challenging but she's here to change that narrative.  "I want young girls to open their mind and be receptive to exploration. Studying subjects within STEM can be very intimidating but it's important to remain gentle to yourself as you continue growing as an explorer," she explains.  "Women in stem will chart the course for a brighter and hopeful future," expresses Ive of her vision for the conference.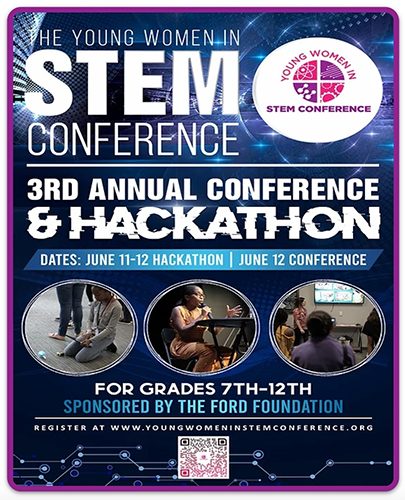 Ive is using her Black Girl Magic to create access for young girls everywhere.  Her access is for exploration, innovation and creativity.  The Young Women in STEM conference will open many doors and create not only seats but the table itself.  Register for the conference here and follow Ive Jones here.  
Writer, C. Scott, is a mompreneur, freelance writer and educator who can be followed online as @curls_coils and @beautifulshadeslc.
All images provided by Ive J. Jones