Southern Crescent Women In Business is hosting The Southern Crescent's Second Annual Funding Pitch on September 17th 2020, online, from 6pm to 8:30pm. Southern Crescent Women In Business, is excited about the opportunity to help fund a woman owned business and help with their own ecosystem for the second time. There is an amazing power packed panel of business leaders from across the state who will inspire these women and assist in judging.
The Funding Pitch will consist of several women owned businesses who are looking to grow or start or keep their business, specifically in this COVID environment. In a Shark Tank style, the women will have an opportunity to share about their business or product, its potential growth, and why they should win the opportunity to be funded. Investors from major corporations will also be present and will be willing to take a look at all the contestants for future partnerships. This historical event took place for the first time on last year and was a major success, its the first of its kind in the Southern Crescent and the magnitude of what this means to a small business is major.
"We are at a turning point in the Southern Crescent, Georgia and the U.S. It is critical that we do all that we can to support women owned-businesses and women in business," said founder, Ariel Shaw, MBA.
"The mission for Southern Crescent Women in Business is simple. It is to unequivocally foster business relationships to help sustain and grow our business and local economy. Our vision is to develop key partnerships, deepen business relationships and to provide resources to assist in the growth of women owned business. While networking is a key component, we also advocate for legislation that will assist women owned businesses and female entrepreneurs."
The Southern Crescent includes Henry County, Clayton County, Dekalb County, Fayette County, Spalding County and areas south of 1-20. According to the US Department of Labor Statistics, the fastest growing market of entrepreneurs are women. Women have created more businesses and contributed more than $40 Billion. Many businesses have taken a hit during this COVID Pandemic and Southern Crescent Women is seeking to assist where they can.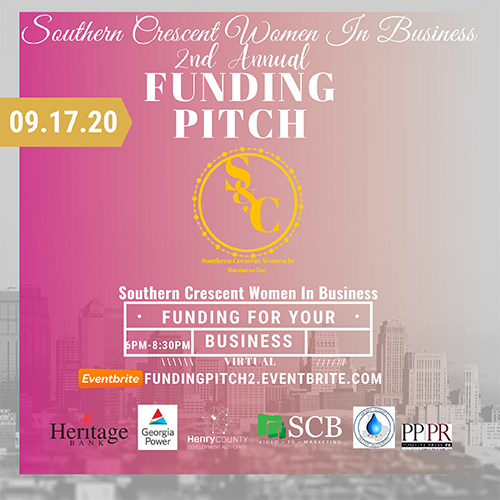 Sponsorships for the Funding Pitch include the The Henry County Development Authority, Heritage Bank, Georgia Power, Henry County Water Authority and AS Consulting LLC. Partnerships include a Media Partnership with SCBTV and a PR Partnership with Positive Press PR. Ticket information is available on Eventbrite. Find out more about Southern Crescent Women In Business here. Follow us at Southern Crescent Women In Business on all social media platforms and email info@scwibga.org for any questions or partnerships.
ABOUT HENRY COUNTY WOMEN IN BUSINESS
Southern Crescent Women in Business (SCWIB) is a conglomerate of women owned businesses and women in business that have come together to change the economic landscape in the Southern Crescent area. With active Chapters in Henry, Fayette, and Clayton and Dekalb. Our partnerships go beyond the Southern Crescent and Georgia. SCWIB exists to fill the gap in the areas where women owned business struggle the most. Join us and let's grow your business together. www.scwibga.org
Content and image provided by Southern Crescent Women In Business