SheaMoisture is excited to announce This One's for the People, a virtual activism event taking place this Friday evening, July 17 from 5pm – 9pm EST, featuring panel discussions with powerful and prominent Black voices in our community to lead conversations around dismantling systemic racism and oppression, police brutality, and health (e.g. Covid-19) disparities that disproportionately impact Black communities.
The four-hour program of events will include panel discussions with notable activists, human rights leaders, celebrities, and mental health experts and more. SheaMoisture has long been a brand who prioritizes community connection through engaging events, and now more than ever, this priority remains true as we bring the same rich experience to our consumers virtually. The Pop-Up will be hosted on the Hopin platform and will be free to attend. Link to join: here.
Following the launch of the SheaMoisture Social Justice Coalition with an $100,000 investment in support of activists working towards combating social and racial injustices, this event will further the brand's commitment to support communities of color and our work combating institutional prejudice and inequalities. Following the event, an application will be open for activists to enter and win $20,000. Applicants will be considered based on the five social justice areas identified by the SheaMoisture community in a recent poll, which also advised on thought leaders that will be named as an advisory council for the Social Justice Coalition.
A few of the highlights for Friday's programing include:
We're More Than Tik Toks & Hashtags: Gen-Z Activism (5:05 PM – 5:50 PM)
We are bringing some of the most influential Gen-Z activists to discuss how they are initiating change and leading their generation in the charge. Join us as we talk with actress, model and singer Serayah. Moderated by actor, Don Benjamin
Slam Poetry Interlude: (5:50 PM – 6 PM)
Performances by The Miserable Genius and KNEW
Stay Strong, Brother: Black Men's Activism (6 PM – 6:45 PM)
It is emotionally traumatic to see Black men suffer at the high-level of police brutality, however they continue to support the movement in their own ways. Activism for Black Men can come in a number of forms, and we will be hosting a discussion with Black men in their respective industries, from music, to movies and more, on what it can look like. Talent include hip hop artist and songwriter Royce da 5'9", and moderated by writer, music journalist, cultural critic, podcaster, and television personality, Touré.
Law & Organizational Action in the Activism World (7 PM – 7:30 PM)
We tapped three professionals, Attorney Ben Crump, Civil Rights attorney and author, who leads the George Floyd family's legal team, American civil rights leader andPresident of Color of Change, Rashad Robinson, and attorney and LGBT civil rights leader, Alphonso David, to have a brief discussion on what they've seen in their own fields in advocating for marginalized groups, in the non-profit sector, through advocacy organizations, and through the judicial system. Touré will be moderating the panel discussion.
Social Justice Coalition Segment (8:10 PM – 9 PM)
Social Justice can be seen in many different ways through the lens of corporate activism, entrepreneurialism, and grass roots organizations all with the mission of battling oppression and dismantling systems to shed light on issues and solutions within Black communities. Simone Jordan, Global Head of Community Commerce, SheaMoisture, and Cara Sabin, CEO of SheaMoisture  will be sitting down to have a conversation with SheaMoisture Fund partner We Buy Black and members of the newly formed SheaMoisture Social Justice Advisory Council to talk about the power of entrepreneurialism in community activism. They will be discussing ways entrepreneurs can use their business influence to spearhead change within their communities by acting on their economic freedom through business solutions, partnerships, and commerce models. More about SheaMoisture's Social Justice Coalition focus areas and how to get involved will be announced.
Please let us know if you are interested in sharing the news of the virtual event with your readers, or if you can join for any session. We are also happy to provide quotes from brand executives on the importance of digital events like this and the continuation of donations to support those affected by racial injustices.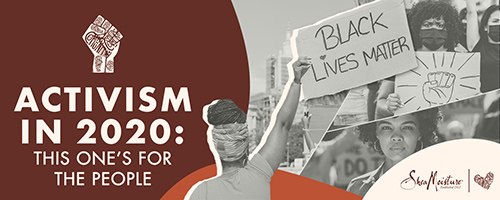 About Sundial Brands:
Sundial Brands, a leading skincare and haircare manufacturer renowned for its innovative use of high-quality and culturally authentic natural ingredients, is the maker of emerge™, SheaMoisture, Nubian Heritage, nyakio™ and MCJW. A certified B Corp, the company's Community Commerce purpose-driven business model creates opportunities for sustainable social and economic empowerment throughout its supply chain and communities in the United States and Africa, focusing on entrepreneurship, women's empowerment, education and wellness. Widely credited with introducing the "New General Market" inclusion concept to the beauty and retail industries, Sundial Brands is led by CEO Cara Sabin and a majority Black and inclusive executive team, operating as a subsidiary of Unilever.
All images courtesy of SheaMoisture