Deshae Frost has kept us laughing on social media for a couple years now and even starred in CBS' hit series, S.W.A.T back in 2017 and 2018. The young actor and comedian has opened up for comedians such as Faizon Love and Tiffany Haddish and is now branching out into the music industry. We caught up with Deshae to discuss his new single and find out what we can expect to see from him in the future.
Tell us about your start in the music world.
I've wanted to do music since I was like eight-years-old. I never really had the exposure to do it though. My brother, sister, and I used to set up little shows in our living room. My brother and sister would play my background dancers (laughs). I used to write with my mom and dad. They used to call me D.Frost. As I started to grow, I knew that I wanted to be a content creator/entertainer. Rapping, acting, anything. After that, I started getting into Vine and it took off. I got right back into acting, videos on YouTube, and it just took off again!
Can you tell us about your new single, PESO?
I just came out with PESO recently. I've been trying different things right now to figure out my sound because I have been rapping seriously for about two months. It's real dope, it's going to be a huge banger.
How do you juggle being an actor, rapper, and content creator?
It's a lot of hard work but it's dope because I'm able to get a little bit of everything. When I'm content creator, it's just my everyday. My job is to create something out of the day and not be bored. I don't have to clock in or clock out. It's easy to do that any time of the day. Music is during my free time but I come up with every two weeks. It's super easy to me. YouTube, I can do everyday. Acting is every now and then when I go film.
What can we expect to see from you in the future?
I'm going to be coming out with an EP soon. I'll be doing a small city tour that will consist of five to seven cities. Acting, I'm doing a show called S.W.A.T. We're filming the remainder of season three. YouTube, I hope to release more videos and gain more fans. There's going to be a lot more!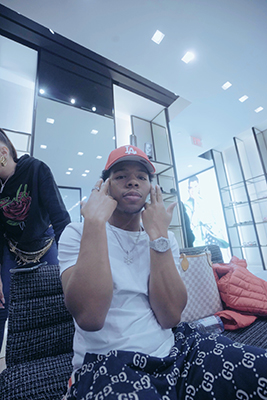 For more on Deshae Frost, follow him on Facebook, Instagram, Twitter, & YouTube.
All images by TBK Visuals