Actress/singer, Diamond White is on a mission to let her fans see her in a new light. Known for her roles in Tyler Perry's Boo! A Madea Halloween, CBS' hit series, The Bold & The Beautiful, and more this talented sensation is dipping into the music scene and proving to be a true force to be reckoned with. We caught up with her to discuss her latest project titled, Tomorrow, quarantine life, and much more.
Tell us what we can expect to hear from your upcoming project, Tomorrow.
I've been working on Tomorrow for the last two to three years. It's the story of a saving relationship. The beginning, you're happy and so infatuated with a person. Then you travel to questioning the relationship and then being on your own. The project ends with a song about being a bad bitch and bossing up to make that old guy secondhand.
Do you have a favorite song from this project you could tell us about?
Yes, my favorite song is called "Nothing Lasts Forever." I almost named the whole tape, Nothing Lasts Forever but I decided to go with Tomorrow because it metaphorically is a reminder that there may or may not be a tomorrow. That song puts you on the biggest journey from beginning to end.
How would you describe your overall experience working on CBS' drama The Bold & The Beautiful?
It's been a learning curve for sure. We shoot every day for however long and we do everything super fast. If you don't come to set knowing your lines, you're cancelled (laughs). Luckily that hasn't happened to me but there are days where I'm trying to learn the monologue and it's not sticking in my head. It's fast-paced yet it's amazing to be able to know that this is what I'll be doing for years. I'm excited to see how my character will grow and what kind of trouble she gets into.
How has quarantine life been for you?
It's been pretty crazy. I decided to move and get my own place during quarantine. Literally the worst time ever (laughs). It's been a bunch of being in the house and doing projects. I tried painting and doing home things. I've literally painted on the walls just because I'm so bored (laughs).
What can we expect to see from you in the future?
I'm sure a lot of ups and downs in my sound depending on what happens in my life. I really want to focus on growth. A lot of people know me from the Madea projects and acting but I think it's time that I really give you all music that is good. I want to actually put myself to the test and begin putting out things. I don't want to be tied down to worrying if people will like it or not. I'm focused on creating and releasing my creations.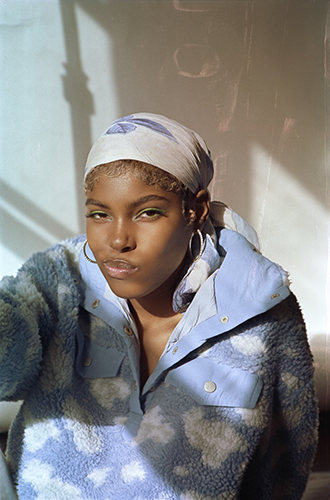 For more on Diamond White, follow her on Facebook, Instagram, & Twitter.
All images by Keitaro Cloward