Inspired by Patrick Ewing's participation in the 1993 MLB All-Star Celebrity Home-Run Challenge, Ewing Athletics imagined what his PE's would look like if he actually played baseball. To pay homage to the championship-filled New York baseball history, the team designed four different sneakers inspired by the four original New York baseball teams. The campaign features DJ Juanyto (Hot 97 and Apple Music).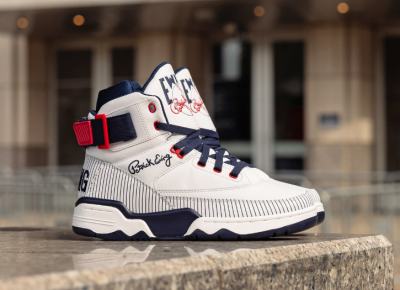 The Ewing 33 HI "Bronx" has the signature white and navy blue pinstripes that pay homage to the New York Yankees. A famous rapper even once said that he made this particular team's hat more famous than one of its players can. 
Ewing Athletics felt like it was only right to reveal the Bronx-inspired colorway to kick off the exclusive collection. The Ewing 33 HI "Bronx" is now available exclusively at ewingathletics.com in limited quantities.
Follow them on Instagram @ewingathletics @djjuanyto.
##
DJ Juanyto – Known as a sneakerhead, radio producer, and DJ. Besides being a mixshow DJ on Hot 97, a Funk Flex' freestyle DJ, DJ Juanyto is a producer for Hot 97's Ebro in the Morning and Apple Music Hits with Ari Melber. He has been a tour DJ for many including DJ Webstar, Bishop Nehru, and more. DJ Juanyto has also helped launch Straight Stuntin Magazine, powered by the late DJ Kay Slay. Follow @DJJuanyto on all platforms.