When it comes companies that have stepped up to plate to find new ways to protect our outward appearance, the Smiles Shield defiantly comes to mind.  Not only is the company black owned, by a dynamic married couple; Ernest & Barbra Smiles but the pair are also the founders of the non-profit,
Global Smiles Health, which focuses on providing people with the basic needs of living around the globe, one community and SMILE at a time. Check out their story below…. 
Tell our readers the backstory on Smiles Shield? 
The pandemic brought so much pain and unexpected change to many and as positive enthusiasts and MBA degree holders, we wanted to create something special that put Smiles back on people's faces. My wife, Barbara Furlow-Smiles is also very glamours and loves to wear make-up and wanted something to express her personality and her authenticity. Her desire to still look fly in the midst of the pandemic was the inspiration around the creation of the SmilesShield Faceshield that is fashionable and customizable. SmilesShield is an additional face covering option for people who want to add their own personal touch.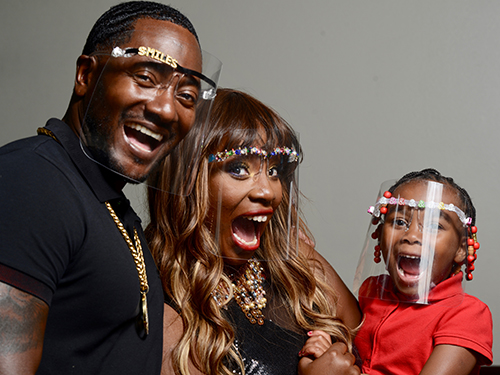 With everything going on in the world how have you all kept your creative juices following? 
We made a decision early during the pandemic that we were going to shift our perspective in order to be open to endless opportunities. One of our routines in the morning is to pray together as a family and read positive affirmations. Our family prioritizes focusing on positive energy and maintaining a high vibration so that we can be open to creativity and opportunities. In order to maintain our high vibrations, we removed the following from our life: stopped watching the news, started eating healthier, working out, frequent virtual connections with friends and family, and daily positive mantras we repeat throughout the day. Ultimately, we became very intentional on what we consumed.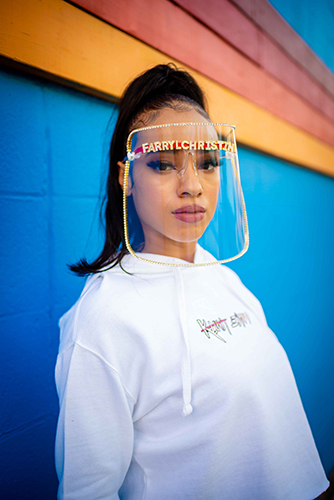 If you could pick 4 people to rock a Smiles Shield who would it be? 
We are huge fans of their work and impact within the community: Rihanna, Angela Bassett, The Rock & Michael B. Jordan 
What's next for Smiles Shield? 
We are launching the SmilesShield Be Spoke Celebrity collection, which will be our entry into the tinted Faceshield market.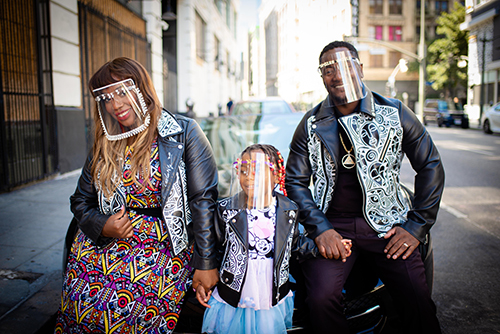 For more on Smiles Shield, click here.
Stay connected with them by following them on Instagram.
All images by BreAnna Jones