Before the global pandemic hit our nation, the Red Cross launched a fresh new initiative in hopes of increasing blood donors in the African American community. Statistics show that over 100,000 people have sickle cell disease, but did you know that blood transfusions are essential for those battling the disease? It is those blood donations from individuals from the same race or similar ethnicity and blood type that have the ability to help patients battling sickle cell. Though most of us have an understanding of the disease, there is still so much information to learn surrounding how we can all do our part to help and increase the amount of blood donations. I had the privilege of sitting down with Dr. Yvette Miller – the executive medical officer for the American Red Cross Donor and Client Support Center in Charlotte, North Carolina to educate myself more on blood services and how I can join in on making a difference. In our exclusive interview, Dr. Miller discussed how we can support people with sickle cell disease, how we can do our part, and much more.
Can you tell us about your role as executive medical officer for the American Red Cross Donor and Client Support Center in Charlotte, North Carolina?
As the executive medical officer, one of the primary jobs that I do is determine donor eligibility. For example, if someone comes to a collection site and there is a question about whether or not they are eligible to donate or not, my staff will give me a call and I will discuss the information and determine if they are eligible or not. I also oversee staff that handle donors, like if someone happens to have a reaction. I oversee the staff that handles that reaction. That is something that is fairly unusual, but people certainly do. I also oversee notification of the FDA and medical authority of any situation that they need to be aware of.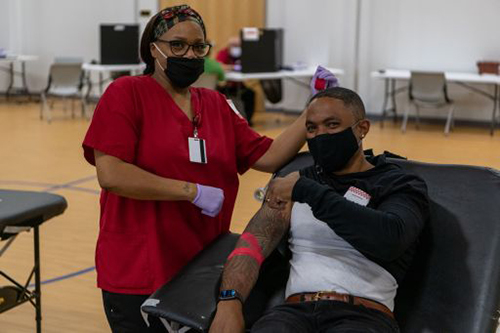 Can you tell us about the Red Cross initiative created in an effort to reach more blood donors to help patients with sickle cell disease?
The initiative was launched Fall 2021. We focus on increasing the amount of African Americans that meet the transfusion needs of patients with sickle cell disease, but also the general population. In this country, over 100,000 people have sickle cell disease, the great majority of whom are African American or of African descent. People of African descent, we have some unique antigens or characteristics to our red blood cells, that for a patient that may need closely matched blood because of these common, yet unique antigens – those antigens and blood is easily found of someone with the same ethnic background. Of course, with the pandemic its certainly been complicated to increase the number of African Americans donating, and other communities of color have also been hard hit by the pandemic.
How can members of the community join you all to improve health outcomes?
Members of the community can join in helping the Red Cross address this health disparity and meet the needs of patients with sickle cell disease by scheduling a blood donation appointment or hosting a blood drive. In addition to helping us support the health outcome of patients, the Red Cross is currently providing free sickle cell trait screening on all donations from self-identified African American donors in addition to a free mini-health screening with insights on pulse, blood pressure and hemoglobin levels. These vitals are recorded in the donor's online profile where they can view trends of their vitals over time and share it with their healthcare provider. Donating blood to support patients and receiving additional health insight helps to improve the health outcomes of the entire community.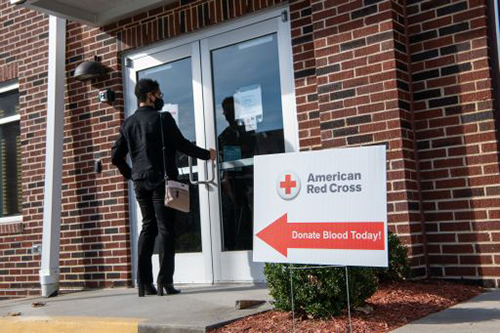 As the numbers rise with COVID, how does that affect blood donations?
COVID has had a significant impact on African American donors and donors in general. First there was the pandemic that started in 2020, then we've had these waves in variants – the Delta and now the Omicron variant. Still communities of color have been hard hit by the variants. People have [rightfully so] been concerned about their health and safety in terms of going to sites that they may not necessarily be familiar with. Many of the churches and community-based organizations that we usually schedule our blood drives with are not meeting in-person. Those organizations have pulled back from health fairs or meetings that require face- to- face. There have been fewer opportunities to have blood drives with those community-based organizations. It has had a significant impact on our collection. For example, prior to the pandemic, African Americans made up around 5% of Red Cross blood donors – which is still a fairly small number compared to blood donations in general in this country. In this country, a majority of blood donations are from Caucasians – around 75-80%. During the pandemic, while overall donations have declined in recent months, the number of African American donors has declined to less than 2%. As you can see, the pandemic has had a significant impact on We absolutely understand the impact that the Omicron variant has had on the community. We really want to continue to explain to people that safety is first.At blood drives and donation centers, everyone is required to wear a mask, chairs in waiting areas, refreshment areas and donor beds are socially distanced, all donor touched areas are frequently sanitized and hand sanitizer is provided throughout the process. We encourage everyone who donates blood to make an appointment. That's another way that we help maintain social distancing  to honor the CDC recommendations put in place.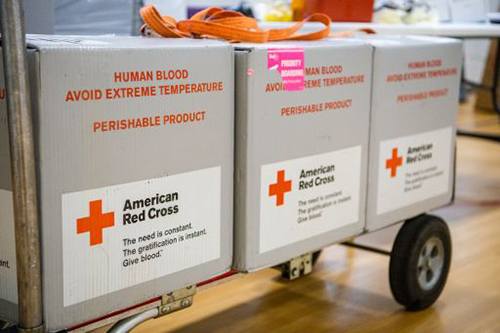 Who is able to donate blood? Are there any restrictions?
We encourage anyone who is feeling healthy and well to donate blood. A blood donor card or driver's license or two other forms of identification are required at check-in. Individuals who are 17 years of age in most states (16 with parental consent where allowed by state law), weigh at least 110 pounds and are in generally good health may be eligible to donate blood. High school students and other donors 18 years of age and younger also have to meet certain height and weight requirements.
Latinos and African Americans have the highest percentage of O type blood. O blood is often needed because it can be transfused to anyone regardless of their blood type. As African Americans and Latinos have the highest percentage of individuals with O type blood, we absolutely encourage them to donate blood if eligible. Blood donation eligibility requirements can be found by visiting RedCrossBlood.org or calling 1-800-RED CROSS.
What advice can you offer our readers when it comes to supporting someone with sickle cell disease?
To support patients with sickle cell disease, learn as much as you can about what sickle cell disease is. For many people, it's still unclear exactly what it is. They know that people with sickle cell disease have a pain crisis, but many people probably don't know that blood transfusion is one of the first ways of treating pain crisis. The pain is related to the fact that their red blood cells are abnormal and don't carry adequate amounts of oxygen. The presence of pain is from the lack of oxygen to their tissues. Blood transfusions deliver those normal red blood cells for the patient, which can prevent some of the complications of sickle cell disease and can decrease the presentation of a pain crisis. My advice is to learn as much about sickle cell disease and how blood transfusions help sickle cell disease. Understand the connection between African Americans donating blood to support the transfusion needs of patients with sickle cell disease. It's very simple to make an appointment to donate blood. , 
Yyou can visit RedCrossBlood.org, call 1-800-RED CROSS (1-800-733-2767) or use the Red Cross Blood Donor App to schedule an appointment. To me, the most important piece is once you make the appointment, keep the appointment. 
What can we continue to look forward to seeing from the American Red Cross in the year 2022?
In 2022, everyone can look forward to more conversations around the need for blood transfusion for patients with sickle cell disease, and the need for a diverse blood supply to meet the needs of diverse patients.There are going to be more educational outreach opportunities and, more partnerships with community-based organizations to engage and inform more individuals around the need for blood donations and how they can help make a lifesaving difference.
To schedule an appointment to give blood or sign up to host an in-person or virtual blood drive to help make a lifesaving impact, visit: RedCrossBlood.org/OurBlood.