The digital platform, EnrichHER is the connecting tie in today's world for Black women-owned businesses. Since the official launch in 2017, the company has helped over 163 businesses take their companies to the next level. We recently saw her star in Logitech commercial on Super Bowl Sunday, which featured Lil Nas X! We caught up with her to discuss the inspiration to create EnrichHER, obtain her best advice amidst a global pandemic, and much more!
Tell us what inspired the creation of EnrichHER.
I created EnrichHER to serve as a solution for women. I was tired of people always highlighting the problem, but not really discussing the solution. I wanted to use my background in tech, my understanding of marketing and entrepreneurship to provide solutions for these communities.
What led you to launch the campaign, Defy Logic?
I was grateful to be a part of the Logitech Defy Logic campaign. They selected eight different individuals that represent different parts of society and change society successfully. I was selected as the entrepreneur that is using technology in this light. I spoke with them about how technology enables business owners to communicate with customers and clients. It enables us to show up and advocate for ourselves in the world and it helps people of color get access to more resources including financing. I was very grateful to be highlighted as that entrepreneur, who is using technology. I've always been someone that has been in tech. I was an engineer and I used to tell everyone to use Logitech products in grad school. It was just amazing to be a part of this campaign.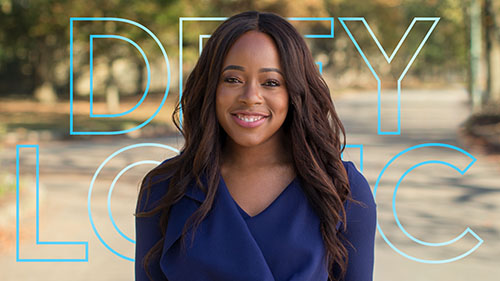 As a financial expert and gender equality advocate, do you mind offering your best advice to our readers during this time of the ongoing pandemic?
Yes, I recommend that everyone waits until they come to a place of mindfulness before they make financial decisions. A lot of times, people make financial opinions when they are in fear, have anxiety, or compare themselves to other people. First of all, ground yourself. After you do that, figure out what your ultimate goals are. A lot of businesses are dealing with shifting during this time in terms of the products they sell or location. First, you have to figure out your ultimate goal. Our goal at EnrichHER is to help these communities. With that goal in mind, it's easier to make decisions in terms of finances. As long as you're grounded, you know what your goals are, then you can go into that planning phase for your business.
You starred in the Logitech ad campaign that aired on Super Bowl Sunday. How would you describe that experience?
It was phenomenal for many reasons. First of all, I have never been in a commercial before. To have crews that drove from New York, Chicago, and other places all to come to Atlanta and capture me, was great. My part was a three-day shoot, where we went to some of the business owners that I serve here in Atlanta. We filmed me interacting with my amazing team both locally here in Atlanta and members in D.C. I was able to showcase my life here in Atlanta, how I navigate, what it means to be a businessowner, and how I show up in the world. I absolutely loved the experience, meeting the entire crew, and participating in this shoot. It was exposure to me at how much creative energy it takes to produce something like a commercial. There are so many talented creatives in the space and lastly, they have had to modify their lives to participate in such amazing work. People drove 14 hours to come here and help me be a part of this. With all the COVID testing and all, it was a testament that everyone wanted to be a part of this project. I will always remember this.
What are you currently working on and what can we expect to see from you in the future?
EnrichHER is working with foundations, corporate impact groups, and corporate giving groups in order to secure $30 million that we can deploy as working capital to companioes led by women and people of color. This is extremely important because these companies need that support right now in order to grow. There is a lot of talk, but we need that capital. As a company that has a tech solution, that has a community of well qualified individuals, we are the perfect organization to be a part of the deployment of the capital to these communities. We're focused on building partnerships with these organizations so we can get more capital out to these target communities. We're hoping to get this $30 million in short term and increase it to $100 million per year.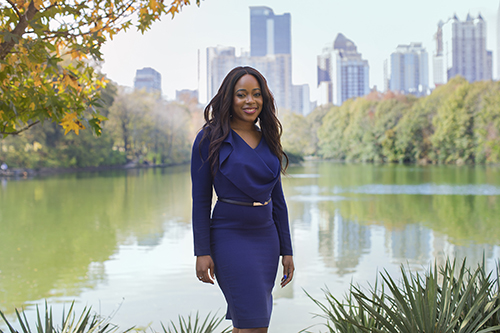 For more on EnrichHER, click here.
Follow Dr. Roshawnna Novellus on Facebook, Instagram, & Twitter.
All images courtesy of Christaan Felber