Erica Banks is here to become one of the greats, and she's well on her way. Exploding onto the scene with her viral smash "Buss It," which took a course of its own during the pandemic thanks to the TikTok, the Texas native quickly inserted herself as a force to be reckoned with within the music industry, even taking on the nickname Da Flow Queen for her exceptional freestyling skills.
Now, Erica returns with her newest single and visual called "Ain't Got Time," which sees her showcasing her singing vocals on the hook. An undeniable bop, the song reminds audiences all the world of their worth, and to only give your valuable time to those who deserve it. The official music video arrives in the form of a full-blown skate party, with Erica slaying all her looks per usual.
What are Erica's keys to success? Three things: stay patient, be consistent, and be yourself. She states, "As long as you're patient, as long as you're consistent, as long as you be yourself, those three things will definitely get you somewhere. I didn't say it will make you Mariah Carey, but it's going to get you somewhere."
Beyond the music though, Erica is your regular, fun, down-to-earth, girl from the South. Someone enjoys the simple things in life, such as good food, hookah, and a good ass time.
Sheen spoke with Erica Banks virtually, who was posted at a hookah lounge in Atlanta where she resides. Read below as we discuss her new single, ideal date night, joining Love & Hip Hop, love for cooking, touring with T-Pain, and more!
How's Atlanta treating you?
I love Atlanta. Anywhere that has a hookah, I love it. It just gives me a little buzz. It makes me feel real easy-going and real flowy.
You got a favorite flavor?
Vanilla orange mint. I like vanilla because it's not harsh. It's real smooth, real easy.
You need your own line of hookah!
Me and my manager was just talking about that. We were talking about me making my own shisha. Because my shisha could be a combination of all my favorite flavors in one. When I drop my shisha line, everybody who smokes hookah needs to come get it.
Definitely want to talk about "Ain't Got Time," it's such a bop! What were you on recording this one?
"Ain't Got Time," I really wanted to do something different. Try something outside of club music, twerk music, "Buss It," "Toot That." When I came across the beat, shout out to Mr. Hanky, I'm like this is fire. This is different. I wonder if I can put something on it and it sound good? I tried singing on the hook, and did not sound bad. I was like okay!
I love it for you because it shows you're versatile.
Exactly. Just having fun with it, trying something new. I put a snippet of it on my page back in November, people were going crazy. "You need to drop this, put this out." November to April is a long time, I just had to make the people wait.
Is that your first time singing on a record?
I got one song on my last project where I was singing on, but it's not upbeat. It's more rap. "Ain't Got Time" is more pop for me, so it was different.
How are your fans receiving it? Are they loving it?
They're loving it. They are TikToking the hell out of it. I didn't realize I say "Ain't Got Time" so much, until now. Every time I say it without intention, wow people really be saying that a lot. It resonates with the song real easy.
Love the video, love the skate party. How lit was the video shoot?
The video shoot was so fun! I don't even know how to skate, which is crazy. I knew how to skate when I was a kid, but since I've been older, I haven't been skating. I live in Atlanta so we have Cascade, but I haven't been to skate. I've been for different things, but I haven't been to skate. When I got on the skates for the video, it was a wake up call like bitch you can't skate forreal. But I did what I could and we made it work for the video.
You always slay your looks. Do you have a stylist?
For certain things, I have a stylist. Typically for shows, I have a stylist. But if I'm going to the club, girl I go on Fashionova and find me something real cute. Or go in the mall and find me something real cute. I'm the type of person, I don't do designer head to toe. I don't feel like it's necessary. I could, but I feel like non-designer dresses be so much cuter. I put on a little two-piece dress and y'all gon' eat me pictures up. [laughs]
What are your go-to beauty products?
I'm not gonna lie, shout out to my makeup artist @akilaface. Whatever he uses on my face, that's what I like. I have not done my makeup in three years, so I can't even tell you what products are the best. Once I finally started getting my makeup done by a makeup artist, I love this life. I want to live like this forever.
All the way glammed up or chillin' with no makeup on?
Chillin' with no makeup on, because I'ma still get n*ggas. I get n*ggas. [laughs] Really, men find me more attractive when I don't have nothing on. Shout out to all the men.
What are your thoughts on dating within the industry?
I don't think it's a bad thing. It depends on what you're looking for, what you like, what you're willing to deal with? I'm not against it.
Is it bad to mix business with pleasure?
Absolutely. That's all I'ma say.
What's your ideal date night?
I'm a foodie, I love to eat. I like anything or any place that has great food. We'll go to a very nice restaurant, upscale for sure. I'm real big on steak, I love steak. We'll probably go to a steakhouse. I'ma probably have three lemondrops there, so after that I'ma want some hookah. At the hookah lounge, I'll probably take four shots. By four shots, I'm talking to whoever I want in their ear. I'ma smoke a blunt on the way home. I'ma set up the hookah at the house, then we're going to do grown people things. Very simple, very straight to the point.
Are the reports true about joining the cast of Love & Hip Hop Atlanta this year?
It is true. I'm excited. It's not my first time on TV, but it's my first time being a part of the cast. I'm excited. You gotta tune in and watch the show.
Do you have any hesitations about reality television?
Not at the moment. I don't, because I'm just being myself. As long as I do that, nothing's gonna be weird.
What can we expect from Erica Banks on Love & Hip Hop?
Everything. [laughs] From the growth of my music to me growing as a person to my family to me building my cooking brand. I cook, so I'm getting into that. I might have a boyfriend on here, I may not. I don't know. We gon' see, but I'm excited about the show.
Definitely want to talk about Cooking with Erica Banks. What is your favorite thing to cook?
It's either the baked chicken or the spaghetti. Or I can make them together if everybody's hungry like that. Those are my top two.
How'd you learn how to cook?
Funny story, I was dating this guy. Maybe a month into dating, he asked me if I could cook. I lied and said yeah. When I lied, I had to really cook forreal. While he was outside, I went to get some groceries. I looked up a recipe on how to make baked chicken, mashed potatoes, and asparagus. I made it, but I put my own twist on it. He thought it was the best meal ever.
Did you YouTube it?
I Youtubed it, but I seasoned it the way that I felt was good enough. But I still needed instructions on what to do. It was good, it was amazing. He thought I was Paula Dean.
Do you eat healthy?
I used to. I started eating healthy when I first got my body done, because I felt like I had to do that. Once I started eating what I really wanted to eat and I realized that it's not affecting my body, I started eating horrible again.
Do you work out?
No, same answer. I used to work out when I first got my body done because I felt like I had to do it. Once I realized hey, I don't have to do that, no. It's a blessing, shout out to the Lord.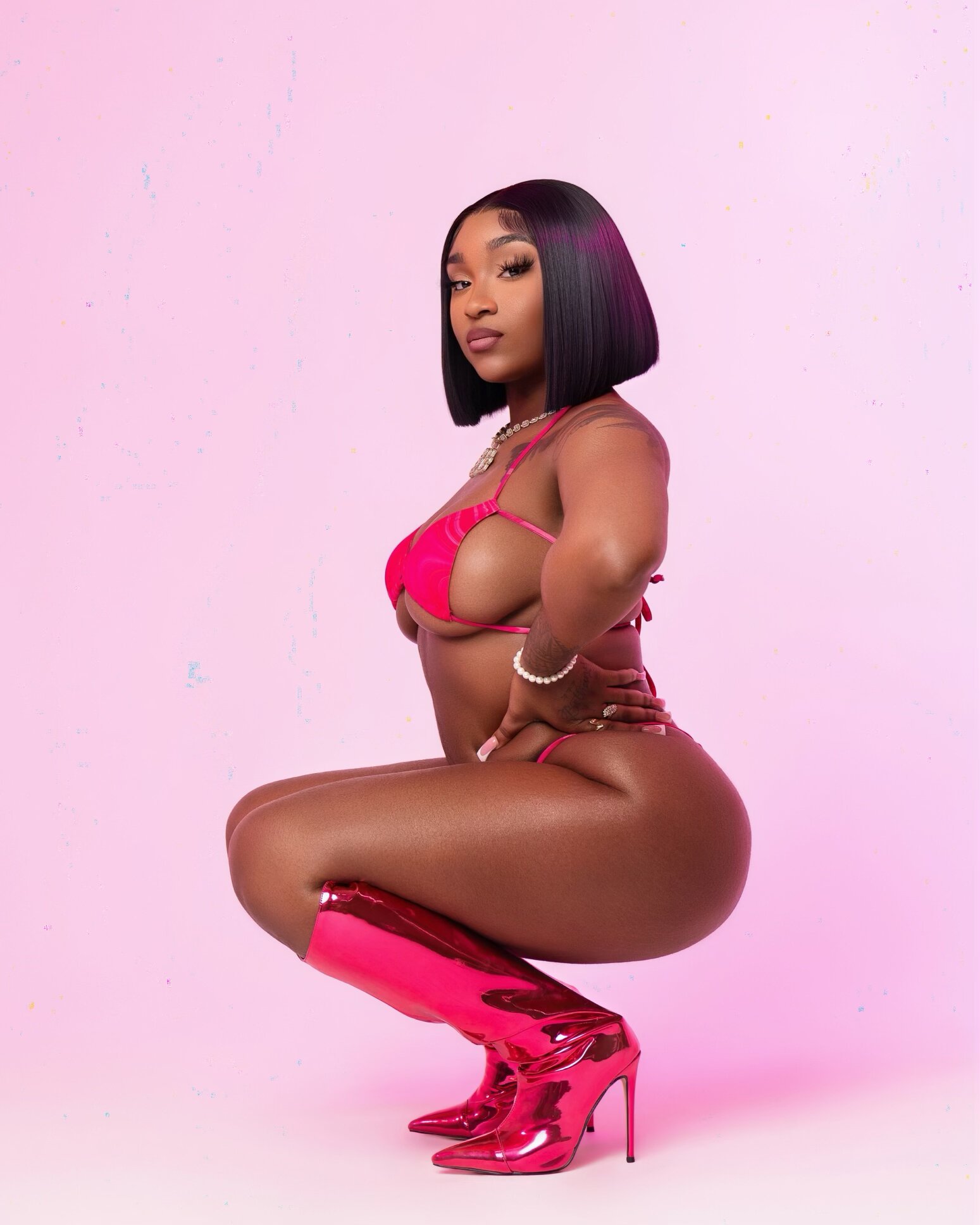 What was Nicki Minaj's influence on you?
Really Nicki Minaj was the woman who encouraged me and made me rap. I love telling this story, I was in the sixth grade. I was 12, and the first verse I heard from Nicki Minaj was on Drake's "Best I Ever Had" remix. I'm like, who is this girl rapping and singing on here? It sounds so good. It turned out to be Nicki Minaj. I'm 12 years old, so I see a grown woman wearing pink hair and Barbie clothes. Oh my God, I want to be a damn Barbie. I used to get Chinese bands and everything, because of her. She made me want to rap.
What's your favorite Nicki Minaj song?
Of all time? Damn. It'd have to be "Right Thru Me." Very relatable.
Your fans are begging for an album. Are we getting an album soon?
They're definitely getting an album! I could drop an album tomorrow, that's how much music I really have. But of course, we're waiting on the right time. To get more music recorded so we have more to choose from, but I'm excited to drop.
What was the most memorable moment from touring with T-Pain?
Probably him realizing that I'm a star. He'd always tell me, he'd come to my dressing room and fan out over me. I'm like, I'm fanning out over you! It was crazy to see. Even his wife, his whole team, they were so supportive. So nice, so welcoming. To see him react to me as an artist the way that he did, oh my gosh. We got two songs together, but I haven't put them out.