Last Sunday, on December 6, 2020, at 7 pm EST sharp, Washington DC's Glass Artist, Simone Agoussoye showed out for the culture with a virtual African Art Show for her international audience of Art Frans (Art friends and fans.) Giving Zoom a run for it to be on its best behavior, the attendance stretched from the U.S. to Congo, Kenya, Togo, Ghana, Jamaica, Haiti, Trinidad, and Botswana (it was 2:00 a.m. in Botswana.)
Simone is no stranger to the DMV community as she is known for painting oversized lifelike portraits and a myriad of Aaliyah portraits throughout her career. Her distinctive murals can be spotted in art galleries such as the "Artist Evolutions" exhibit at the Art Avenue Gallery located at the National Harbor in Oxon Hill, MD.
Celebrities like Missy Misdemeanor Elliott, K. Michelle, Ronne Brown, and Justine Skye own a masterpiece of her artwork. She has also caught the eye of a few well-known influencers such as KevOnStage, Justin Owens and Tori Brixx who have purchased her art.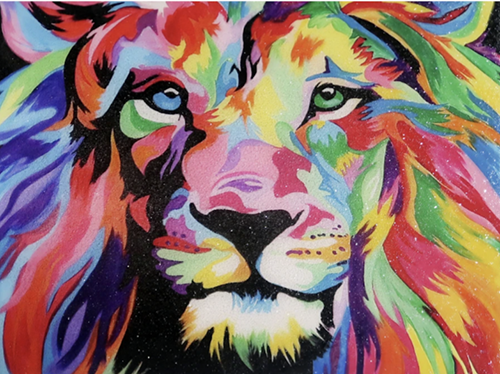 One click of your mouse gave you a gallery view of endless pages of a diverse audience dripping in their Sunday's best African garb from head to toe ready for the show.
One cannot have art without multiple fashionable outfits between acts. The epic hosts of the show were Simone's husband a Togo native, Thierry and the DMV's "How to Queen" MUA, Akilah. Thierry and Akilah's energy in slaying a timeline effortlessly with different performing acts of dancers, musicians, and poets was fierce. A highlight of the show was a touching performance by a Togo dancer, in honor of supporting African diaspora worldwide to #endSARS.
Simone graced our screens with her exquisite collection, a mix of her portraits and legendary Crushed Glass Collection featuring the unforgettable "Black Beauty" piece dedicated to black women. The live chat was jumping with feedback of oohs and ahhs and several buyers charge-card-ready. Others took full advantage of the Q&A section towards the end of the show.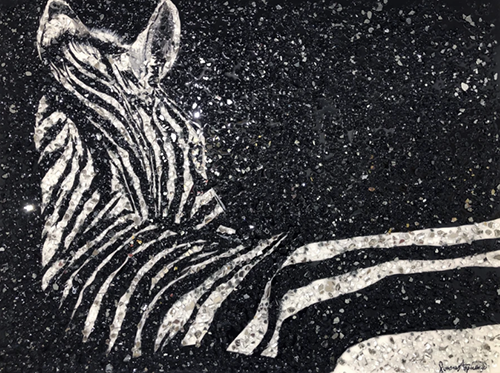 The evening started and ended with not just one but two monumental DJs. DJ Lady Taz, a West Africa native kept the Afro-beats in heavy rotation. DJ Too Much, a NYC native did not disappoint with her "you-not-ready" mix of Afro-beats, old and new skool hip-hop, etc. She dropped the bomb with a ridiculous mix of 90s dancehall classics like Shabba Ranks, Chaka Demus & Pliers, Terror Fabulous, etc. DJs are the life of a party and these ladies kept a virtual crowd of 600+ rockin and engaged.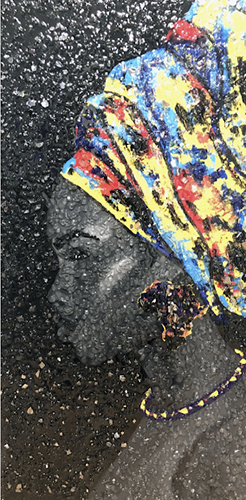 Simone's message is simple yet significant, "As black women, we are often overlooked, so I create dynamic pieces that make you pause or stop. Viewing art and active painting is a direct link to improving our mental health, so I find beauty in things people overlook. I step out of my comfort zone every time I create because beauty can be found even in the broken things."
This feature was submitted by Nikki Gillis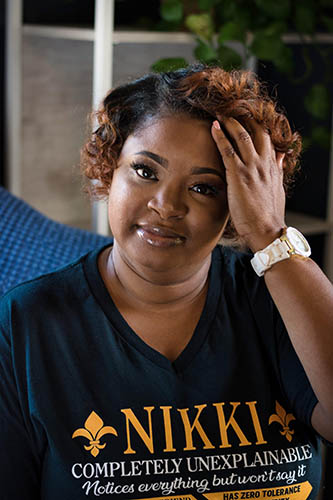 Nikki Gillis is a prolific writer with a dedication to self-awareness from Winston Salem, NC. For 12 years now, Nikki's style of ghostwriting has been echoing behind the scenes in several leading industries. Her focus is to remain a rarely seen "publishing insider" of high-quality content with a surgical ear for music that feeds the soul. 
All images courtesy of Simone Agoussoye