Multi Talented artist, dancer, and songwriter Jazmine Robinson AKA QT Jazz talks exclusively with Sheen on her musical influences, where she gathered some of her inspirations from preparing for performances and more. Robinson has always been hardworking, and disciplined since the tender age of 3 years old, Jazmine has been enrolled in dance classes performing which would later lead her to open for many mainstream artists such as Monica, Lil Wayne, and Neyo to name a few. She's definitely a triple threat that continues to ignite her talents on and off the stage now let's get into what Robinson has to share as she discusses her journey and latest endeavors!
How did you get your start in dance and music? 
When I was little, my mom said I used to dance in diapers and wrap my legs around the table, so she (quickly) put me in professional dance classes. lol. She was pretty strict about daily training and development, which definitely paid off as I got older. I'm super grateful for her. 
Who inspires you in the industry and how they impacted you in your career? 
I have a pretty effective list, but Tamar Braxton is definitely my go-to. I was her assistant years ago, and at the time it honestly felt like she was dragging me around LA. The pace was very fast for me back then. She works hard in real life with much passion and I learned so much! I also learned the amount of energy it takes to be an entertainer, especially in Los Angeles. Most people have talent, strategy, or money, but not the energy to see things through. I learned how to toughen up and push for myself.
Where did you gather some of your inspiration from when preparing for performances? 
I enroll in classes at Youtube University. Lol. I watch performance videos on youtube from legends like Janet Jackson, and new artists like Teyana Taylor. I push myself constantly to create a show that is such a refreshing experience for people to remember and to be a part of.
What are you most proud of accomplishing in your career so far?
I am super proud to be able to reinvent myself and explore new things as a young woman and an artist. I used to go by the name "QT Jazz" and most people knew me as "that girl from YouTube." I remember being scared to try something new, especially changing my stage name to my real name, Jazmine. To my surprise, everyone loved it. I'm proud of that whole transition.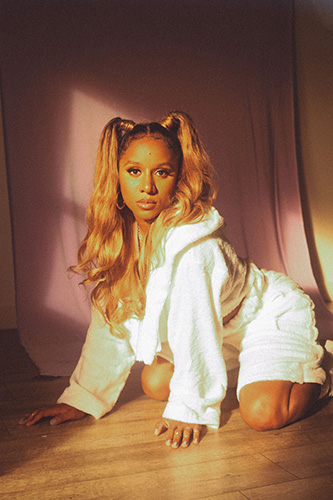 You've worked with an impressive number of celebrities. Is there anyone that you would like to work with whom you haven't yet?
Chris Brown! I've attended many concerts and I'm fortunate to have close peers who dance for him, but to work with him would be a dream!!!!
What advice would you give to someone who likes to pursue a career in Dance and Music?
Study, then practices what you study. People will find you.
Tell us about your latest projects that fans can look forward to?
My upcoming project, OCEAN, Coming Summer 2020! It's an alternative self-care album illustrating my journey of my first year residing in California. It was a life-changing moment sponsored by hashtag, "I can fucking do anything if I believe it." Sometimes self-care is believing in yourself. I want everyone to experience that through these songs. I can't wait!
We here at sheen thank you, Jazmine, for  your exclusive everyone make sure you keep up with all of Jazmine Robinson music and latest endeavors here!
Photography by Bre Holt/Exquisite Eye
Makeup by Nimai