Baby its cold outside however fur vests are classic where fun meets functionality in this season. This winter has been unpredictable, and extremely cold, and then other days are moderately warm. A Faux Fur Vest is a great fashion style to wear for those "in between days". They look so real, sometimes it's hard to distinguish animal fur, from faux fur. The Faux Fur Vest has become more popular than real fur since it's more affordable and you're showing kindness to animals.
The great thing about fur vests are they can be dressed up or down. For instance a fur vest can be paired with jeans for a casual look along with casual short or knee boots. When you're going for that "sporty look", a pair of leather pants or a leather skirt and short leather boots or thigh high is a hit. For a standout style the Faux Fur Vest or real fur can be worn with dress pants, leggings, mid length or a maxi skirt. When it's very chilly you can opt for a long tee, turtleneck or sweater, and for the most luxurious alternative I like wearing a bling embellished sweater. This is one of my designs showing a Faux Fur Vest paired with a bling T-shirt and embellished bling pant from the S. Moye' collection. So depending on that special event, holiday, or what your vibe is for the moment you can't go wrong rocking a casual or standout look. A fur hat paired with fur coats has always been a staple. One of the sexiest looks I've seen are wearing a zipped up fur vest without any shirt underneath this number right here is a head turner but don't forget to check that weather report before you step out.
Don't underestimate the power of Faux Fur and its impact on looking fashionably correct it has become the new standard in luxury fashion. Sometimes Faux Fur can be more expensive than real fur depending on the style. You can still look like a rock star wearing Faux Fur because some cities like San Francisco has banned the sale of real fur and some mink and fox farms plan to shut down within the next several years.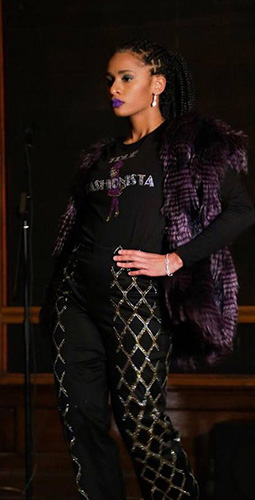 There are so many designs, styles, and colors to choose from. The Faux Fur Vest can be found in three quarter length, traditional, bolero, or cropped. The most popular style is the animal inspired look. These vests are designed with collars, hoods, knit panels, ruched zippers, and leather accents. The color trends are an array of colors, such as white, beige, orange, royal blue, purple, teal, brown and black.
The cropped fur jacket looks sharp worn over a jumpsuit or a fitted maxi sweater dress. The cropped fur jacket paired with a jumpsuit gives an edgy vibe, and paired with a maxi sweater dress is more sophisticated and chic. I designed and created this cropped faux fur jacket including the jumpsuit with a frontal zipper under my S. Moye' fashion brand.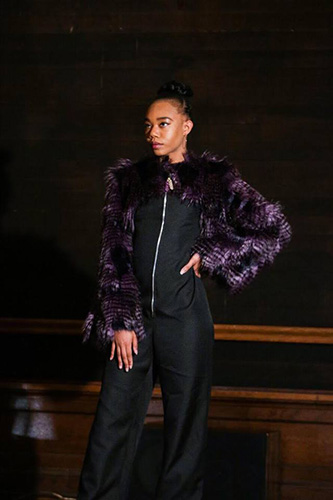 Throughout the last decade I've seen more people wearing short fur jackets and three quarter length coats much more than maxi furs. I've also seen men wearing fur vests and fur coats than ever before which is a good look. There is something so attractive about a well dressed man. There are several people who also enjoy wearing vintage furs these are fashion that's at least 20 to 100 years old to be considered as vintage. When someone in your family willed you a fur coat, don't throw away grandma's coat because this can become a great conversation piece of stories and your family history.
No matter what the age, or lifestyle, the Faux Fur Vest can be worn as "Street-Chic," to "Faux Fur Fabulous."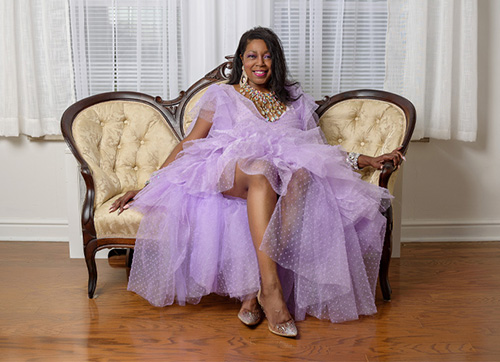 Let's stay connected by following S. Moye' Fashion on Instagram!
All images courtesy of Stephanie Moye