Hair, one can often be similar to many life metaphors, an individual strand can be as fine as a feather, but treated and fortified properly can be one of our strongest allies. Each follicle, separating each woman from the next, identifying our individuality and uniqueness is often one of the first things we utilize to define who we are. Hair La Mode product owner, Corenza Handy, boldly took a chance on herself and her dreams by creating Hair La Mode.
Handy wanted to create a brand that was similar to her interests. She fell in love with hair and fashion and made sure that the name was a direct reflection of that.
She started this brand with over 15 years of experience as a stylist and used her knowledge to create a product line that specialized in creating and managing healthy hair. With her expertise at the forefront, she knew that certain ingredients in hair care products weren't the best for maintaining healthy coils and follicles. Ingredients like silicone, parabens, minerals, and phthalates, were removed from the construction of the line, as they are active deterrents for a healthy mane. Additionally, she wanted to ensure that the line served its purpose to all hair types by using rich ingredients and had a hair-centered focus.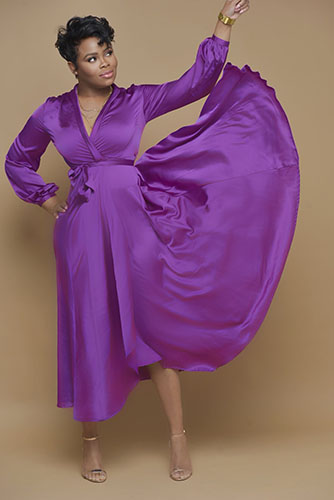 One of the things that we found to be captivating about this brand, was the fact that each product/or collection includes instructions on what to do with your hair when you use it. So often product junkies head towards the latest trends in hair care, but other than the two-sentence directions at the top of the bottle, they're left in the woods on what to do next.
A perfect example of the knowledge that the line shares is with the Bounce Back Set. The thoroughness is helpful because not only do we know what to use first, I also know how to use it, down to the exact angle, and inch I should be from the bottle to my head!
Product of the Month
Like most brands, Hair La Mode has a lot of products to choose from. However, the special highlight of the product of the month provides the visitor of the site with a showcase option. This month's product is the Slick Hairline Smoother. Which is advertised to provide a controlled and smooth hold.
Her latest edition to the line is the Luxe Jelly Hair Styler. Which uses Argan oil and coconut oil to hydrate each follicle while maintaining a smooth finish. When asked about the product, Handy excitedly exclaimed, "I'm thrilled to introduce a new product that is proven to promote a healthy scalp and growth for natural hair."
"As a Master Hair Stylist and Salon Owner, I know first-hand how hard it is for customers to find the right products for their hair. That's why we included several nourishing ingredients to maximize hydration while strengthening the health of your hair at all times."
In addition to the product of the month and providing detail in hair care, Hair La Mode also provides products that continue the work of hair health. She sells silk pillows for those nights when we forget to wrap our hair as well as hair and body oil, and my personal fave the " La Mode Luxe Vivante" tee. Interwoven in each product is a sample of who Handy is, and her love for the fabulous.
With Women's History Month rounding the corner, it's been a pleasure to celebrate and identify one of the most important things that women hold dear. Our hair! We can tell that the wealth of Handy's knowledge and her passion for hair care shines through with this brand.
Take a sneak peek at the latest product as advertised by Sheen Magazine and Hair La Mode below.
For more information on Corenza Handy and Hair La Mode, click here.
All images by PhotosbyKai