Many creatives join the front lines to fight for social justice in various ways.  From music to writing, people are using their gifts to fight injustice in all forms.  Famed painter, Whitney Austin, is one creative who is turning her fight for justice into viewable artwork that is stimulating the masses.  Based in North Carolina, Whitney is known for her sold-out art shows and acclaimed paintings.  Her vivid imagery is also known for her portrayal of and dedication to the Black culture.  When the guilty verdict was released in the Derek Chauvin case, a long overdue sense of relief was lifted for many.  Whitney used her gifts to portray George Floyd in artform with her recent piece.
Her nationally renowned artwork has even been celebrated by celebrities such as Cedric the Entertainer, Romeo Miller, Shaun King, Trina and more.  Although her artistry earns her over $150,000/month, her mission is to spread her Black Girl Magic to use it for positive change.  Whitney currently has a Black Lives Matter coloring book collection that includes images of her hard work that caters to the movement and Black culture.  The coloring book will add healing for the culture.
Art imitates life in Whitney's world.  "My paintings are a reflection of the immense joy and unfortunate pain that we experience by being Black. I specifically highlight Black women- as I am constantly amazed at their versatility, strength, poise, resilience, confidence and beauty!" Whitney states. "I use bold colors and texture to represent our varieties in skin tone, hairstyles, & body shapes. The black woman is simply remarkable and I am so proud to be one!" she continues.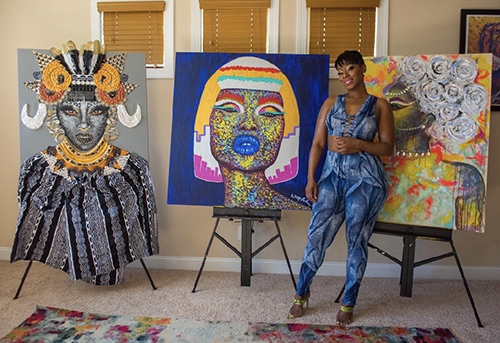 Her creativity is impacting the Black Lives Matter movement in major ways.  "My latest paintings "Herricane" and also "Bloodline Of Injustice" both capture the pain to tell the unfortunate story that we continually have to tell. A story of brutality, anger, frustration- by simply asking for peace & respect! I wanted these paintings to speak loud enough; and so loud that it may make some emotional and others uncomfortable," Whitney adds.  "Our lives seem to only matter when we are entertaining, inventing, teaching, providing world culture, styling, or paving the way. Black Lives Matter and not just for their benefit!" she expresses.
There is much to gain from Whitney's gift.  Many may not realize how art impacts the culture but Whitney is striving to change that narrative. "My gift is more than about being "an artist"because it's about being a leader in an industry that many believe they have to starve through. My success, trials and testimony are all a part of being a blueprint for others to be inspired from," Whitney expresses. "I stopped doing art in high school and it wasn't until nearly 10 years later that I got back into art. As crazy as it may sound, I just went for it! You can create your own destiny and your gifts will make room for you. You can excel," she encourages.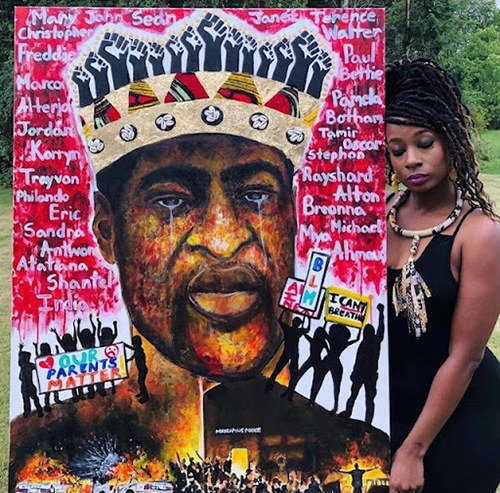 We know that the road to justice is a bumpy one.  Advocates such as Whitney are making the road less hectic in their own way. "I suggest communities to have a support force that works alongside the police to assist with the lack of compassion & understanding for our communities. There is a huge issue with how quickly the police use force against us, so there also needs to be laws created that penalize the police for using excessive force," Whitney suggests in the fight for justice. She is dreaming in color with the use of timeless artwork.  Whitney is fighting with one paint stroke at a time.  Collectively, we can achieve more when we all do our part and use our gifts.  Keep in touch with Whitney Austin here and also on social media.
Writer, C. Scott, is a mompreneur, educator, social work and more.  Follow her on Instagram and Clubhouse as @curls_coils.  Follow her preschool journey on Instagram as @beautifulshadeslc.  
All images courtesy of Whitney Austin