2020 has taught many people the urgency of having a better understanding of having financial literacy.Jasmine Young founder of Southern Tax Preparation & Services, LLC.  Her mission is to "Spread Financial Literacy around the globe one strategy at a time. Jasmine created the Financial Literacy University, a 100% online platform that delivers high-quality financial education and offers exceptional flexibility, accessibility, and affordability to any individual striving to better their lives and improve their financial health.
Can you tell us more about, who is Jasmine Young?
I am a millennial Certified Public Accountant and Certified Fraud Examiner with 6 years of experience in public accounting and 10 years in governmental accounting having worked for 3 different government agencies. I am an author having published "Financial Wellness Planner: Th Ultimate Guide to Financial Literacy," a financial planner that assists individuals with assessing their financial health and pointing out the areas of financial literacy in which one needs to grow. I also published "The Bottom Line: The Entrepreneur's Financial Planner," which assists business owners with legally starting their business in maintaining the record-keeping necessary to know their bottom line at all times. I am a philanthropist having started "The Maggie & Gillis Dickinson Scholarship" which is awarded to undergraduate and graduate students from Alabama who major or minor in a business-related field. I am also one of GCIF's Top 100 Global Leaders of Finance for 2020 as a result of my spirit of innovation, market demand, future-readiness, and industry impact. Most importantly, I am a daughter, a sister, an aunt, and a cousin with the desire to change the financial trajectory of my family and be the first within it to curate generational wealth.
Was finance always what you wanted to do growing up?
Yes, I knew that I wanted to work with numbers. As a kid, I counted everything – my steps between cracks in the sidewalk, food particles, car tags, anything! Sounds a little OCD, but numbers have always been my best friend! I came from a home where my parents taught me by example that financial literacy is the key to living a financially healthy and free life. My parents worked hard, consistently strived to learn as much as they could about the things they didn't know related to financial literacy, and held each other accountable for the household's finances and their spending habits. They passed on what they knew to me, and as a result, it appeared to many of my classmates, some of which said, that I was being "fed with a silver spoon." However, I realized this perception only existed because those around me were experiencing a life of adversity and poverty, and it was their experience that birthed the perception that anyone who did not appear to be experiencing life as they were, in fact, being "fed with a silver spoon." Although initially, the statement upset me, I chose to use it as my motivation to feed my community and all those I encounter with this same silver spoon – the silver spoon of hard work, education, and accountability that I was fed by my parents. That one comment solidified my desire to be a certified public accountant.
With the 2020 pandemic and several companies both opening and closing, why is understanding your finances even more important than ever now?
Because we are being faced with so much uncertainty because of the pandemic, it is important to know your finances so that you can plan for this uncertainty and keep the doors open. Specifically, budgeting, cash flow analyses, and strategy development as it relates to the two are important because companies should ensure that they don't have a going concern, meaning that they aren't able to remain in business.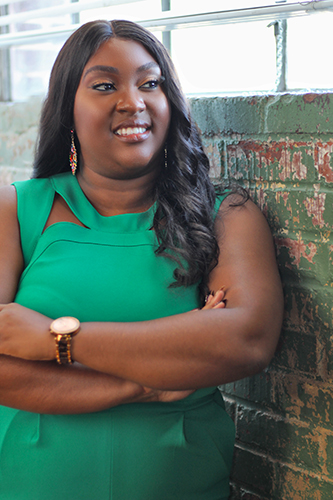 You've started educational courses to help millennials and small business owners reach financial wealth, can you tell us more about it?
Financial Literacy University (F.L.U.) is an online education platform that I created to give everyday people access to, at a minimum, the basic financial education, and resources one needs to become financially literate.  It is a DIY resource for those that want and desire this financial education and to grow financially but do not have the resources to pay the professionals of the fee charged for a consultation.  There are courses for both individuals and business owners, and they are self-paced. Course topics include budgeting, credit, taxes, life insurance, health insurance, estate planning, retirement planning, and business courses ranging from how to legally start a business to running a business from a financial aspect.
You touch on COVID-19 survivors, can you explain how that ties into your financial literacy courses?
Now more than ever it's important for everyone to know-how and actually budget and make sure they have both life and health insurance. F.L.U. has courses available on all three of these facets of financial literacy to educate students on the topics and lead them in the direction they should go to make sure they excel in these areas and are able to apply the knowledge they learn to their daily lives and survive this global pandemic.
How can everyone gain access to your courses?
You can enroll as a student at F.L.U. here. 
Please tell everyone how they can follow you?
Follow me on IG and Twitter as well as the Southern Tax Prep Instagram. If you're looking for some down to earth motivational talks about money and building generational wealth, follow my podcast on IG, which streams on Apple Podcasts, Google, Spotify, iHeartradio, and you can even catch it on YouTube by subscribing to my channel "Your Family CPA."
In 2021, Southern Tax is planning to add more courses to the F.L.U. platform put on at least 2 financial workshops – one for individuals and another for businesses, a business expo promoting black wealth that allows vendors to showcase their business and network with other entrepreneurs, and we close out the year with a gala to show our appreciation to our Southern Tax family and set their expectations for 2022. COVID is still rampant; so, for any in-person events, we will be following healthcare guidelines to keep everyone safe!
All images by Christopher J Yancy