Chef, cookbook author, and television personality, Camerron Dangerfield is man you may have seen come across your television screen. The young, Meltt Cafe owner is a Food Network Champion and a man who truly knows what he's doing in the kitchen. When he's not throwing down in the kitchen, he's out giving back to others. We caught up with Cam to discuss his love for cooking, philanthropy, and much more!
First off, why cooking? Why food? What intrigued you to do this full-time?
This is a question that I often get, and I totally understand because I'm a chef. However, my answer always shocks people when I respond "I didn't chose cooking or food it chose me" literally my entire life I had no idea that my love for food and cooking in the kitchen with my mom would in turn choose me to be lifetime its partner. During a traumatic season after the passing of my mom, I prayed to God for no more bad days. I asked to be connected to her in a way that only I could understand and explain. He came to me in a dream and I can still hear the words today, "my son I am with you, and she will always be cooking with cam." So, I began cooking directly from my on campus room selling plates, offering a space where students could come eat, study, and share experiences. It was communal, it shook the entire college campus. It rocked my world how successful it became. We went from selling food from the dorm to cooking for faculty and staff, elected officials, celebrity's, food network, publications, etc.. I decided to take the olive branch & follow his words and he had led me to this path of passion and love. It's really funny because I graduated from Alabama A&M studying business & finance. I accepted a position as a financial analyst and worked for the top financial tech company at the time, but that was only a test. A test to see will you fulfill your life with the things you want, or will you recognize you've future has been chosen. I decided to cook because it was spirit felt. It's was my form of therapy & philanthropy. I knew that I could touch, and change more lives with that platform that I could anywhere else in the world. 
Tell us about your start becoming a Chef on a Purpose.
Growing up in poverty and overcoming generational curses, and Beating the odds effortlessly I always knew my life was purpose driven, but what that purpose was I didn't know at the time. I have always had a warm spot in my heart for helping others see that your current situation doesn't not dictate your future. That you can start here tarnished, that you can be renewed and go ANYWHERE! I was told years ago by my mom that one day I will be able to touch and saves more lives than I will be able to see. Once, I was able to see how my dedication, passion, and happiness was so infectious to those around me it was like an epiphany. I realized that I was just the face of a vessel that was created to not only feed the bellies of those around the world but the reflection of who I am compared to my wretched past would feed people's soul and I could be a light for change. That my life's purpose is fulfilled when doing the good work, having on a chef coat, donating food, encouraging and inspiring just came with the territory. 
What is your all-time favorite meal to cook and/or eat?
Ok, this question is easy. Cooking is my first form of therapy. It's a mode of survival so I think of it like that. I love to cook southern cuisine w/ a twist. Adding an element of surprise. Taking classics and creating a healthy and more efficient alternative. Exchanging things like butter for white grape seed oil, using liquid smoked techniques to flavor collard greens & vegetables instead of pork, incorporating fresh ingredients to season fried chicken like brining, adding fresh citrus and rosemary opposed to high volumes of sodium. My community can really benefit from these options and the flavor is undeniable. My favorite foods to eat are BRUNCH! I'm really a brunch fanatic. I love the ability to take breakfast, lunch and dinner and incorporate it into a meal that wakes you from that crazy night before.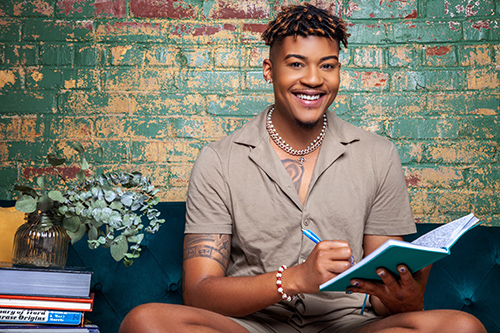 Why are you so invested in using your platform to give back to others?
I invest so much of me into giving back to others, because so much has been invested over the years into me and my family. Watching my single mom try and care for upward to 6 children at a time was not easy to watch. We struggled, we were homeless, went without essentials, but there was always help at the end of the tunnel. I truly believe in living a life of reciprocity. I would be so selfish to say that I am here today just by my hands and my brain. From early childhood my community knew I was different, I was a dreamer, they knew my purpose would be more than staying in poverty, and did everything they could to lift me up and cultivate me. I was accepted. I was seen, and I promised that no matter where I would be I would use everything I had to be that for the next generation of dreamers whose environment tells them it's impossible. I'm here to not only tell them but show through my actions it is truly POSSIBLE. To mothers and fathers struggling to take care of their families I know first hand that feeling. I will and continue to be an olive branch to that community, it means so much to me, to my mom, to my siblings. 
As a philanthropist, what are you looking to achieve in the years to come?
As a philanthropist my goal is simply to find as many ways to use my platform to improve the well being of the underprivileged black & minority communities. I want to become a beacon that can help solve so many issues like lack of fresh food options in our community, I want to create jobs and resources for our youth, I want struggling parents to always have a way to feed their children when times are rough, show what diversity and inclusion really looks like, travel the world as a vessel issuing inspiration, encouragement, finances, mentorship, and love. I want to be an experience that they will never forget. That if Chef CAM can beat the odds, come from nothing and still give everything I can too. It's an everlasting love thing. I cherish the gift of a heart God gave me, and I want to share it with the world.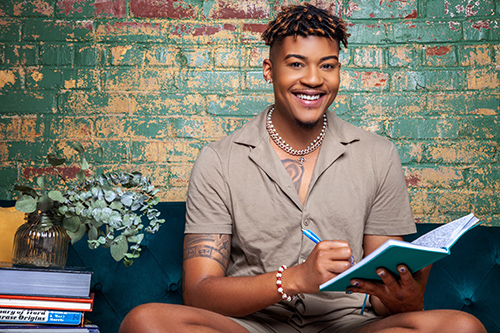 For more on Camerron Dangerfield, follow him on Facebook, Instagram, & Twitter.
All images by Jeremiah Drummond Photography