Working within the helping profession of social work is a true calling. As we celebrate National Social Work Month this March, it's important to highlight the social workers who serve within the specialty of hospice care and clinical settings. TaKenya Clark-Jefferies is a clinical social worker who has dedicated her skill set to specializing in grief, loss, and disappointment on various levels. "Social work has always felt like a calling. I have always enjoyed helping others and social work allowed me to help individuals as a career," TaKenya shares. "I wanted to be able to make a difference in the lives of people going through various difficulties and life changes, and I wanted to be able to offer them my support and encouragement as they navigate life," she continues.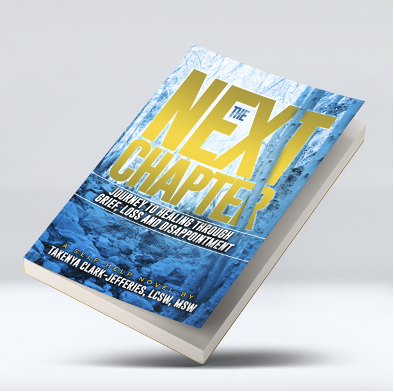 The California-based clinician also added "author" to her resume with her latest release of "The Next Chapter". Her self-help book helps readers navigate the difficult times that arise with grief, loss, and disappointment. TaKenya Clark-Jefferies shares firsthand experiences as well as clinical expertise in her new book release. Here's what she shared about her profession, new book, and more:
What's the motivation behind publishing your new self-help book, The Next Chapter?
"The Next Chapter also felt like something I was called to do. Having been a part of so many people's journeys and having helped them through difficult times, I was able to see firsthand that people do well when they have support, encouragement, and a safe place to express themselves. With these things in place, they are often allowed to try and progress in their new direction. Helping others learn to participate and engage in their lives again has made such a difference. I also learned that when people realize they are not alone and not "going crazy" it has a positive effect on their process. Normalizing what people are going through, I feel, provides hope – hope that they will begin to feel better, even if that means eventually. This hope allows them to keep trying, hope drives us. When we start to feel that we will never feel any better and we lose hope, then we stop trying altogether, and this allows for depression to set in and, in turn, make it even harder to try and harder to heal."
How can others manage their grief, loss, and disappointment throughout the holidays and with the start of the New Year?
"Be patient, kind, and compassionate towards yourself. Give yourself permission to feel what you're feeling but also give yourself permission to feel better. Allow yourself to do the things that you enjoy, but at the same time still try to work through what you're going through. Take your time. Feel what you feel but in the middle of all of this still try and engage in some of the things you enjoy doing, even if it doesn't feel the same. Try something new. It's okay to try something different. Change up what the holidays look like. Create new traditions. We don't have to do what we've always done. Talk about your loss or the disappointment that you feel.
I've never been to a funeral or memorial service where laughter is absent; at the very least, there is usually a shared memory that causes the family to laugh. This is a great example of a good moment during a time of suffering. In cases like these, sometimes people start to feel guilty for starting to feel better. Healing and continuing to live after you lose someone does not take away from the love you felt for them. Instead, it honors them. The people we love want us to be happy, they don't want us to be sad or angry. Most of the time the people closest to us will tell us just that: "I want you to be happy."
We have all gone through so much in the last two years. We've all had to learn to adjust to this new normal and make the best of it. We have found new ways to connect to the people we love. We have found new ways to work and new ways to play. We do what we must to survive. We are resilient."
I see that you have your own clinical practice and you have experience working in hospice settings. What advice would you give to other clinicians about managing their own struggles while working within a helping profession?
"Self-care is a must. We must make time for ourselves so that we may continue to do good work. As clinicians, we all have had to adjust to these last two years together. We have had to get real creative with self-care and with our coping skills. We are all still living through a pandemic, along with our clients, through the same uncertainty. We pour out so much every day, for every life we touch, but we have to remember to care for ourselves as well. Finding things that we enjoy and that make us feel renewed is important."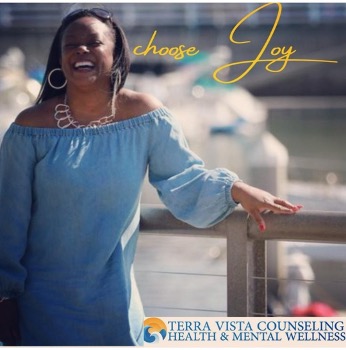 More women are being open and intentional about their self-care practices. How do you practice self-care and how can self-care practices help in providing quality clinical services?
"My self-care usually revolves around getting outdoors. I love hiking, and I feel that hiking has become one of the most helpful activities that I do for myself. Connecting with friends and family is also helpful. Video chatting made a big difference during the time of physical isolation, we had so much fun at our very first family Zoom meeting. Music, being near the water, and lots of Netflix has been helpful too. I wasn't a TV person before the pandemic began, but I learned to be. I also chose to continue with my education, which kept me focused on the future in a positive way.
All of these activities have helped me and continue to help me show up for the people who trust me with their care. At the beginning of the pandemic, self-care was a challenge, but in the long run, it made me a better provider. I had to learn, grow, and adjust right along with them."
TaKenya Clark-Jefferies is definitely a social worker to watch and admire. She is successfully mastering her craft to not only serve others but also make boss moves within her community. Her Black Girl Magic is commendable and she is a social work trailblazer. Connect with her brand on Instagram as @terravistacounseling & @the_next_chapter_to_healing.
Copies of The Next Chapter can also be purchased on Amazon.
Writer C. Scott is an authorpreneur, MSW, and mom who can be followed online as @curls_coils.
Photos courtesy of TaKenya Clark-Jefferies