Francesca Andre decided it was time to take action. In response to the hatred towards black boys and men around our nation, Andre instead created a positive affirmation that empowers and reminds young black boys and men that their potential is limitless. Through her exciting new book series titled, "I Am a Phenomenal Black Boy," Andre focuses on reminding powerful black male and females that they too have their own hero stories. In our exclusive interview with Francesca Andre, we discussed her new book series, it's importance in society, and much more.
Tell us about the release of your book series, "I Am a Phenomenal Black Boy."
Thank you for the opportunity to share my work with you. " I AM a Phenomenal Black Boy" is the first book from my book series. The series is to educate, inspire and empower young black boys and girls. "I am a Phenomenal Black Boy" is a powerful children's book that calls for young Black boys to be unapologetic about their identity, magic, history, and brilliance. Through personal reflections and illustrations of how powerful Black male and female figures have contributed to humanity, the book centers black boys as heroes of their own stories. Phenomenal Black Boy defies the societal stereotypes often set for young black boys, serving as a guiding light and encouraging them to remain true to themselves by remaining phenomenal
Why do you feel this project was so important for you to release, especially right now during the current state of our world?
I wrote a book to/for my son that is not published. He is the only one with a copy and I read it to him a lot. Writing that book was a necessity for me as his mom especially when fear has started to cripple me. I didn't want to live in a state of fear for my son so I got to writing and  wrote "I Am a Phenomenal Black Boy"  That was my way of taking action, my response to the hatred towards black boys and men, my response to history that has been erased, my way of reminding them of their infinite possibilities, my way of celebrate them as beings of light. As a new mom, I wanted a book that reminds me of a perfect stew- a little of history, identity, black boy brilliance, and positive affirmation paired with powerful illustrations that uplift young black boys and that's exactly what this book is.
This is a book that allows parents to take back control of the narrative that surrounds black boys by reminding them of their true identity and their purpose in this world. Phenomenal black boy is a poem, positive affirmation, and a work of activism against the many negative stereotypes that this world has set for young black boys. it asserts that black boys are filled with limitless potential and have the right to express the full range of human emotions.
What has been the most rewarding aspect of being a new mom?
Being unafraid! Being overwhelmed by the power of love. Being transformed by light. Holding my son. Seeing him take his first step…sticky fingers on my face. Knowing that I am his person and he's my person.
What are you currently working on?
On being a better version of myself. Loving more! Crying when necessary! Not being afraid to laugh, to live! Being the mom I need to be for my son. Writing, cooking, creating and serving  those that need me.
What can we expect to see from you in the future?
More love, more light, more art, more humor,  abundance and magic. My Limye(light) will shine !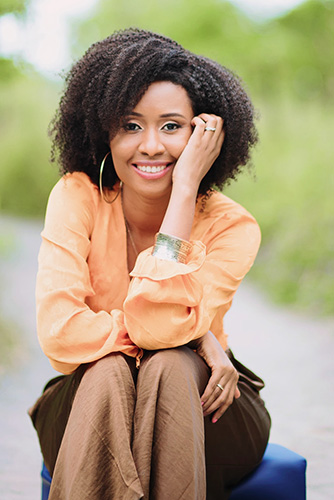 I Am a Phenomenal Black Boy will be available on Amazon on August 21st.
For more on Francesca Andre, click here.
All images by Alison Domzalski