I am Tim Hughes, aka SquiRRel, a Ruff Ryder born and raised in Annapolis, Maryland and I'm a part of the Maryland Eastern Shore Chapter. I am currently living in Millsboro, DE, with my significant other, Manda, and my three beautiful daughters enjoying life.  I also work at a tow trucking company and drive as part of the towing crew. A love hobby of mines is upgrading an automobile which is my passion. To keep my upgrading skills sharp, I also work at 360 Automotive Design, a shop specializing in custom interior and exterior design.
Please tell our Sheen readers how does it feel to be a Ruff Ryder? 
It's a blessing, and it's an honor!  I mean, some great legends have been Ruff Ryders, like my brother Earl Simmons (A.K.A.) D.M.X. It's like being part of a massive family that goes above and beyond to increase positivity in life. The Ruff Ryders to me are my brothers and sisters I never had.  I grew up without any siblings; therefore, it was new to have people that I knew would have my back no matter what and vice versa. The group exemplified no prejudice or hate, we're just family. We are one. It's hard to explain; as a Ruff Ryder, I'm talking about people coming together as one bond from a friendship, you know!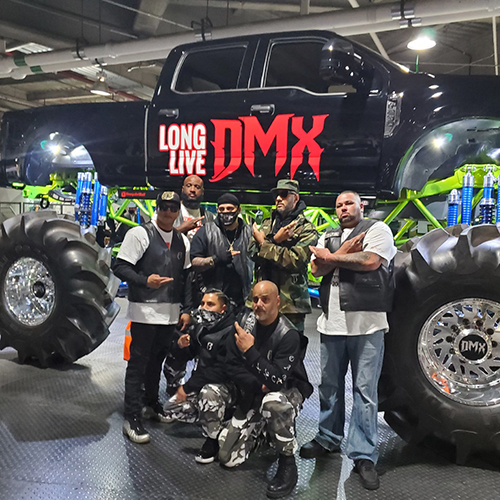 I know D.M.X. passing must be intricate for you and the Ruff Ryder organization, but please tell us how this transition has been for you?
On a personal level, I lost my favorite rapper. I didn't have a personal relationship, but (D.M.X) has been a big part of my life, showing love, respect and developing and increasing my relationship with Jesus. Before I ever wore the (R) as a Ruff Ryder, he's been a role model to me. We're mourning as a family because we lost a legend who helped pave the way for us as a Ruff Ryder's.
To my understanding, you had the honor to be the point of contact with the truck that took him from White Plains to the Barclay Center; please share those moments with our Sheen readers
I was one of a few people who made it happen: I and my buddies, Mark Wickline and Matt Rossi. I can only speak from my perspective, but the moment I realized it was real and I would be a part of this, I felt honored. The realness of (D.M.X) being gone hit home as I was riding in the truck with my fallen brother, soldier,  the one who I've admired since I was a kid, and it was such a surreal experience. One I will never forget. 
I would like to say that I am from Brooklyn, NY, and now I reside in the Sunshine State of Florida. It was such an honor and pleasure to see all the Ruff Ryder's come together. Do you understand how many other people lives you touched just by sharing this moment?
Please give us some encouraging words to the people during this difficult time.
I didn't understand how big it was going to get. I had gone live that day because not all my Ruff Ryder brothers and sisters could be there. I just figured I'd do my best to let them see it from my perspective on social media, so they didn't miss this moment. The number of people who got on the social media lives stream was CRAZY. The views just kept climbing and climbing, and when everyone started leaving comments of love, support, and blessings, I knew I did the right thing. I felt it then! You can see how many lives he touched. You don't usually see a large amount of love on the media these days, so I'm glad I could give you and everyone else who joined the live opportunity to ride with us and watch him take his final ride, in style with positive vibes all around. 
Where can we reach you on your social media?
On Instagram and Facebook: Tim Hughes
All images provided by Tim Hughes