When you think about the culture of Atlanta, and all that it has to offer, Choreographers Kiki Ely and Sakinah definitely come to mind. These two phenomenal women have made their mark in the world of dance working with some of the best artist in the industry including; Jasmine Guy, Usher, Ciara, Jermaine Dupri and more…
With everything going on in the world Kiki & Sakinah have still been allowing their creative juices to flow and have created a life changing opportunity for creatives, artist, dancers and more to join them, for their FREE webinar happening May 12th, 2020… Check out our exclusive interview below.
Tell our readers about AtLA.
AtLA is a multipurpose production facility. Our 15,000 square feet, three unit space is the perfect location for shooting music videos, creative content, hosting events and shows. We have been a location for several major artist music video shoots, rehearsals and shows. The Lil Baby ft. Da Baby and the YBN Cordae ft. Anderson Pak performance rehearsals for 2019 BET HipHop Awards were held at AtLA Entertainment Studios along with tour rehearsals for Grammy award winners Nelly & T Pain, new artist G Herbo and many more. 
AtLA is also the home to the AtLA Artist Academy; a new school approach to artist development. AtLA Artist Academy develops various types of artists including pop, hip-hop & r&B, focusing on performance, media training, vocal coaching, fitness, choreography and overall brand and imaging. Some of the successful artists that have come through AtLA Artist Academy have been signed to major labels such as Ann Marie signing with Interscope, Layton Greene signing with Quality Control Music/ Capitol Records and Mia Arianna with Epic Records. 
Did you have any mentors along your journey who have inspired you? If so, what was the advice that they gave you that has really stuck with you.
We absolutely have mentors that have inspired us along the way. Choreographer/Creative Director Jamaica Craft who has had a profound influence on our professional careers as dancers, choreographers, & Creative Directors. She's someone that has had a huge impact on the Dance, Artists, & Entertainment Industries and has been a great personal inspiration for us both. She's hired us as dancers early in our careers and has been such a loyal and prominent figure in our lives. She has instilled old school values in our lives that have stuck with us and has sustained us through the ups and downs of the entertainment industry. One thing she told us both is to be ok with being the "High School' preparation for dancers in the industry and once you let them go.. Let them fly. Some fly and some don't. We both poured so much into the Atlanta Dance Community and have now focused our company exclusively into the Artist Development/Entertainment/Production Industry.
We also have a great relationship with Grammy Award winning producer, Rico Love who has been a mentor and great friend to us both since 2003. He's been a huge supporter of Atla Artist Academy and our passion for Artist Development. He is such a staple in the Music Industry with his voice, accolades, and accomplishments he has achieved. He continues to inspire us both with his drive, his creativity, and purpose behind every project he works on. 
One other mentor that has had a remarkable influence on our careers as business women is Catherine Brewton, VP of BMI. Her philanthropy through Hope for Harvest is commendable and we have had the opportunity to be a part of her efforts for a few years. She has always been such an inspiration to us both as black female entrepreneurs and future business moguls. Her presence in the music industry is undeniable. She is the definition of grace, elegance, confidence, class, & a boss. One bit of advice she gave us both specifically was when we were both at One Music Fest 2019 choreographing for KP The Great and we were disclosing to her our decisions to no longer continue our Dance Conventions and she simply stated to us, If it is no longer serving your purpose, your life, your vision, LET IT GO.. AND BE OK WITH THAT. 
What has been your most memorable project that you have worked on and why?
We have to say it was two! We were asked to work with Jermaine Dupri for the 2019 Essence Festival "Welcome to Atlanta".  This show was one for the memory books because being from Atlanta we both were ready to work with "The Mayor of the A" Jermaine Dupri. Under Jamaica Craft's creative direction we came in to choreograph for several Atlanta artists Lil Jon, Crime Mob, Bonecrusher, Ying Yang Twins and even non Atlantan Nelly, who's tour we ended up working on later that summer. 
The other most memorable would be our work on our own play that we wrote and directed called " Conversations: A Contemporary Story" . A timeless story about love, friendship and growth. We created a story from scratch using poetry, music and dance to express things we all deal with. We will be bringing this play back this year because of how great the feedback was. Having people receive our work the way they did was humbling and inspiring. A feeling and accomplishment we will never forget. 
For Television we both worked on Season 2 of Boomerang on BET. Four of the seven episodes involved us choreographing, Creative Directing, Casting Dancers, and working with actors. An incredible experience for us both in front and behind camera. The season premiere episode was a homage to Spike Lee's School Daze which was a huge influence on our lives in cinema. The series was Executive Produced by  Lena Waithe & Halle Berry, and all the episodes were directed by black females, including Director Dime Davis who was the showrunner, Katrell Kindred, & Tiffany Johhnson. This was a dream come true for our company as we both are aspiring television & film screenwriter/director duo.
What can people expect from your webinar on May 12th?
On May 12th we will be hosting a free webinar for artist signed and unsigned. Artist development is such a huge part of succeeding and longevity as a talent in this industry. We will be giving tips and tricks to any artist looking to grow their stage show, skills, brand and overall artistry. Introducing an online approach to accomplishing artist goals and showmanship is ground breaking. We will be taking the same formula that we use for our artist and offering an online curriculum for artists to follow. This formula is the same formula we used that landed record deals at major labels Epic, Interscope, Capitol and  more. 
What's next for you guys?
We are working with a new talent for upcoming projects that are slated to release this summer. We were scheduled to work on the creative team for a couple artists at Coachella so prayerfully once rescheduled for 2020 will have official names and dates of artists slated to perform.
Personally we are both creating projects to bring to stage and film. We love creating and found that we were good at it and the response to a play we wrote, "Conversations A Contemporary Story" directed and produced was incredibly positive. Sakinah continues to hone her craft writing scripts for stage plays & films. KiKi is in Cinematography school to learn DP & Directing. They both plan to produce projects to pitch to Networks, Executives, & Studios.
They both are still choreographing and creative directing upcoming music videos for the summer.
AtLA Entertainment Studios continues to be a space for creatives to be able to work on their projects, shoot visual content, artists rehearsals, photography & videography, host events, seminars, showcases, full production for films, Television, podcasts, & more. We are here to help make everyone's dream and visions come to reality.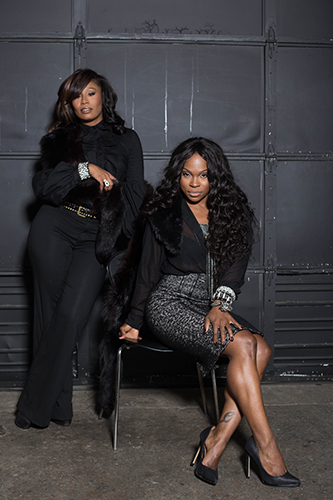 For more on AtLa, click here!
Follow AtLAEntertainment Studios on Instagram, AtLaArtistAcademy, KikiEly, and Sakinah LeStage.
All images by JWRmedia {Justin Robinson}