Dawn Rowe founded Girl Vow, Inc. to address the gender-specific needs of disadvantaged girls, femmes, and gender-expansive youth in New York City. Many Black women struggle to find help to get out of bad situations such as domestic violence, prostitution, drug abuse, neglect, and more. However, Girl Vow, Inc. helps girls maneuver bureaucratic hardships which often are the root cause of unimaginable traumas. Dawn's only mission is to save as many girls as she can, similar to how others saved her, and that is exactly what she is doing relentlessly.
"I started Girl Vow because, as a young girl, I was suicidal. But as I got older, I realized it wasn't that I wanted to die — I wanted my problems to die," adds Dawn. "Dealing with the issue of suicidal ideation and wanting a problem to end are two different phenomenons," explains Dawn.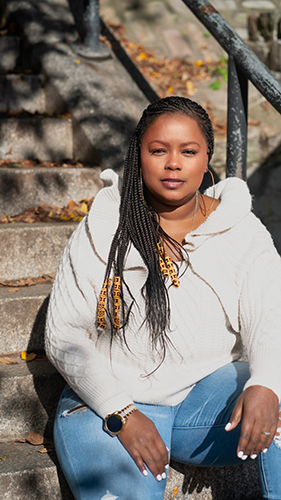 Girl Vow has had a puissant impact on over 3,000 girls in the juvenile justice system, living in poverty, or under the care of the New York City foster care. Signs of great achievements are over 1068 workshops conducted and $70,000 in stipends disbursed.
For more information about or to support Girl Vow, Inc., click here.
All images by Andrew Dante Hillemedo