Four-time Grammy-nominated artist, Jekalyn Carr is the prime example of that saying "Age ain't nothing but a number." Why? Because all before the age of 21, the young artist was able to amass six singles in the Top 10 on Billboard's Gospel Airplay chart. In addition, she earned her fourth Number 1 single with her current song, "Changing Your Story" just a few weeks ago. We caught up with Carr to discuss her accomplishments thus far, her upcoming album, and more!
Just a couple weeks ago, you earned your fourth number one single for your single, "Changing Your Story." What does this accomplishment mean to you?
It means a lot to me. I can backtrack and say that when I first started out, I never knew that any of this would be my story. I always knew that I would do great things, but I did not know that it would be to at this capacity. Being that young and being able to have number one after number one and being able to inspire people inspire people is what it's all about. I'm not just here doing what I do but I also want to inspire people through my gift by them seeing me accomplishing those number ones and every other accomplishment that I have. I want them to understand that it is very possible that despite where you come from, how you old you are, you can be successful and thrive in life. Being able to accomplish that is just a beautiful experience. I want people to become who they were born to be at the same time.
What can we expect to hear from you fifth album, Changing Your Story?
I would say first, most importantly I wanted to do something different with this album from the recording even down to the cover and visuals. Within this album, I really wanted people to understand that of course there is a lot that we have experienced together and even within our own households. Everything that you're going through, it may be a part of your story but it's not the end of your story. You've got to know that this is where God wants you to show He is and what he is capable of doing for you. I don't care how intense it is. You've got to know who you are and what it is. With that, you will come out on top. I don't care what has been weighing you down or what's been pulling you. There is a strong possibility for your story to be changed. All you have to do is have faith and believe. This entire album packages those messages. I'm excited for everyone to hear it. All the singles on the album are under the umbrella of Changing Your Story.
Can you give us insight into your upcoming makeup line?
I don't have a date for my makeup line as of yet but there is something that I am releasing in addition to that, very soon. I'm excited about it, though I can't speak about it too much, it's coming. I'm excited about how many people that it will reach. Makeup is on my radar so be on the lookout.
What can we expect to see from you in the future?
In the future, I'll continue to put out inspirational music. I just want to continue to inspire people. More television and things in that nature but I know there is so much in me. I really believe in right timing and right now is when a lot of my gifts are being unfolded. I'm excited to allow the world and my supporters to see.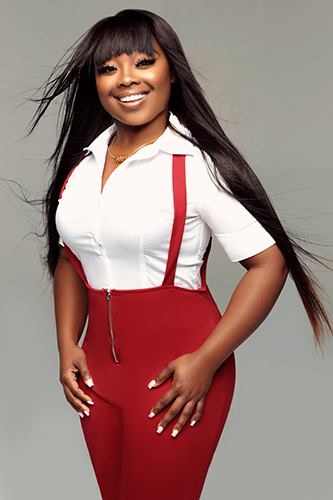 For more on Jekalyn Carr, follow her on Facebook, Instagram, & Twitter.
All images by Kauwaune Burton