Performer and personality, Spice sits down and talks about spirituality, wigs, and her 10-year feud with her label. She's the epitome of Grace under fire.
Artists can always tell when being interviewed if you're interested in what they have to say, or if they're just another "job." Spice was more than a job and that was apparent between the both of us within the first 10 minutes of speaking.
I was somewhat familiar with the performer, but I knew her most from my guiltiest pleasure – Love and Hip Hop: Atlanta, where she's one of my favorites.
She's not Leela James, or Michel'le – you know, where the singer's speaking voice sounds different from her performance voice. Spice sounded exactly as expected. She sounds like dancehall. She sounds like at any moment, she could break out into one of her hits, and I was here for it.
That said, the whole Dancehall Queen thing was lost on me, so I immersed myself in her music. We get into her hit single, "Go Down Deh" later in our conversation.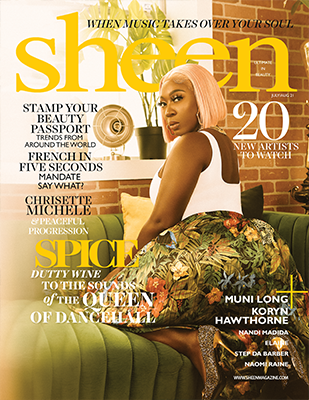 For more on Spice and more features Sheen Magazine has to offer, be sure to pick up your copy of Sheen Magazine's July/August 2021 issue available at Walmart, Target, Books-a-Million, and Barnes & Noble. You can also check out the link to purchase your copy of this issue and many more!
To subscribe to our newest feature, the digital issue of Sheen Magazine, click here!
Photography by Blair Devereaux
Makeup by Marquis Guthrie
Hair by Cherie Amor
Style by Christopher Jamal Payne
Pr: Divine Influence PR
Beauty from Faces & Laces The Piano Palette