Tyreese R. McAllister has been a therapist for almost 30 years, serving the community through the public mental health system and most recently her private practice.  She is an advocate for those who suffer from mental illness, encouraging those afflicted to get treatment, working in the community to reduce the stigma of mental illness. Being an advocate of intentional mental health and wellness and self-care, Tyreese expanded her brand to include a podcast that focuses on educating individuals about mental health and wellness.  3rd Thursday Therapy airs on the third Thursday of each month and addresses a variety of topics related to mental health. Tyreese is the visionary author of Mind Over Matter, Stories of Dealing with Stigma, Society, and Self.  This anthology features 16 authors who share their stories of mental illness and their journey to healing and treatment.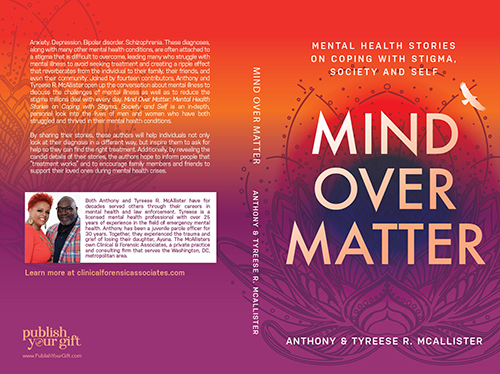 Tyreese is no stranger to social action and community activism, so most who know her were not surprised that when her 18-year-old daughter was killed in 2017 she immediately began a new path as a gun violence advocate.  She and her husband, Anthony J. McAllister created the Ayana J. McAllister Legacy Foundation, named in honor of their daughter.  The foundation addresses the everyday gun violence in Black and Brown communities that no one seemed to address. Tyreese is also the author of a children's book, Is My Lollipop In Heaven? This book helps children who have been exposed to the homicide of a loved one.  The book has a companion Care Giver Guide, sold separately, to aid adults who are tasked with helping the children understand this complex situation.
What advice would you give to new entrepreneurs?
Follow your passion and it doesn't feel like work. I consider this HEART work, not Hard work.  
What can people expect from you in this next quarter of 2021?
I am curating self-care go bags that encourage individuals to engage in routine and ongoing self-care. We offer three Self-Care Go Bags: 1) Anxiety & Depression, 2) Grief, 3) General Self-Care. The go-bags contain items such as a therapeutic card deck, essential oil, adult coloring book, colored pencils, journal, pen, relaxing teas, and a Radical Resilience Tea Cup.
What is the one thing you know for sure?
The one thing I know for sure is God Got Me.
What advice would you give to the entrepreneur who wants to give up?
Don't EVER give up on you! You are worth it.
How can we stay connected with you and follow your entrepreneurial journey?
My website, the Clinical Forensic Associates website, Facebook, Instagram, & Twitter.
All images courtesy of Tyreese McAllister