A Southern-based all-natural skincare brand is proud to announce the release of its new product line. All products are handmade, toxin, and cruelty-free, and all ingredients are ethically traded and sourced. Aari & Co. is committed to creating products that combine herbal infusion, organic oil, and butter to rejuvenate skin and hair and help users glow from the outside in.
Can you tell us more about this amazing company and skin and haircare line?
Aari & Co. is an herbal infused personal care company designing products that nourish and rejuvenate your hair and body. We exclude toxic chemicals, artificial dyes, fragrances, Parabens, and Sulfates from all our products. Our mission is to formulate products that are effective and nourishing while creating impact. Aari & Co ingredients are ethically traded and sourced. Aari & Co. never test products on animals all the while providing eco-friendly and reusable packaging.
Being that the beauty industry is considered to be oversaturated, what makes Aari & Co. different?
I do not believe the beauty industry is oversaturated. It is up to the company to find its niche and where they fit. if you can answer questions your customers are asking you will never have to compete again. When Aari & Co. was in the concept stage we began to ask questions. What was is your favorite brand and why. Do you care about organic ingredients? Do you care about toxin-free products? Do you use products that were tested on animals? How would you like your hair or body products to make you feel? Do you care about brands giving back and making an impact in the world? Our customers are 'conscious consumers' they care about natural ethically traded ingredients, the environment, cruelty-free and toxin-free products.
Aari & Co. is not just a beauty or personal care brand, we live by our genuine values.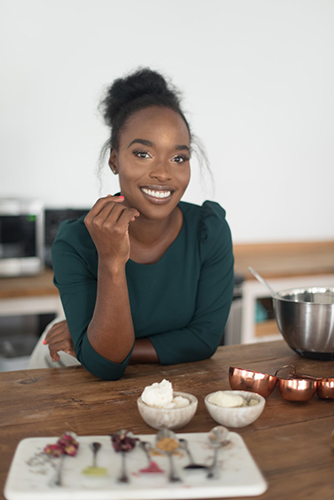 What was the motivation to launch the line?
I spent years formulating products and then talking myself out of starting my company. My mother came to visit me, and she noticed my house was a science lab. She asked to try my product and instantly loved them. I, personally, thought she was just being a good mom by telling me they were great. The game-changer happened when I overhear a woman at my apartment at the time talking about her daughter's hair. She was saying how the little girl hated getting her hair done and she was planning on Locking or cutting off the girl's hair this weekend. I jumped right into her conversation and asked her to try some of my products. At this time my products did not have a name or anything. I ran to my apartment and got a herbal shampoo bar and a jar of my conditioner. I gave her my number and was like please call me and let me know how it goes. A few days later she tells me, "You saved my daughter's hair!!" Aari & Co. was born.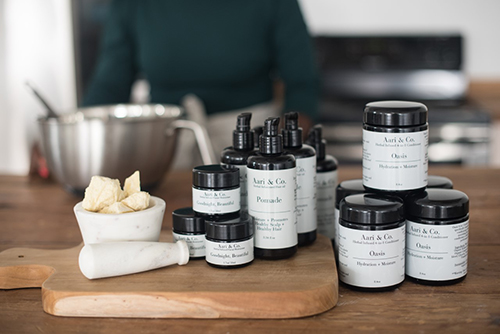 Is Aari & Co. considered hypoallergic? Is it good for all skin types?
It is unlikely that Aari & Co products would cause an allergic reaction. Aari & Co. is great for all skin types.
With the pandemic and now weather being as it is, what is something that you may have heard a lot of (regarding skincare), and what advice could you provide, as well as the best skin care regimen and products to use?
I will start the conversation by saying I am not a medical doctor. Everyone is taking extra precautions to stay healthy during this Pandemic. Like washing their hands every five minutes and or taking extra showers after coming in from work or running errands. We have had a lot of customers saying their skin feels hydrated and moisturized after taking a shower and they did not need to add lotion or cream. During the winter months, your skin needs more attention. My personal regimen consists of using a Sunshine or Hazel facial cleanser then I follow it with a moisturizer Goodnight, Beautiful. I use my facial cleanser and moisturizer twice a day. I only use Aari & Co Body soap. All the soaps are amazing! My personal favorite is Rosie.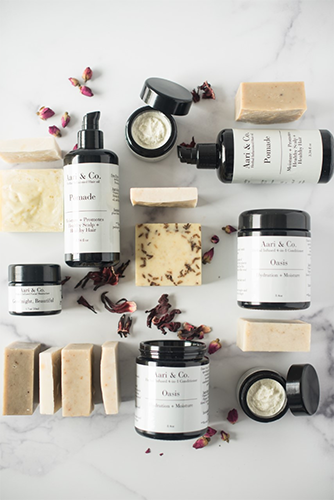 What can we expect from Aari & Co. in the future?
Aari & Co. will be expanding our product line to include more herbal body soaps/ shampoo bars, liquid shampoo options, hair curling gel, and body butters. Our vision is to become a mainstream company.
How can people connect with you to learn more, as well as continue to follow Aari & Co.?
Visit our official website and Instagram.
All images by Sirena white-Singleton/Aneris Photography