Meet Chef Danie, an internationally renowned celebrity chef and culinary architect. She may not be cracking golden eggs, but she is making 24k gold chicken. Professionally trained at Le Cordon Bleu specializing in both cuisine and pastry, Daniella Abraham, aka Chef Danie, garnered attention and credibility from working at some of Miami's hottest restaurants, and creating IG worthy dishes that have caught the eyes of her celebrity clientele including Drake, Antonio Banderas, Sean "Diddy" Combs, and Pharrell Williams.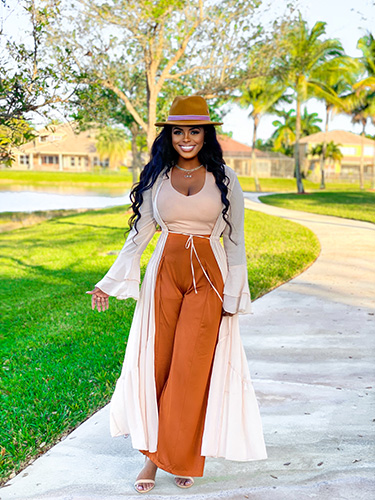 This Southern native is influenced by her "Hispanolian" background of Haitian and Dominican origins, and the eclectic energy that makes Miami a vibrant melting pot of flavor and culture. Chef Danie has earned a well-deserved reputation in the industry for infusing her dishes with robust flavors and influences from her parent's homeland combined with her unique attention to details that heighten guests' senses sight, touch, smell, and taste. The buzz about Chef Danie allowed her to create solid partnerships, events, and private outings with and for Louis XIII, Reebok, Godiva and the Omran family of Saudi Arabia.
Here's Chef Danie's Chicken Parmesan Alfredo!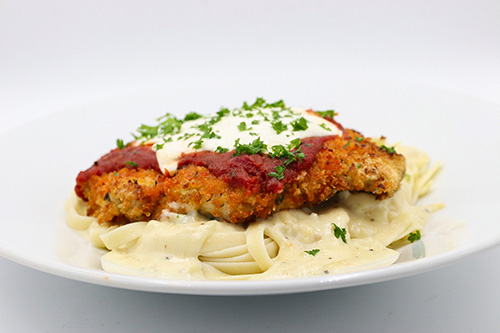 Before you begin you'll need one package of pasta cooked to the package instructions and set aside.
INGREDIENTS
1 pint heavy cream

3/4 cup butter

1/4 cup of milk

1 teaspoon all purpose flour

3 tablespoons cream cheese

1-1/2 cup fresh Parmesan cheese

2 tablespoons garlic paste

1 teaspoon salt

1/2 teaspoon black pepper
INSTRUCTIONS
In a Sauce pan add butter, flour and garlic on medium high heat stir until garlic becomes very fragrant.

Pour heavy cream, milk and cream cheese and whisk until incorporated

Whisk in the Parmesan cheese until it's fully incorporated into the sauce. Simmer this for 15-20 minutes on medium-low heat, just until it thickens enough to coat a spoon. Add Salt and pepper.
Marinara sauce
INGREDIENTS
3 garlic cloves, minced

1 (28-oz.) can crushed tomatoes

1 teaspoon salt

1/2 teaspoon sugar

1/2 teaspoon fresh black pepper

2 teaspoon dried Italian seasoning or herb blend.

1/4 teaspoon crushed red pepper flakes

1/2 teaspoon paprika

2 tablespoon minced onion

3 tablespoons of olive oil
INSTRUCTIONS
Heat a medium saucepan over medium-low heat. Add the olive oil to the pan, allowing it to warm for 1 minute, then add the garlic, and onion then sauté it for 2 minutes, stirring constantly, until it's golden brown and fragrant.
Add the crushed tomatoes, Italian seasoning/herb blend, paprika, salt, pepper, sugar and crushed red pepper flakes stirring until well incorporated.
Simmer the sauce for 10 minutes, stirring occasionally, then season it with additional salt, and optional fresh basil and parsley.
For The Chicken:
2 large eggs

2 tablespoon garlic purée

2 tablespoons fresh chopped parsley

Salt and pepper to season

3 large chicken breasts halved horizontally to make 6 fillets

1 1/2 cup Panko breadcrumbs

1 cup flour

3 tablespoons of cornstarch

1/2 cup fresh grated parmesan cheese

1 teaspoon garlic or onion powder

1/2 cup olive oil for frying
Instructions:
Preheat oven 420°F Lightly grease an oven sheettray with olive oil or line it with parchment paper.

Whisk together eggs, milk, paprika, old bay, garlic, dried parsley, salt and pepper in a shallow dish. Add chicken into the mixture rotating to evenly coat each chicken breast in the mixture. Cover tightly with plastic wrap and allow to marinate for at least 25 minutes

Once chicken is marinated mix Panko bread crumbs, Parmesan cheese, season salt, and garlic powder together in a separate shallow bowl. Dip chicken into the cornstarch flour mixture then back into egg mixture then final coating of breadcrumb mixture to evenly coating each side.

Heat oil in a large skillet over medium-high heat until hot and shimmering. Fry chicken until golden and crispy, (about 4-5 minutes each side).


Place chicken on prepared sheet tray and top each breast with about 1/4 cup of marinara sauce you made. Top each chicken breast with about 2 slices of mozzarella cheese and about 3 tablespoons parmesan cheese.

Bake for 15-20 minutes, or until cheese is bubbling and melted, and the chicken is completely cooked through.

Add cooked pasta of your choice to a plate then spoon over your garlic Alfredo sauce. Now top it with your chicken parmigian and enjoy 🙂