They are a girl's best friend. Society's sex symbol. Source of feminist rage. The cultural mark where beauty meets pain. The perfect combination to complete an outfit. High heels have come a long way since its inception dating as far back as the tenth century. Since then constant shifts in its style, use and function have come and gone. A new film just released on Amazon Prime Video explores all that is the high-heeled accessory that we all take for granted. In an ambitious 45-minute pursuit High On Heels examines the symbolic, health, and lifestyle experience women of all backgrounds deal with in her heels. It's voiced by an open and honest discussion with shoe designers, stylists, dancers, models, fashion bloggers, influencers, educators, doctors and everyday women.
For guys heels are a stylish accessory. Just a shoe. That common perspective is what Adelin Gasana, a Rwandan-American documentarian, wanted to challenge. "This film began as a cool topic of style critique and fashion intrigue. A couple months into production after heavy research and interviews logged the topic evolved into a nuanced subject of women's lifestyle and personal expression," says the Atlanta-based filmmaker. "As the director I wanted to take this item of the high-heeled shoe and examine it from A to Z." And as a male filmmaker taking on a subject matter that represents a woman's fashion statement Gasana is confident that he delivered. "As a straight man taking on this subject matter I was simply a fly on the wall in producing this film," he recalls, "Kind of like being on the outside looking in. From that vantage point I was able to bring a more objective approach to examining comprehensively high heel shoes."
For better or worse, the high heel is now women's most public footwear.  One historian in the documentary claims, "High heels can never be neutral." So, while it's filled with so much emotional baggage it is still the shoe women put on for events, display, performance, authority and urbanity. So, what does it represent? Where did it come from? How has it evolved over time? What are women's experiences with it? And, where is it going? These questions are part and parcel what the documentary seeks to answer.
Directed by Adelin Gasana and produced by Lola Kayode, High On Heels was an Atlanta-based collaboration between DocuJourney Productions and Lola Kay Productions. And, how did both filmmakers come up with producing a documentary on high heels? "Initially, I ventured out to work on a film about a mainstream, pop culture topic," Gasana remembers. "So, when Lola and I talked about her personal experience of lingering back pain associated with wearing heels on a regular long-term basis we thought high heels would make for an interesting topic for a short documentary." Gasana says the conversation led him to dive deep into researching high heels which uncovered little-known facts–like men were actually the first to wear them.
As a conversational piece this film lucidly summarizes the subject matter in its most popular appeal because there's so much to talk about. The diverse range of women featured in the documentary deliver nuance to the camera in articulating their daily life experience impacted by a centuries-old fashion item that to this day continues to evolve in meaning, interpretation, and appeal. Whether high heels fall into the classic type of a stiletto or a pump or in the more comfortable category of a platform or wedge those extra inches have a lot to say for itself. Illustrating this reality in a documentary film portrait does justice for understanding a little better high-heeled shoes.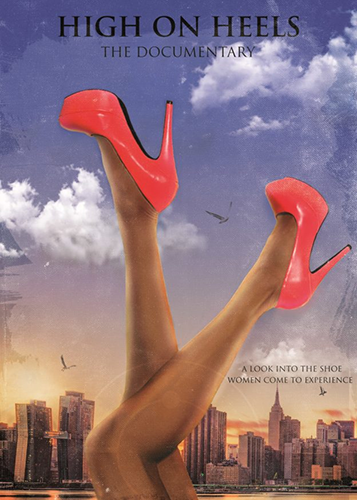 High On Heels does not delve into the experience of transgender women and their personal insights with heels. The film also does not go into the world of drag queens and the burlesque community where you can see men regularly cross-dressing and rocking heels 4 inches and above. Such sub-topics on heels could've lent itself to a longer film if not, a docu-series. The documentary does raise the cautionary health tale of short-term and long-term health effects associated with women wearing heels. The podiatrist and chiropractor featured display warning signs with skeletal models for the camera. The film aslo profiles a local modeling school where girls as young as 8 are seen learning to walk and strut in high heels after just being introduced to them. We also get a glimpse into the world of pole dance fitness where women in class follow choreography in 6-inch platform heels all in sync with chrome poles. As Adelin Gasana points out: "Who knew a high-heeled shoe could invoke such a rich historical, societal, medical, and pop cultural discussion?" High On Heels will, indeed, enlighten, inform, and humor viewers in a topic that is not short of opinions. Check it out on Amazon Prime Video and see if you think your mind changes on a woman and her heels.
Content and images provided by Adelin Gasana