When you combine a little bit of Detroit and a little bit of Mississippi, you get magic! Hip-hop's hottest duo, Que 9 and 17th Street Mula have teamed up to release music that simply gets us movin'. After the success of their single, "40 Yard Dash," the two came back to release "Zoooom," and of course, we wanted all the details. We recently sat down with the two to discuss their inspiration behind the new single, their hit single, "40 Yard Dash," and much more!
Tell us about your new single, "Zoooom."
17th Street Mula: "Zoooom" is one of our most intricate songs to me; in my opinion, we put an immense amount of time in the studio to see it pop! We love the feedback we're getting from it.
Que 9: "Zoooom" is I feel like, the song of the summer. Also, a smash hit if you have a fast car and play zoom, you're going 100mph.
Your video "40 Yard Dash" is nearing one million views on YouTube. Do you mind sharing what inspired the visuals?
Que 9: We just wanted to do something different. Everyone is constantly flashing money and guns in videos. We wanted to show what it's like before you get the money.
17th Street Mula: We want to show that the youth had the power to create something unique to look at that doesn't involve guns or flashing money. We aspire to be role models and showcase the power of youth in the best light.
How would you two describe being creatives during this time of COVID?
17th Street Mula: It wasn't that easy to be making music, but covid got in the way of a lot. I'm glad things are opening back up so we can continue to elevate.
Que 9: It's actually helped me enhance my talent because I had way more time to sit down and focus on creating and trying new songs. My musical capabilities expanded immensely with the rise of the pandemic.
What are you two currently working on and what can we expect to see from you two in the future?
Que 9: We are working on our collaboration EP getting ready to drop very soon, and we're getting ready to go on the road to promo; it's going to be a busy summer for us.
17th Street Mula: We are currently working on our project, "Two Headed Monster," and you can be on the lookout for visuals from that project and watch us ascend up the entertainment industry.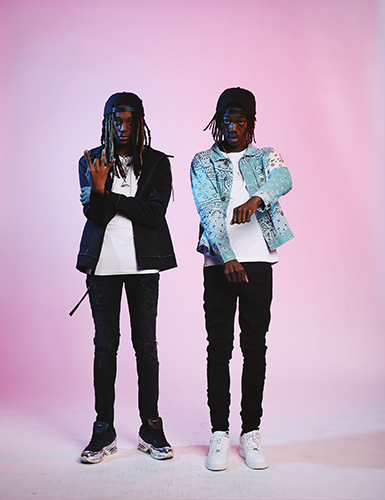 For more on Que 9, follow him on Instagram now.
Stay connected with 17th Street Mula by following him on Instagram.
All images by Hitmaker Music Group