Be​auty, brains and style, MiAsia Symone has all three while building her empire as a journalist and businesswoman. Symone not only inspires but empowers her followers leading by example displaying hard work, determination, and self sufficiency. We here at Sheen are delighted to share her journey in this exclusive. We​ caught up with her to discuss the launch of her online women shoe store House of Heels ATL, who inspires her in business, the importance of versatility, and more.
Congratulations on your shoe line. Tell us about the line. What do you hope customers feel when supporting and wearing your shoes?
Well thanks! I really appreciate you all for wanting to highlight my hard work. I'm highly blessed to be fortunate enough to launch an online women's shoe store during a pandemic! I can definitely say it was very challenging. Even though the launch part is out of the way, the ongoing challenges continue…consistent marketing being the biggest one for me. You mentioned shoe line earlier. I do not currently have one, but I definitely plan to launch one within a year or so. As of right now, the goal is to remain a retailer and keep my customers happy with the latest trendy and affordable looks.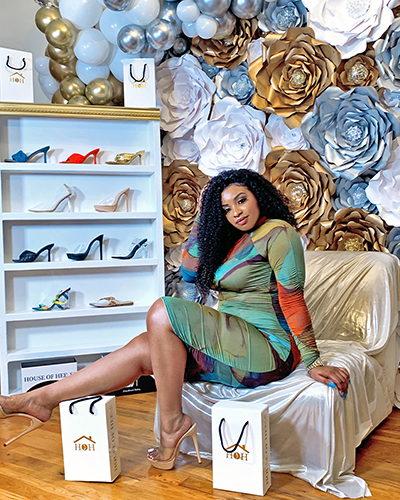 As a businesswoman and journalist, how do you juggle the two? What advice do you have for people that are looking to expand their brands?
Great question! This year totals six years of me being a journalist in the entertainment and sports fields. I think journalism is directly related to my choice to expand as a businesswoman. There isn't much money being made in the early phases of the media field. You don't see the big bucks until you partner with or get hired by a major network or platform. However, a lot of bloggers, writers, reporters and people in the media industry create their own incomes by freelancing and/or hosting ad placements on their own websites and YouTube channels. Creating my own media platform, MSL Media, I've done a little bit of everything while working towards my goal of landing a gig with a major network.
Getting tired of the idea of having to hustle and juggle so many part-time gigs in order to make a living, I decided to launch a business that would directly tie into my journalism career. SHOES! Whenever I'm out at an exclusive event or hosting a red carpet, I realized that I'm always in a cute pair of heels or sandals. House of Heels Atlanta is my new baby! It's the perfect way to advertise what I'm wearing while in the limelight and get people to shop with me online. The Covid-19 pandemic has made balancing the two fairly easy. There aren't many events happening right now. If so, they are mainly virtual. This has given me time to build the shoe store and all of its aspects. By the time we are safe to travel and be in large crowds, I should be comfortable enough to manage both media life and business life simultaneously.
My advice on brand expansion is to launch brands and products that are relevant to one another. If they aren't similar in the beginning, think of ways they can operate or run parallel with each other. For example, I sell shoes and handbags for women. If wanted to launch a clothing line or sell accessories, the transition wouldn't be hard at all. It would just be another entity to my brand. I think this is the quickest way to create multiple lucrative sources of income. Now, if I decided to open a car wash, I would have to learn so much more about something that would be considered left field to me. It would be a little difficult and would require a little more work and knowledge. However, it is definitely not impossible.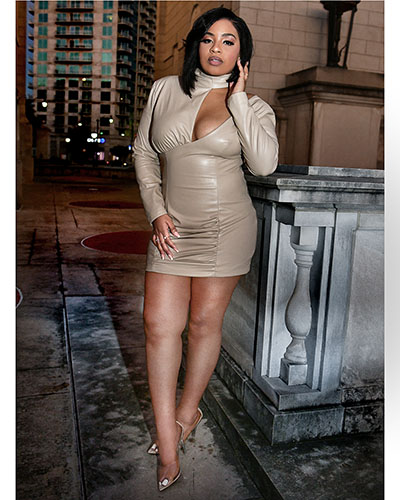 Why is versatility/investments so important to you? Do you have any advice for readers that are hoping to venture out into their own business?
Versatility is important because when one plan fails or gets difficult, you must be able to redirect your energy and still be successful. For me, failure isn't an option, so I make sure I give everything I do 1000%. If it doesn't work out, at least I can say I gave it my all and I'm now prepared to move forward with my next master plan. This pandemic is a great example. If I was depending on hosting or covering events to carry me, I would be out of luck because there isn't much going on. You cannot be one-dimensional in life.
Investments secure your future. I'm really big on generational wealth and being able to give my kids (whenever I have any) a great foundation. There's nothing like residual income. Whatever you put out there in the atmosphere always comes back. If you invest your money into the right things, it will come back. It may take a few months, years, or decades depending on the logistics, but it's always good to keep your assets and cash flow circulating.
What was the creative process like when finding the right vendors for your brand inventory?
The process of finding the right vendors for my inventory. At first, all I had was google. I literally had to tap into my journalism side and do proper research. Most vendors wanted to see receipts from previous vendors as a form of verification to buy their products. They don't really trust start-up businesses for whatever reason. After a couple weeks, I found one great vendor who allowed me to bypass the strict rules and trusted me to order my first couple set of items. I used those receipts as proof for other vendors and was able to get all of my current inventory.
Nothing was worse than the packaging process, however. That was my biggest challenge in the beginning. Purchasing shoe boxes can get really expensive when they are custom. You have to make sure you order the right dimensions, color, style, etc. My issue was finding a price I was comfortable paying in regard to ordering them. I ended up spending roughly $2,000 alone on shipping boxes and shoe boxes altogether for my first batch of inventory. I prefer not to go into detail about the pricing of everything else, but I definitely had to cover the costs for my website, shoes, handbags, shipping supplies, marketing, business phone, etc. In the process of it all, the language barrier between the vendors and I was also challenging trying to get them to understand my preferences of each item ordered.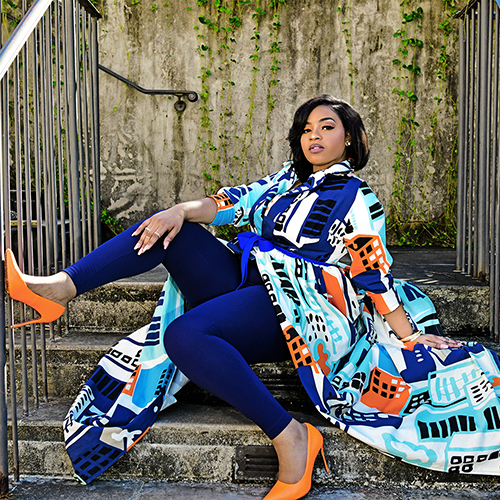 Have you always known you wanted to have a shoe line? Do you think you will also expand into clothing?
Honestly, I always knew I wanted to attach a product to my brand, so in August 2019, I purchased the LLC for my shoe store. It wasn't until this year when I decided to actually put in the work and build the business. My good friend Niya Skyy reached out and asked me to be a brand ambassador for her online resource center for women in business, Girl Boss Starter Kit. I was constantly promoting her vision and actively involved without actually having a product of my own. I felt like I was working backwards. I ended up taking her 30-day challenge which had me fully prepared to launch the business in such short amount of time. I'm a "perfectionists," so it took me a little longer to get the details just right, but I recommend anyone starting a business to become a member of her program.
In addition, my mother is my accountability partner. She was there every step of the way leading up to the launch, all the way down to picking the inventory. I also had a good number of my friends posting/supporting my new venture on social media getting people excited about shopping. I would love to perfect one thing at a time, so I don't see myself launching a clothing line or store anytime soon.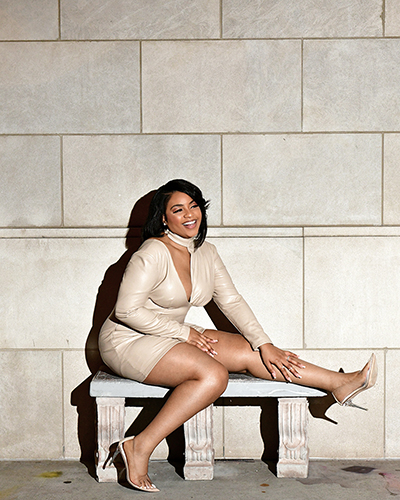 Who inspires you in the industry of footwear /fashion and why?
My inspiration doesn't really come from the fashion side of things. I don't really have a favorite brand because I think there are so many to choose from, but I definitely admire Rihanna and her journey as a businesswoman. She's putting her best foot forward. Richard Saghian is someone I also keep an eye on because of how he uses social media to market Fashion Nova. These are real people producing real results in the business world. I love their marketing and business tactics.
Where can customers support your business?
You can shop with me at houseofheelsatl.com. If you would like to connect, we're also on Facebook, Twitter and Instagram. Follow me on all social media platforms: @miasiasymone. Be sure to check out my media work and what I have coming up on my website miasiasymone.com or @mslmedia on IG. Thanks again for your support!
All images by Torrey Allen | Fields Vision