The quarantine has highlighted many trials and tribulations.  Many women have been driven to face their reality behind closed doors and for an unprecedented amount of time.  With that reality comes the road to self-discovery.  Women everywhere are being forced to deal with their inner beauty, outer beauty and circle of comfort as the pandemic continues on.  Poetic storyteller, Brianna Laren, has graced us with an artful collection that interweaves the road to self-discovery and various obstacles that many Black women have to overcome.  Brianna is a mom, writer and filmmaker who is spreading her Black Girl Magic upon bookshelves everywhere.
Perfect for handling the COVID blues, "Edge Control for the Soul," is setting women up for growth, grace and slayage one page at a time.  Set in the terms of your favorite natural hair verbiage, her collection is motivating women to continue to push past their struggles to achieve their greatness.  This poetic voyage steers women through obstacles in relation to the natural hair journeys of shrinkage, breakage, protective styles and new growth; just to name a few.  Similar to a hair journey this voyage will be a bumpy ride but worth the struggle.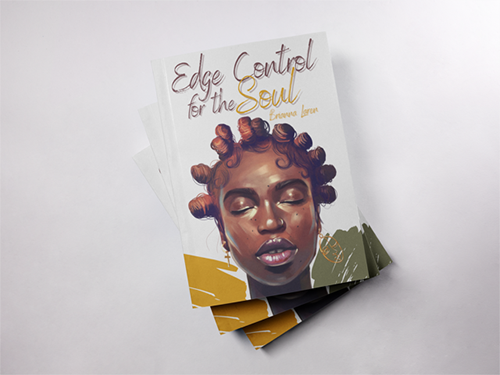 "I told this story through poetry because that is where I can be my most vulnerable. As black women, we have been conditioned to hide and mask our vulnerabilities so they can't be used against us. We have to remain strong and impenetrable at all times but that gets really heavy after a while," says Brianna.
The natural hair journey allows many Black women the chance to get to know themselves, love their intimate beauty and hone in on what makes their hair unique.  This journey is also similar to discovering your connection to your personal life.  What better way to paint that picture than through poetry?  
"My hope is that you will drop the mask, embrace every part of yourself, step into the light and allow the world to see you. But most importantly I hope you grow and thrive," explains Brianna.
Brianna is changing the game one poem at a time.  Grab your copy to follow your inner voyage towards being your own peace. Edge Control for the Soul will be available for pre-order beginning November 13th.  Connect with Brianna Laren here for her book titles and available merchandise.  You may also follow her on social media as @briannalaren.  
Writer, C. Scott, is a mother of one; author, social worker, early literacy interventionist and entrepreneur. Follow her on Instagram as @curls_coils and @mysweettealife. 
All images by Jodie Brim Photography