Meet Sarah Adewumi, NASA scientist and founder of NextGen in STEM.
As a fashion and lifestyle blogger, while being a woman scientist, Sarah strives to show other young girls and women that they can be multifaceted in STEM.
Adewumi is a young innovator at NASA, as well as the founder of NextGen in STEM. Impacting the "Artemis Generation" and "STEM leaders of tomorrow", Adewumi's non-profit, NextGen in STEM, empowers and educates the next generation in the STEM industry in four continents and twelve countries, including the USA, India, Poland, and Nigeria.
Connecting with leadership-focused organizations through seminars, scholarships, and engagement events, NextGen in STEM has reached over 100,000 young learners, providing resources for students to continue pursuing higher education.
An Aviation Scientist by education, and lover of science communications, at the age of 22, Adewumi has already made waves in the Aerospace community, moderating for the Oprah-keynoted SxSW EDU conference, and leading a star-studded panel including astronaut Ellen Ochoa, Deputy Director of STEM Next Opportunity Fund, Teresa Drew, and Deputy Associate Administrator for NASA STEM Engagement, Kris Brown.
Adewumi also hosts for the Emmy Award-winning team: NASA eClips' episodes, making science-learning attainable and fun for youth in grades K-12.
Sarah assisted in spearheading the launch of NASA eClips' at Home, in collaboration with PBS and VPM, with efforts to provide access to fun science education to underprivileged youth in the United States.
As an HBCU graduate and woman in tech at NASA, Adewumi states that she is a product of the incredible leadership exhibited by the women who have come before her, and her motivation has been the young women who are looking up to her as she climbs further in leadership, showing aspiring leaders that there is no limit to what they can accomplish.
This feature was submitted by Sarah Adewumi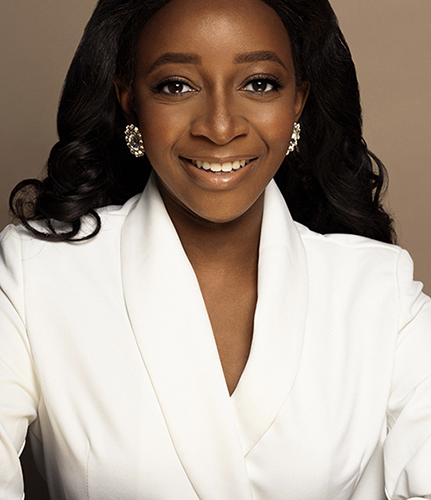 Sarah Adewumi is a science communicator, influencer, and advocate. Adewumi connects with leadership-focused organizations all over the globe and utilizes her platform to empower girls and women in STEM. With a passion for science and style, Sarah emphasizes that femininity and intelligence are not mutually exclusive. Sarah often speaks about her experiences at NASA, from being a four-time intern during her undergraduate career, to now as a rising young leader.
All images by Carolina Takahashi