"I'm the hardest of all." – Heaven Vaniece, 'Nutty Buddy'
No comparisons should be made when it comes to Heaven Vaniece and her craft! The Atlanta rapper is showing out and proving to the industry that her rap career will, indeed, take off. HV's newest single 'Nutty Buddy' is gaining the attention of many new fans, but the rapper's flow from her singles 'ATLANTA' and 'TRU STORY' is what caught the attention of everyone. Heaven Vaniece's flow and style are like no other and there's no doubt that we'll be seeing her all over our television screens soon.
Tell us about your musical journey. When did you first realize that you wanted to take over the music industry?
My musical journey hasn't been easy, but I've been goin crazy, Thanks to the man above. Ever since I've did my first freestyle and first song, it was no question about it for me to get my career started. HAD TO!
Describe your sound. Do you lean more towards the lyrical side of rap or 'just for fun'? Is it a combination?
I'll say my sound is like something you never heard of as being a female rapper, I feel as if it should NOT be no comparison. I honestly feel like I cannot be compared. I don't do this for fun, this is real life, this is my dream, I put my life on the line for MY career just so I can do what I need to do to take care of mine's. This talent is going to get shown in a way I know how to do this.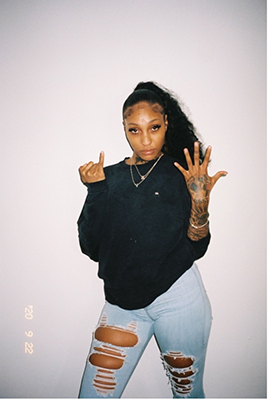 Your single Nutty Buddy is gaining a lot of attention. What's the inspiration behind the song?
At the time of writing NUTTY BUDDY, I was just being HV talkin my sh*t. I wasn't really being specific when "Nutty Buddy" just popped in my head because it can mean like the Nutty Buddy snacks, or it can mean like you have a nutty buddy if ya know what I mean HAHA.
What are your thoughts on female rap unity?
Us female rappers are overlooked sometimes but it's about that time that we start sh*tting forreal. Everybody so used to the male rappers not knowing it's hard female rappers right now that's going crazy. Women empowerment fasho 100%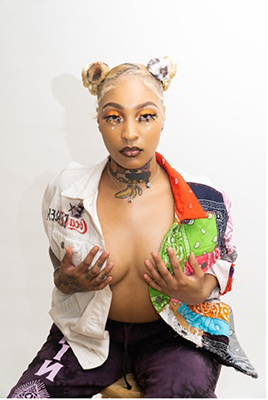 With your fanbase growing, do you intend to release a project before the year is over? Any collaborations?
I am working on my project, just switching sh*t up a lil bit to get my project ready 100%. I don't have an exact date on when I'm dropping the tape but just know all it takes is a blink of an eye and it's that time for more music out in dese streeeeets. 
Listen to Heaven Vaniece's newest single 'Nutty Buddy' now!
Watch the video for 'ATLANTA' below!
All images courtesy of We Stamped It