-Cide held an independent fashion show during NYFW2021 that can easily be accredited as an "you had to be there" event. The show was held at 433 Broadway also known as Clockwork.
Designer Dashawn " Kenzo" Mckenzie launched -Cide in 2017. The stylish streetwear brand has been seen on the backs of various celebrities including Dani Leigh, Halle Bailey, Tory lanez, Rotimi and more. It is more than understandable why the entire city came out to support the Brooklyn based brand. Upon arrival entry lines wrapped around the corner. Only 200 High profile VIP guests were able to gain entry into the invite only event.
Loyal supporters waited outside as Marc John Jeffries, Trav Que , Sadiddy ,Dupree God , Neens, Tru Hunnit, Tay Yoncé, Worldwide Vee, Fresh Made It & many others attended the celebration of the clothing brands fall line release. Artist Live Like Davis open the show with an amazing performance.The artsy atmosphere was the perfect fit for the futuristic looks spotted by models such as Holli TV , Lellies Santiago and David Hand.
Designer Kenzo took the show to an entirety unmatchable level when he proposed to his now finance Shanice. After the show guest began to mix, mingle and interview with over 10 national press outlets. The entire event was filled with love and creativity. It is rumored that a public event will be coming soon and we are more than excited.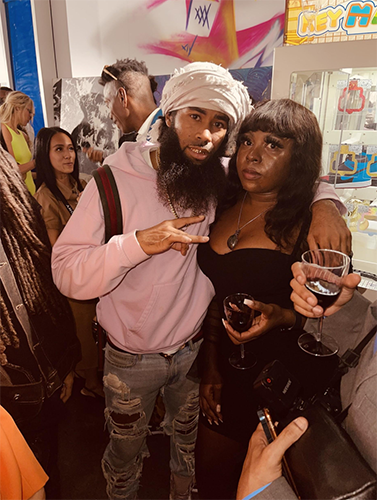 The -Cide Family would like to leave our readers off with the following statement.
"The -Cide family would like to thank everyone that came out to enjoy our fashion show even the ones who couldn't get in because we were at capacity a special thanks to 433 Broadway also known as clockwork and to aura connections we look forward to serving you more of the best looks in fashion feel free to shop with us anytime and to hit us on Instagram @cide.usa love you all thank you once again."
Sincerely
– the -cide family
All images by @iamtayyonce_ & @worldwide_vee