A woman's handbag is the key to her lifestyle and livelihood.  It carries her personal possessions, to-do lists, journals and even a bit of confidence. Handbags are the key fashion piece to the puzzle of style.  Whether large or small, this accessory builds character, confidence and charisma all in one.  Tayuania Lee is the fashion creator of Lee K'Mor.  Her trendy and spacious array of handbags are a woman's new best friend.  Fit for all occasions, the Lee K'Mor handbag catalog is perfect for any stylish outing.  
Our current times call for even more outlets to allow a person to express their sense of style, fashion and just inner peace.  The handbag selections and clothing styles from Lee K'Mor help women find their inner fashionista in all imaginable colors, sizes and shapes.  The fashion brand appeals to all cultures for your clothing and accessory needs.  Here's what Tayuania Lee of Lee K'Mor shared about her fashion brand, handbags as accessories and even inspiration for aspiring entrepreneurs: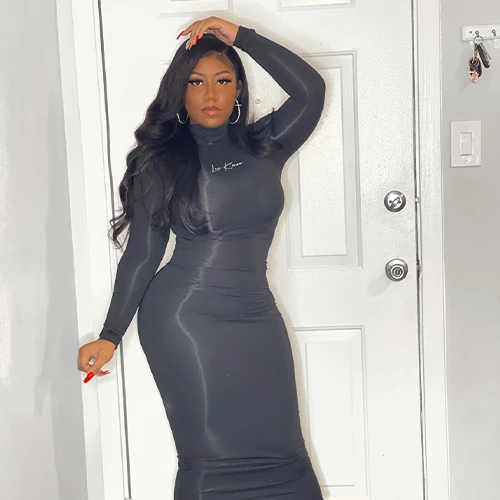 What inspired you to design your own handbags and to become an entrepreneur?
Honestly I was born with this ambition. It might sound crazy but I've always had this mindset. I remember in school we had a career day and they asked me what I wanted to be and out of all the good jobs there I said a stunt double lol. My mom was mad and furious. They asked me why and I said I get to be in movies. I've done auditions for Disney and all. I've always thought outside the box. I've always been creative. I used to sing, dance and draw.  I did almost any activity you can think of as a child. The older I got the more it stuck. I was 20 with a State job because I thought McDonald's was too degrading for me. I don't knock it though. I just never wanted that for myself because I always thought bigger. I used to draw clothes often as a teen and I also had plans on going to school in California for fashion designing. So I have always been in the beauty and fashion industry. I honestly didn't know where to start. Once I had my daughter the decision to take myself more seriously wasn't a choice. I had to live for her and the lifestyle I lived at that time wasn't suitable for my kid so I had to do better for her. She was my motivation. The rest was history after that. Everything came so naturally for me in the entrepreneur world. I have my ups and downs but compared to most, my growth came easy and I'm grateful for that.
Are there any new designs that we can be on the lookout for?
Yessss, I plan on downsizing my tote for those that don't want a bag this big. So that's coming. I'm also working on something for the men that I'm excited for! Hopefully by Christmas the men's collection will be released. My winter clothing collection is in the works and I'm so excited about that. I have so much coming and I don't plan on stopping any time soon.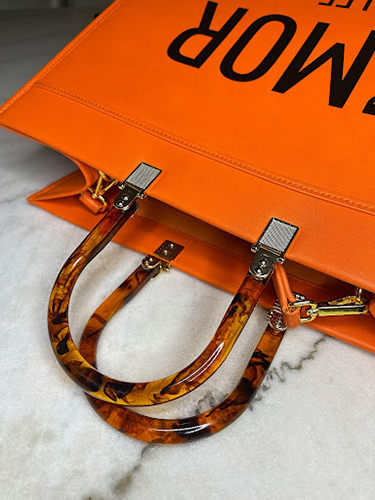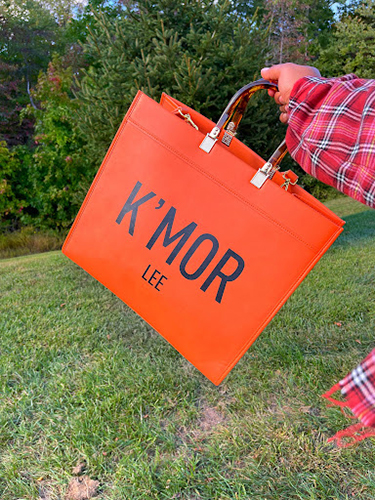 What advice would you give to an aspiring fashion entrepreneur?
Any advice would be to keep practicing, continue to work hard, and continue to showcase what you bring to this world. Trust me someone sees you! Sometimes all it takes is one person. I know it gets hard and you want to quit but keep going. I could give advice all day about designing clothes but what we lack right now especially as black entrepreneurs is support and guidance! Someone to tell you that you're doing a great job, someone you can lean on; is priceless. That's hard to find but I'm here to say that if you woke up today and you put a foot forward on your business you're already on the right path. The hardest part is starting. So pat yourself on the back for that and KEEP GOING. It's okay to be your own cheerleader because we have to be. So keep going, keep working, keep praying and you will be okay.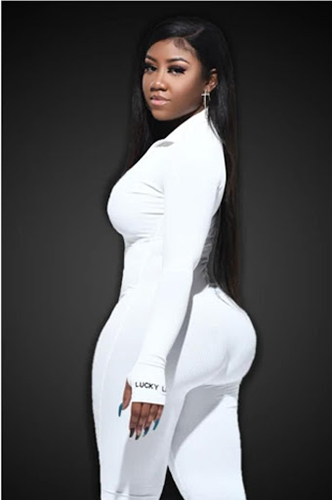 Being an entrepreneur can be stressful. How are you balancing your business and practicing self-care?
I have two businesses that are doing amazing so yes it's very stressful but days off are necessary. Take days to get your nails done or get a massage. Take days to just lay in bed and recharge your mind and body. I've had periods where I worked nonstop and my body was shutting down on me because I refused to rest! Your business can't go on if you aren't here so take those days off. So I take days off to relax and handle house things that need tending too because I also have a journal I try to write in everyday and it helps me so much to release any bottled up feelings or to talk about my goals. It's definitely helpful when you have so many things on your mind at once. But seriously mental health is real and it's getting worse out here. So make sure you are taking care of yourselves first. You can't work if you're sick and you can't do your best if you're tired. Rest is really important in an industry where you'll have periods of non stop working.
Connect with the Lee K'Mor fashion brand on Instagram.  Tag the page to be featured as a #kmorbabe connoisseur.  Shop their trendy handbags and clothing online here. Don't delay your style needs.  Leave them staring today and always.  
Writer, C. Scott, is a mompreneur, social worker, educator and lover of all things literature related.  Follow her online as @curls_coils to see new blog content, info about ghostwriting and even self-publishing services.
All images provided by Lee K'Mor